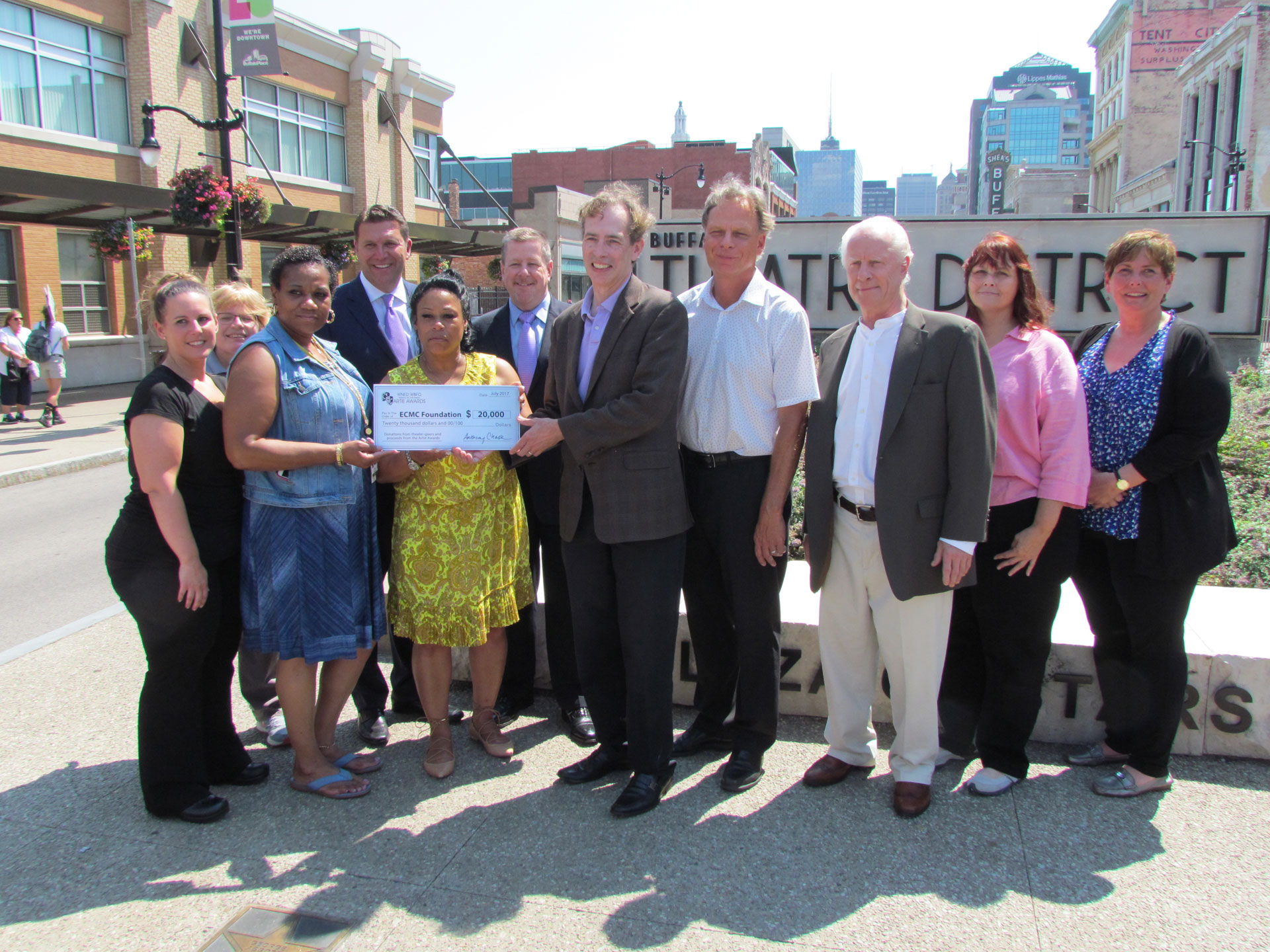 Artie Awards/Theatre Funds Raised for ECMC
$20,000 raised by Buffalo theatre and annual Artie Awards audiences presented to ECMC for HIV/AIDS and Immunodeficiency Services
BUFFALO, NY-27TH ANNUAL ARTIE AWARDS presenter WNED | WBFO today held a news conference in downtown Buffalo to present a $20,000 donation for ECMC's I HIV/AIDS and Immunodeficiency Services.
Artie Awards Founder and Co-host of WBFO's "Theater Talk" Anthony Chase presented the donation to Tom Quatroche, President and CEO of ECMC Corporation. The funds were raised through contributions from theatre audiences and proceeds from this year's 27TH ANNUAL ARTIE AWARDS ceremony held June 5th, 2017. Mr. Chase and Dr. Quatroche were joined by leaders of Buffalo's theatre and cultural community, including: Michael Murphy, President and CEO, Shea's Performing Arts Center; Randall Kramer, Executive Director, Musicalfare Theatre; and Vincent O'Neill, Artistic Director, Irish Classical Theatre Company.
Artie Awards Founder and Co-host of WBFO's "Theater Talk" Anthony Chase said, "We all know that the theater and cultural community has a significant economic impact on our region. Our thriving theater community not only creates exciting art on a daily basis but takes great pride in being a true force for good in our community. We are especially pleased to be able to support the wonderful work being done through ECMC Immunodeficiency Services."
ECMC President and CEO Thomas J. Quatroche Jr., Ph.D., said, "On behalf of the ECMC Foundation and ECMC Corporation, I would like to express our sincere appreciation and thanks for this very generous donation to ECMC Immunodeficiency Services. I assure you that these funds will be put to very good use for the benefit of our HIV/AIDS patients."
ECMC's HIV/AIDS and Immunodeficiency services are the largest comprehensive care center of its kind in Western New York. The hospital's immunodeficiency clinic is also a PCMH Level 3 Certified Clinic
The Immunodeficiency Services group strives to meet the needs of people with HIV/AIDS with physicians, nurse practitioners, pharmacists, nurses, case managers, nutritional consultants, drug counselors, and mental health counselors on staff and also through partnerships with a myriad of community agencies.
In providing care, the Immunodeficiency Services group aims to meet several important goals:
Improving quality of life for HIV-positive patients through early intervention and optimal care.
Providing HIV/AIDS clinical education and consultation to providers.
Offer advocacy and case management services for HIV/AIDS patients.
Establish HIV prevention as a top priority.
To date, the Artie Awards have raised over $500,000 for AIDS-related charities.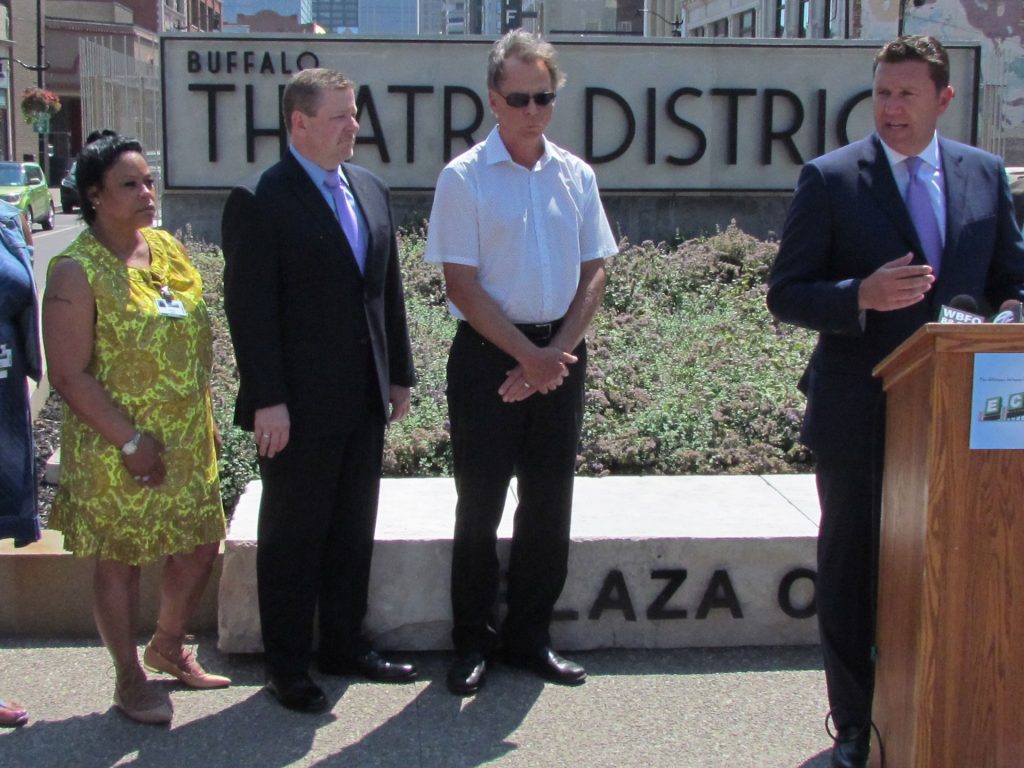 With 27th ANNUAL ARTIE AWARDS presenters WNED-WBFO representatives present, ECMC Corp. President & CEO Thomas J. Quatroche Jr., PhD, (at podium) expresses thanks to representatives from the Buffalo theater community for a $20,000 donation for ECMC HIV/AIDS and Immunodeficiency Services.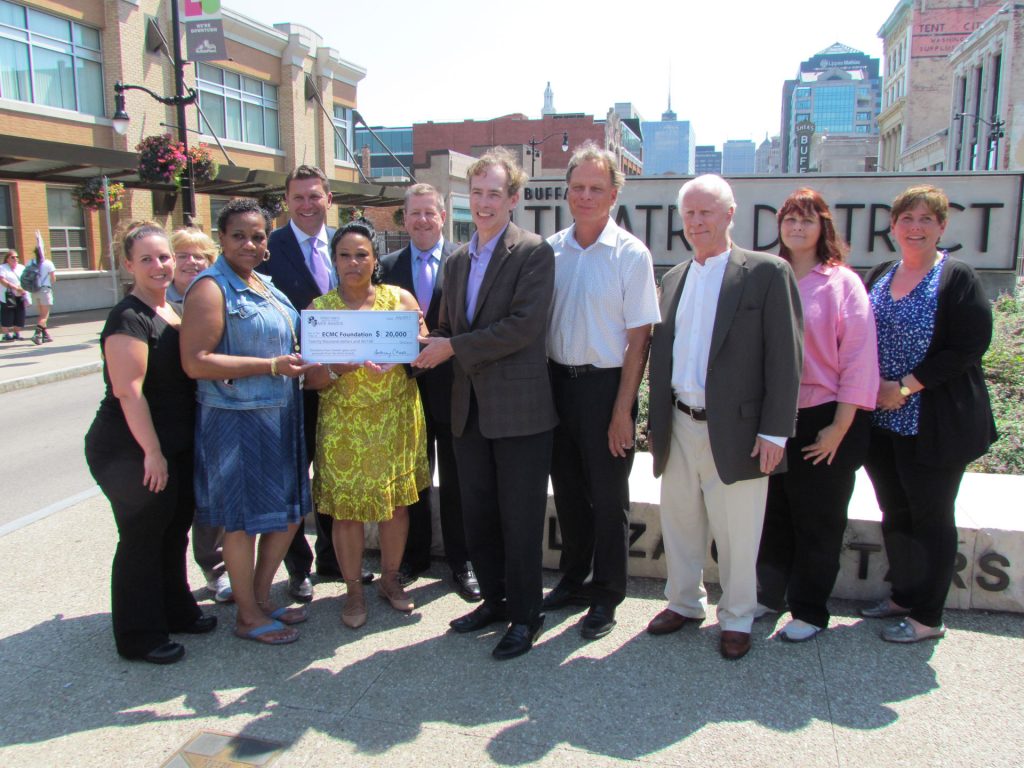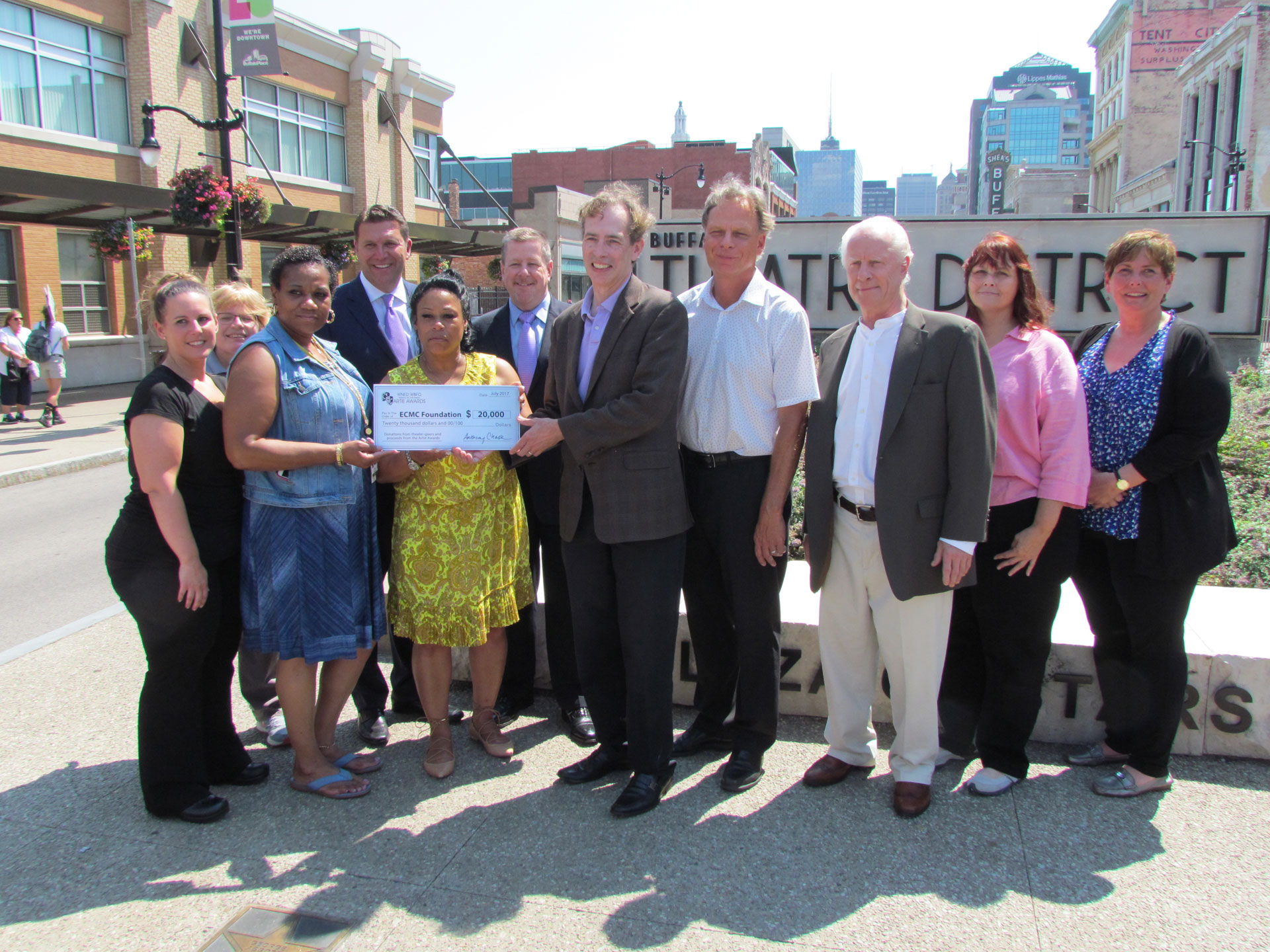 ECMC Immunodeficiency Services staff, ECMC Corp. Pres. & CEO Tom Quatroche, and representatives from the Buffalo theater community and WNED-WBFO display $20,000 donation check for ECMC HIV/AIDS and Immunodeficiency Services.
ABOUT WNED | WBFO: The WNED | WBFO family of stations broadcasts PBS, NPR and Classical music programming throughout the Western New York and Southern Ontario regions. These high-quality programs and community outreach services inform, enlighten, entertain and educate our local and regional communities. Our member-supported stations include WNED-TV (PBS), WBFO-FM 88.7 (NPR), Classical 94.5 WNED, JazzWorks, WNED thinkbright Create® and WNED PBS Kids 24/7. WNED-TV is also a national producer of award-winning documentaries. Additional information about WNED ǀ WBFO can be found at wned.org.
ABOUT ECMC FOUNDATION: From lifesaving surgery for trauma patients to the extra support that makes a difficult time easier for visiting families, ECMC offers true care at every level. ECMC Foundation, a not-for-profit corporation, enhances what ECMC offers to our patients and community, secures the resources that make all the difference, and takes on initiatives to financially support the lifesaving work of ECMC. As our community hospital, ECMC serves a range of patients and families across Western New York. Through generous community support and building connections throughout our region, the Foundation strives to make more possible for our patients, their families, and our community.