Dr. Samuel D. Cloud Appointed Chief Medical Officer of ECMC Corporation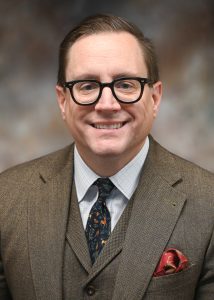 BUFFALO NEW YORK—Erie County Medical Center (ECMC) Corporation officials today announced that Dr. Samuel D. Cloud has been appointed Chief Medical Officer of ECMC Corporation.
Samuel D. Cloud, DO, as Chief Medical Officer and the primary member of the ECMC medical leadership team, will bring to this key role his innovation and compassion for the physician staff and patients.  Further, he will facilitate interaction among medical staff, hospital administration, and the Corporation's board of directors to ensure patients receive the very best care.
Dr. Samuel D. Cloud succeeds Dr. Brian M. Murray, who left ECMC to become Interim Chair of the Department of Medicine at the Jacobs School of Medicine and Biomedical Sciences at the University at Buffalo.
Dr. Cloud is an Assistant Clinical Professor of Emergency Medicine at the State University of New York at Buffalo (UB) where he also served as the Associate Director of the Emergency Medicine Residency Program for UB (2008-2016).  Board Certified by the American Board of Emergency Medicine, Dr. Cloud performed his Fellowship in Emergency Medicine at the University at Buffalo.  He earned his Doctorate of Osteopathic Medicine at Western University of Health Sciences, Pomona, CA, and his Bachelor of Science from the University of California, Riverside.
Dr. Cloud most recently served as Associate Medical Director for ECMC.  He also served two, two-year terms for the ECMC Medical Dental Staff as President (2015-2016) and Immediate Past President (2017-2018).  As an Emergency Medicine Attending Physician, Dr. Cloud is a dedicated member of the physician staff at ECMC.  His clinical focus is on providing emergency care as well as oversight and education of residents studying emergency medicine.  With a career steeped in emergency medicine, Dr. Cloud has taken special pride in helping develop this community's next generation of emergency physicians.
Dr. Cloud completed seven trips to Vietnam in support of the development of Emergency Medicine as a specialty in Vietnam and in 2010 was named a Visiting Professor of Medicine by the Hue College of Medicine and Pharmacy in Hue, Vietnam.
In 2017, ECMC recognized Dr. Cloud with its Distinguished Physician Award.  UB awards and honors presented to Dr. Cloud include: Visiting Professor (2010); Physician of Excellence (2007); and Teaching Attending of the Year (2006).
A native of Southern California, Dr. Samuel Cloud met his future wife, Dr. Marsi Cloud, an OB/GYN physician and a Buffalo native, while both were residents at the State University of New York at Buffalo.
ABOUT ERIE COUNTY MEDICAL CENTER (ECMC) CORPORATION: The ECMC Corporation was established as a New York State Public Benefit Corporation and since 2004 has included an advanced academic medical center with 573 inpatient beds, on- and off-campus health centers, more than 30 outpatient specialty care services and Terrace View, a 390-bed long-term care facility. ECMC is Western New York's only Level 1 Adult Trauma Center, as well as a regional center for burn care, behavioral health services, transplantation, medical oncology and head & neck cancer care, rehabilitation, and a major teaching facility for the University at Buffalo. Most ECMC physicians, dentists and pharmacists are dedicated faculty members of the university and/or members of a private practice plan. More Western New York residents are choosing ECMC for exceptional patient care and patient experiences – the difference between healthcare and true care™.