Professional Announcement: Dr. Jeffrey Brewer Appointed ECMC Chief of Surgery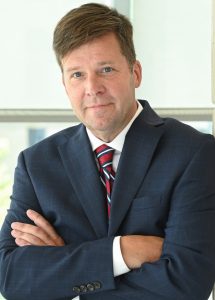 BUFFALO NEW YORK—Erie County Medical Center (ECMC) Corporation officials announced that Jeffrey J. Brewer, MD, has been appointed Chief of Service of the Department of Surgery at ECMC.
Dr. Brewer previously served as the Associate Chief of Surgery for ECMC.  He has been a member of ECMC's Medical-Dental Staff since 2010.  Dr. Brewer is a surgeon at ECMC, specializing in trauma surgery, laparoscopic surgery, endocrine surgery and general surgery, and sees patients within ECMC's surgical clinic.
Dr. Brewer is also a Clinical Associate Professor, Vice Chair of the Department of Surgery, Director of Surgical Clerkships, and Associate General Surgery Residency Program Director at the State University of New York at Buffalo, School of Medicine and Biomedical Sciences.
Dr. Brewer completed his surgical residency and internship at Wake Forest Baptist Medical Center, Winston-Salem North Carolina (2010).  He earned his Doctor of Medicine at the Jacobs School of Medicine, University at Buffalo, Buffalo, New York (2005).  He is board certified in general surgery by the American Board of Surgery (2010).
Dr. Brewer is a member of the Association for Academic Surgery, the Society of Gastrointestinal and Endoscopic Surgeons, Buffalo Surgical Society, Medical Society of the State of New York, the American Medical Association, and a fellow of the American College of Surgeons.
ABOUT ERIE COUNTY MEDICAL CENTER (ECMC) CORPORATION: The ECMC Corporation was established as a New York State Public Benefit Corporation and since 2004 has included an advanced academic medical center with 573 inpatient beds, on- and off-campus health centers, more than 30 outpatient specialty care services and Terrace View, a 390-bed long-term care facility. ECMC is Western New York's only Level 1 Adult Trauma Center, as well as a regional center for burn care, behavioral health services, transplantation, medical oncology and head & neck cancer care, rehabilitation, and a major teaching facility for the University at Buffalo. Most ECMC physicians, dentists and pharmacists are dedicated faculty members of the university and/or members of a private practice plan. More Western New York residents are choosing ECMC for exceptional patient care and patient experiences – the difference between healthcare and true care™.