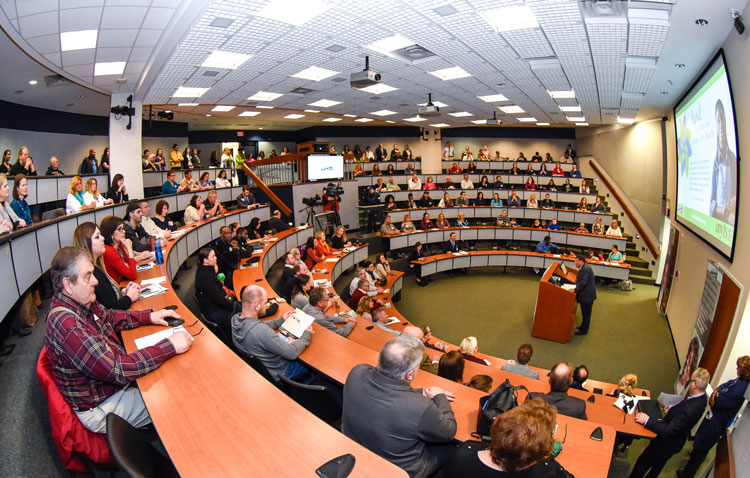 Unyts, ECMC Kick-Off Donate Life Month
Joint effort to raise organ donation awareness, encourage our community to register as donors, and celebrate the generosity of those who have given the gift of life
The Regional Center of Excellence for Transplantation & Kidney Care at ECMC is a state-of-the-art facility dedicated to comprehensive patient care. Unyts is Western New York's only organ, eye, tissue and community blood center. Together, Unyts and ECMC have teamed up to launch "Donate Life Month." New York State currently has the lowest donor registry rate in the United States. ECMC and Unyts continue to collaborate and concentrate on increasing the community's knowledge and understanding about the need for donation and transplantation.
Unyts President and CEO Mark Simon said, "This April, we hope to increase the number of people registered on the state donor registry, which is especially important in our region as New York State has the lowest rate in the country. Together with the Regional Center of Excellence for Transplantation & Kidney Care, Unyts is working to save and enhance lives in our community each and every day. Unyts is proud of our work and for the relationship we have with ECMC, which is such a vital part of the community."
ECMC President and CEO Thomas J. Quatroche, Jr., Ph.D. said, "Thanks to Unyts and their commitment to increasing donor awareness and highlighting the enduring benefit of making such critically needed donations, ECMC continues to grow our transplantation services, which last year achieved the highest level of kidney transplant activity in ECMC's history. Led by our talented and experienced multidisciplinary team, ECMC serves our community with consistently high scores in outcomes and transplant rates from deceased donors, and also offering laparoscopic donor nephrectomy procedures to promote faster recovery for live kidney donors."
Today, more than 118,000 candidates are on the national organ transplant waiting list, and over 10% of the list is from New York State. As a result, an average of 22 people die each day because an organ was not made available for transplant. A single donor can save and heal as many as 75 others through needed organs, heart valves, corneas, skin, bone and tendons.
The Regional Center of Excellence for Transplantation and Kidney Care at ECMC is the result of the merging of two transplant programs—from Buffalo General Hospital and ECMC—into a single streamlined, highly specialized program that offers patients world class care. The mission of the Center is to provide life-saving kidney and pancreas transplants, vascular access surgical care, hemodialysis for outpatients and inpatients, and treatment and disease management services for patients with all stages of chronic kidney disease. This concentration of services results in a greater number of procedures performed, a high level of expertise among the medical staff, and the most favorable outcomes for renal patients at all levels of care.
With state-of-the-art technology and procedures for transplant, as well as a growing living donor program, ECMC's transplantation team is leading the way in True Care. To date, we achieved a 92.4% 1-year survival rate and 35.7% of our wait list patients received transplants within one year—a donation rate more successful than competitors like the University of Pittsburgh, Cleveland Clinic, and the University of Rochester.
These life-saving transplants are only possible through the support of Unyts' and ECMC's physician partners, community organizations and the generous people of WNY.
Unyts encourages everyone to commit to becoming a donor by visiting www.unyts.org/checkyes and completing a simple enrollment form, or by visiting your local Auto Bureau.
ABOUT UNYTS: Unyts is among the leading procurement organizations in the United States, and is one of the only eight centers nationwide to house organ, tissue and eye procurement in one location. With the addition of Community Blood Service, Unyts has become the first organization of its kind nationwide. Unyts operates as a non-profit serving the eight counties of Western New York and works to assist donor families, coordinate the donation process and increase knowledge and awareness within the community regarding transplantation.