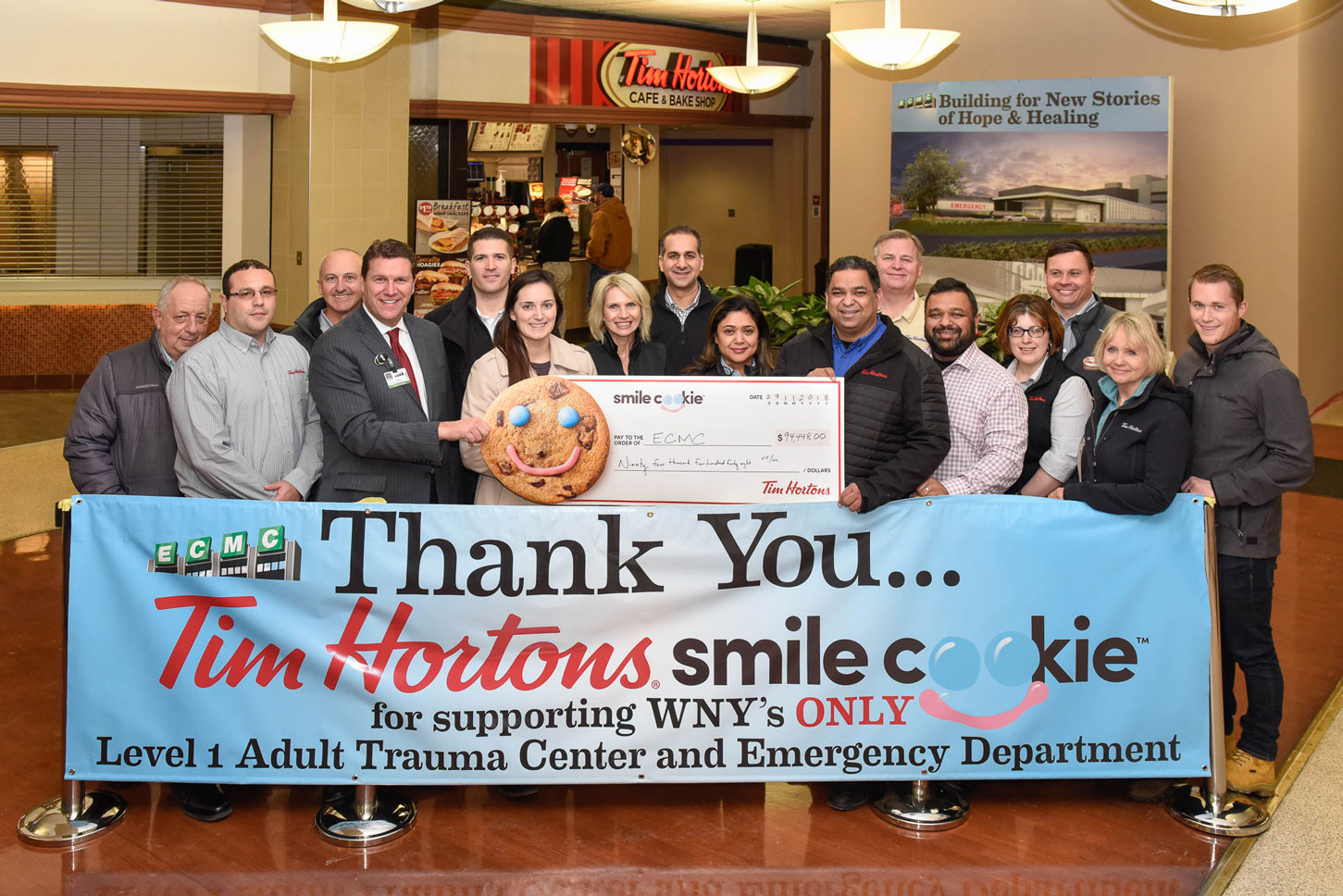 TIM HORTONS® annual Smile CookieTM campaign raises a record amount of (cookie) dough for local charities
Erie County Medical Center to receive $94,448.00 from Tim Hortons Smile Cookie Campaign
Buffalo, November 29, 2018 – There were plenty of smiles in Buffalo during this year's Tim Hortons Smile Cookie campaign. The simple act of buying a chocolate chunk cookie lovingly decorated with blue eyes and a cheerful pink smile raised $94,448.00 for Erie County Medical Center as part of a record breaking campaign.
"As a Tim Hortons restaurant owner, including a location at ECMC, I was thrilled to participate in this effort that generated so much support for the hospital's new Level 1 Adult Trauma Center and Emergency Department," says Amit Ahuja Tim Hortons restaurant owner. "Our region is truly fortunate to have such a remarkable healthcare institution like ECMC, which includes such hard-working, dedicated doctors, nurses and support staff. This was a great and very satisfying partnership."
This year's Smile Cookie campaign that ran from September 17-23, supported more than 500 charities in Canada and the US and raised a record breaking $7.8 million in both countries.
ECMC Corporation President and CEO Thomas J. Quatroche Jr., PhD, said, "We continue to be astounded by the generosity and support from our community for the new Trauma Center and Emergency Department. ECMC is deeply grateful to Tim Hortons and its restaurant owners from throughout Western New York for choosing us as their charity of choice, and we are most grateful to the thousands of Western New Yorkers who purchased over 95,000 Smile Cookies to support our caregivers who provide lifesaving care to our family, friends, and neighbors every day."
About Tim Hortons
Tim Hortons®, part of Restaurant Brands International, is one of North America's largest restaurant chains operating in the quick service segment. Founded as a single location in Canada in 1964, Tim Hortons appeals to a broad range of guest tastes, with a menu that includes premium coffee, hot and cold specialty drinks (including lattes, cappuccinos and espresso shots), specialty teas and fruit smoothies, fresh baked goods, grilled Panini and classic sandwiches, wraps, soups, prepared foods and other food products. Tim Hortons has more than 4,700 system wide restaurants located in Canada, the United States and around the world. More information about the company is available at www.timhortons.com.