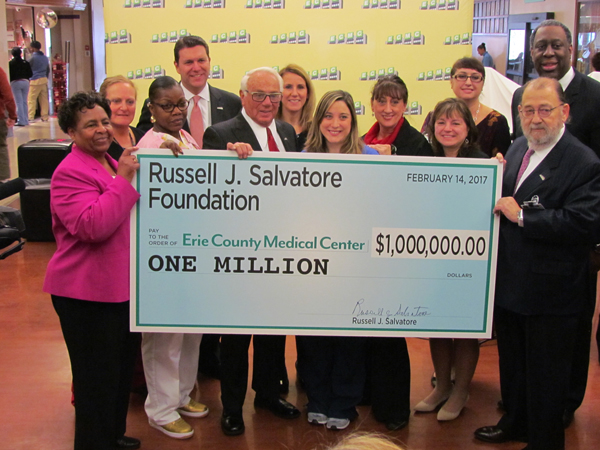 Russell J. Salvatore Provides Generous Donation To Erie County Medical Center Corporation's Capital Campaign
On Valentine's Day, Beloved Buffalo Restaurateur/Philanthropist Commits $1Million to ECMC's Capital Campaign; Generous Donation Boosts Campaign to Over $2.5 Million

BUFFALO, NEW YORK – Erie County Medical Center Corporation (ECMCC) today announced that renowned Buffalo restaurateur and philanthropist Russell J. Salvatore has provided a special Valentine's Day gift to the hospital he loves by generously committing $1 million to the hospital's capital campaign. With the contribution from Mr. Salvatore, ECMC has raised $2.5 million for its capital campaign, which is just beginning the process that will lead to the building of a new state-of-the-art Trauma Center/Emergency Department, as well as other capital improvements at the hospital, including the main entrance/lobby. In July 2014, Mr. Salvatore donated $500,000 that led to the opening of the Russell J. Salvatore Orthopaedic Unit in 2015 on the sixth floor of ECMC. He had also previously in 2012 donated $250,000 to upgrade televisions in patient rooms.
Russell J. Salvatore said, "ECMC holds a special place in my heart, demonstrating every day why it is truly our community's regional hospital. The quality care that each doctor, nurse, clinician and every employee provides for patients like me is really what sets ECMC apart. I have seen firsthand just how skilled and dedicated the ECMC caregivers are and I know that level of care is provided to every patient that comes to ECMC. It is important to me to express my thanks and gratitude to the entire ECMC staff and I am very happy to make this contribution and support their vitally important capital campaign."
ECMCC Chair Sharon L. Hanson said, "On behalf of my fellow Board of Directors at ECMCC we are truly grateful for the support and kindness Russell Salvatore has bestowed on ECMC through the years, but this contribution is remarkable and incredibly generous. Russell Salvatore is an icon of our community, who has always demonstrated through amazing acts of kindness just how compassionate and caring he is for Buffalo and Western New York. We are very thankful that he has chosen to make such a significant donation to the hospital's capital campaign."
ECMC Foundation Chair Jonathan Dandes said, "The ECMC Foundation and its Capital Campaign Committee are both humbled and tremendously appreciative of this magnificent gesture by Mr. Salvatore, one of WNY's iconic community leaders. The unparalleled statement of support for the ECMC Foundation, and our capital campaign demonstrates the depth and breadth of community support for our Trauma Center. With this gift, ECMC Foundation will continue to work tirelessly to complete the funding element of this project, which will provide our community with a world class, state-of-the-art trauma center. It is an honor for me to recognize the members of the ECMC Foundation Board of Directors and our Capital Campaign community volunteers. We are eternally grateful to Mr. Salvatore for his generosity and commitment to ECMC."
ECMCC President and CEO Thomas J. Quatroche Jr., Ph.D. said, "Russell Salvatore has been and continues to be a generous and incredibly supportive friend of ECMC. As he has shown before, he has been a stalwart benefactor of the hospital, but more importantly, he has always expressed his admiration and love of the thousands of ECMC caregivers who make our hospital so special and unique. By again showing such strong support for ECMC, Russell Salvatore leads by example and reminds us all just how special he is for our entire community. We are deeply appreciative of his support of ECMC and for this critically important capital campaign."
ECMC's new Trauma Center/Emergency Department will address an important community need by expanding the health care delivery system's capacity to serve patients that require emergency medical attention, serving as a referral source for other area hospitals to transfer patients that require specialized emergency care, advancing ECMC's engagement and investment in the City of Buffalo's Delevan-Grider Corridor, and building on ECMC's growing and dynamic relationship with the State University of New York at Buffalo (School of Medicine) and Kaleida Health System.
ECMC announced recently that 2016 proved to be an incredibly productive year for the hospital, with increased activity across service areas, including: Total Inpatient – 15,007 in 2010 to 18,839 in 2016 or 22.5% growth; Total Surgeries by Service – 11,944 in 2010 to 14,552 in 2016 or 21.8% growth; Total Emergency Department Visits – 58,090 in 2010 to 69,290 in 2016 or 19.3% growth; Total Outpatient Visits – 255,264 in 2010 to 306,564 in 2016 or 20.1% growth; and Average Length of Stay – 8.4 in 2010 to 7.5 in 2016.
The hospital achieved a $39.9 million or a 7.2% increase in operating revenues from 2015 to 2016 (from $553.1 million to $593.0 million) and a $1.2 million or 133% increase in operating surplus (from $0.9 million to $2.1 million).