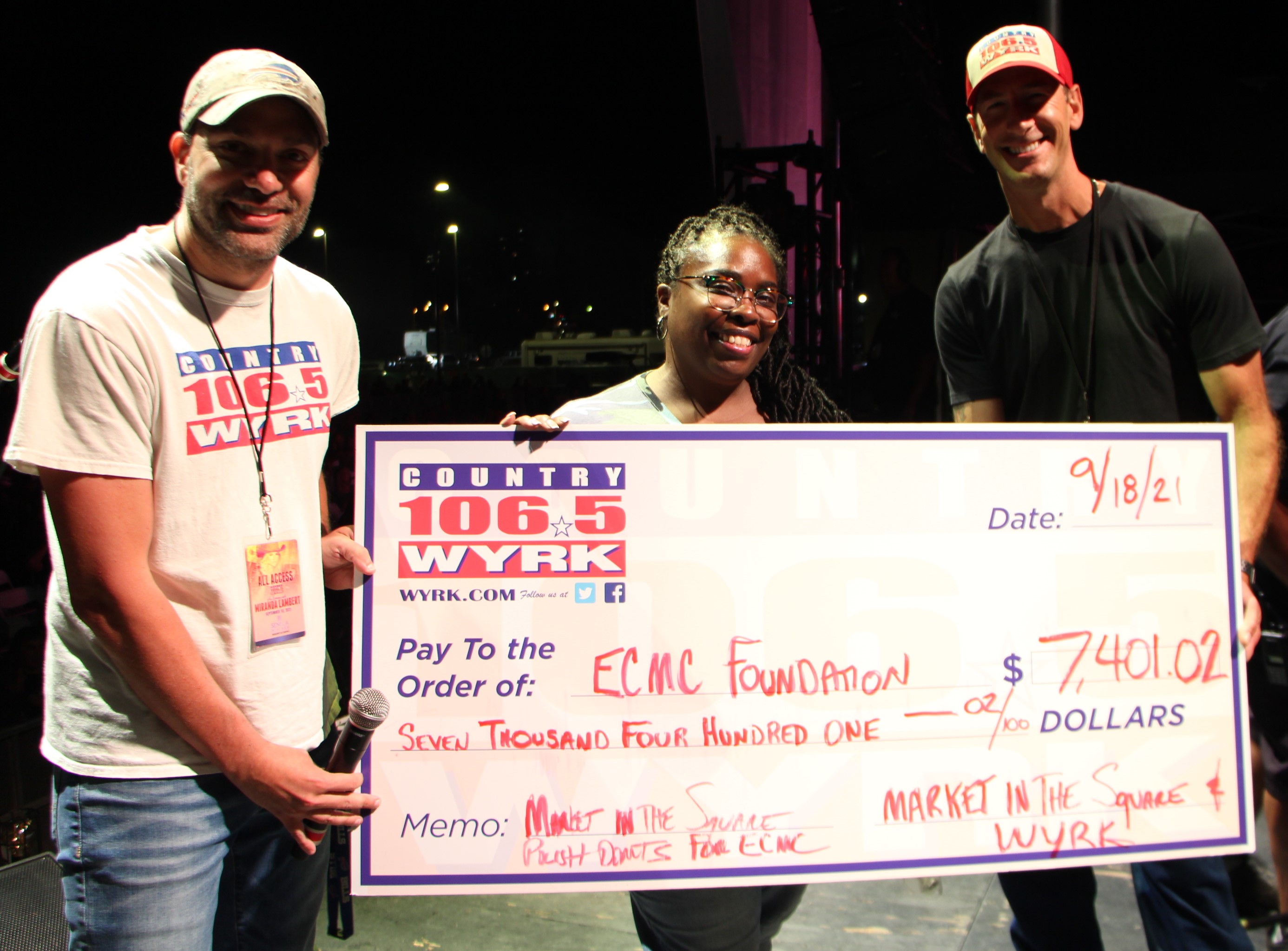 Results of the Market in the Square and Country 106.5 WYRK "Famous Polish Cheesecake Donut" Fundraising Challenge to Benefit ECMC
BUFFALO, NEW YORK — Erie County Medical Center (ECMC) Corporation officials today announced the results of The Market In The Square and Country 106.5 WYRK Famous Polish Cheesecake Donut Northtowns versus Southtowns fundraising sale challenge to support ECMC.
One dollar from each donut sold during the donut fundraiser held July 30 (Cheesecake Day) through September 17 generated $3,461.37 at The Market In the Square North Tonawanda store and $3,939.65 at the West Seneca store for a grand total of $7,401.02 raised in support of ECMC's courageous frontline caregivers.
Michelle Seay, RN, FNP, DNP-Candidate, Clinical Patient Care Liaison, ECMC (center) accepts check to ECMC Foundation from Dave Fields (left) and Clay Moden (right) of WYRK in the amount of $7,401.02 for funds raised from the Famous Polish Cheesecake Donut challenge in support of ECMC's courageous frontline caregivers.
ECMC is thankful to The Market In The Square and Country 106.5 WYRK for their support throughout this fundraising campaign.
ABOUT ERIE COUNTY MEDICAL CENTER (ECMC) CORPORATION: The ECMC Corporation was established as a New York State Public Benefit Corporation and since 2004 has included an advanced academic medical center with 583 inpatient beds, on- and off-campus health centers, more than 30 outpatient specialty care services and Terrace View, a 390-bed long-term care facility.  ECMC is Western New York's only Level 1 Adult Trauma Center, as well as a regional center for burn care, behavioral health services, transplantation, medical oncology and head & neck cancer care, rehabilitation and a major teaching facility for the University at Buffalo.  Most ECMC physicians, dentists and pharmacists are dedicated faculty members of the university and/or members of a private practice plan.  More Western New York residents are choosing ECMC for exceptional patient care and patient experiences – the difference between healthcare and true care ™.