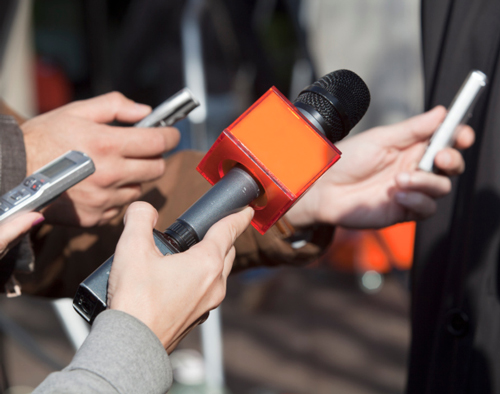 Patrick P. Lee Foundation Donates $250,000 to ECMC's New Trauma Center/Emergency Department
Generous $250,000 grant will directly support construction of Behavioral Health "Safe Rooms" and Comprehensive Psychiatric Emergency Program (CPEP) triage rooms in new Trauma Center/Emergency Department
BUFFALO, NEW YORK – Erie County Medical Center (ECMC) Corporation today announced the Patrick P. Lee Foundation has generously donated $250,000 for the hospital's future Trauma Center/Emergency Department. The funding will support construction of Behavioral Health "Safe Rooms" and Comprehensive Psychiatric Emergency Program (CPEP) triage rooms in the new Trauma Center/Emergency Department.
Patrick P. Lee Foundation Executive Director Jane Mogavero, said, "The Lee Foundation is proud to partner with ECMC on this significant project that will improve the patient experience for people living with mental health conditions and their families. The new behavioral health suites will ensure a safe and private space for patients while providing clinical staff a more optimal environment for care delivery."
ECMC Corporation President and CEO Thomas J. Quatroche Jr., PhD, said, "ECMC is very appreciative and thankful to the Patrick P. Lee Foundation for this generous donation, which will make a significant impact on our ability to successfully develop and open our new, state-of-the-art Trauma Center/Emergency Department, particularly for patients that seek behavioral health services. ECMC is the only Buffalo-area hospital that offers a psychiatrist in the emergency room and chemical-dependency evaluations, both 24-hours a day, seven-days a week. This donation will significantly enhance care for our behavioral health patients."
The Regional Center of Excellence for Behavioral Health at ECMC offers mental health and psychiatry services, as well as alcohol and drug addiction detoxification and rehab, for patients facing a variety of issues. ECMC's team of compassionate specialists provides care on both an inpatient and outpatient basis to best serve the needs of our community and patients. In addition to being one of the largest chemical-dependency treatment centers in Western New York, there are 180 certified beds in Behavioral Health designated for psychiatric treatment and 38 additional beds allocated for drug and alcohol treatment.
A hospital-based emergency psychiatric service, ECMC's Comprehensive Psychiatric Emergency Program (CPEP) is open 24 hours a day, seven days a week, to treat patients of all ages. As one of the largest CPEP programs in New York State, it serves adults, children, and adolescents in crisis from an entire floor in the new Behavioral Health Outpatient Center. CPEP cares for approximately 13,000 patients annually, which includes approximately 3,000 patients under the age of 18.
All treatment programs at ECMC are certified by the New York State Office of Mental Health, the Joint Commission on Accreditation of Healthcare Organizations (JCAHO) and the Office of Alcoholism and Substance Abuse Services (OASAS). Services are tailored based on patient circumstances and comprehensive care is offered for: Mental Health and Psychiatry; Alcohol and Drug Addiction Rehab.
Through ECMC's comprehensive services and compassionate care, staff are able to deliver on ECMC's mission of providing a safe, supportive patient- and family-centered environment that allows for the rapid stabilization of psychiatric symptoms and promotes an integrated transition back into the community. In addition, ECMC is committed to exceeding patients' expectations, maintaining the highest standards, and promoting a positive and rewarding environment.
Erie County Medical Center Corporation (ECMCC) plans to relocate its existing Trauma Center/Emergency Department into a newly-constructed ground floor facility on its Grider Street health campus. As the region's busiest and only Level 1 Adult Trauma Center and Emergency Department serving the 1.5 million residents of the eight counties of Western New York, it is imperative to expand to meet current and future demands for appropriate trauma and emergency care. The Trauma Center/Emergency Department serves patients for trauma, emergency psychiatric conditions via ECMC's Comprehensive Psychiatric Emergency Program ("CPEP") and traditional medical conditions and is best suited of any of the region's Emergency Departments to handle mass casualty, disaster-related circumstances.
The new Emergency Department will contain greater efficiencies in patient flow and staff workflow thereby enabling the Department's medical services team to achieve high quality standards and outcomes. The customized layout of the space will better align with physicians' and staff's work flow while creating a more patient-oriented space containing larger rooms to accommodate patients' families and the medical services team.
ECMC's new Trauma Center/Emergency Department will address an important community need by expanding the health care delivery system's capacity to serve patients that require emergency medical attention, serving as a referral source for other area hospitals to transfer patients that require specialized emergency care, advancing ECMC's engagement and investment in the City of Buffalo's Delevan-Grider Corridor, and building on ECMC's growing and dynamic relationship with the State University of New York at Buffalo (School of Medicine) and Kaleida Health System.
ABOUT THE PATRICK P. LEE FOUNDATION: The Patrick P. Lee Foundation, a private family foundation based in Buffalo, NY, focuses its investments in Mental Health and Education. The Lee Foundation is committed to ensuring the Western New York community is well-informed on mental health, inclusive of people living with mental illness and served by high quality, accessible mental health services. In Education, the Foundation's investments support post-secondary scholarships in high demand fields that lead to job realization.
ABOUT ERIE COUNTY MEDICAL CENTER (ECMC) CORPORATION: The ECMC Corporation was established as a New York State Public Benefit Corporation and since 2004 has included an advanced academic medical center with 583 inpatient beds, on- and off-campus health centers, more than 30 outpatient specialty care services and Terrace View, a 390-bed long-term care facility. ECMC is Western New York's only Level 1 Adult Trauma Center, as well as a regional center for burn care, behavioral health services, transplantation, medical oncology and head & neck cancer care, rehabilitation and a major teaching facility for the University at Buffalo. Most ECMC physicians, dentists and pharmacists are dedicated faculty members of the university and/or members of a private practice plan. More Western New York residents are choosing ECMC for exceptional patient care and patient experiences – the difference between healthcare and true care™.