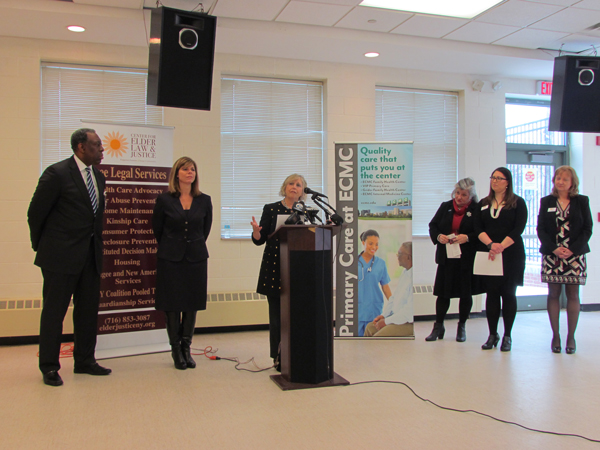 Legal Assistance Center Opens at ECMC
MedLaw Medical-Legal Partnership Now Provides Free Legal Services for Patients
The Center for Elder Law & Justice (CELJ), Erie County Medical Center Corporation (ECMCC), Western New York Breast Health, and the ECMC Foundation today announced the opening of the MedLaw Cancer Partnership of Western New York. The medical-legal partnership offers free legal assistance to ECMC patients who qualify.
A medical-legal partnership (MLP) unites the healthcare community with a civil legal services agency under a common mission – to address and prevent health-harming social conditions for vulnerable patients and communities. MLPs link lawyers, with doctors, nurses, social workers, and other clinical staff to help patients address underlying legal problems that harm their health.
People, such as those who live in low-income households, the elderly, or others in vulnerable situations, can be negatively impacted by their socio-economic circumstances which can become a detriment to improving their health and wellness. Social determinants of health can cause or contribute to legal problems that become a source of stress for patients and can become a barrier to receiving medical treatment.
The goal of MedLaw is to address a patient's legal needs that are beyond the scope of a healthcare provider's clinical capacity and expertise. Attorneys from CELJ are now located at ECMC as an integral part of the patient care team. Referrals to MedLaw are being made directly by healthcare providers who are trained to identify common legal problems impacting their patients.
MedLaw provides community education and offers full representation and/or brief advice and counsel in such matters as: access to state and federal public benefits, health insurance, housing and utilities, employment, legal status, planning for future decision-making, end of life planning, consumer issues, and other personal/family concerns.
In addition to the legal assistance center, MedLaw is providing training sessions for hospital staff, and educational events on important legal topics for patients and the community.
MedLaw is currently serving ECMC, Mobile Mammography Unit, and Western New York Breast Health patients being treated for breast cancer, at risk of breast cancer, or being treated by ECMC's palliative medicine team. Preference is given to low-income individuals. MedLaw will later expand services to help other qualifying ECMC patient populations.
New York State Assemblymember Crystal Peoples-Stokes said, "MedLaw is the result of a rational, creative and solution-oriented approach to addressing patient needs. These support services are helping to close the loop and minimize external issues that may affect patient's health. I support and congratulate ECMC, Center for Elder Law and Justice, ECMC Foundation, and WNY Breast Health for bringing this to fruition and wish you and your patients improved health and much success."
New York State Assemblymember Monica Wallace said, "It's great to see this collaboration between the Center for Elder Law and Justice and ECMC that puts the patient first in a time of uncertainty in their lives. The launch of MedLaw will ensure that patients can focus on their treatment and recovery, with pro bono legal services giving them peace of mind in matters of housing, insurance, benefits, and other areas that would otherwise cause stress to the patient."
City of Buffalo Mayor Byron W. Brown said, "The launch of MedLaw is a monumental partnership for our region. Not only will it expand eligibility and access to free legal services for Buffalo residents, it is specifically designed to help some of our most vulnerable residents – those facing cancer and other serious diagnoses. Additionally, MedLaw will offer community educational events to the general public and in its work, it will offer life-saving help and instructional opportunities for City residents to improve their knowledge and quality of life."
Andrew L. Davis, MBA, Chief Operating Officer, ECMCC, said, "The patient has always been at the center of the care we deliver. ECMC is a special place, with dedicated caregivers. We now have dedicated attorneys on-site to provide specialized medical-legal services. We are grateful to the professionals from CELJ, Western New York Breast Health, ECMC, and our Foundation for working together to offer these very much needed services to those patients who require this assistance.
Rachel S. Baldassaro, Esq., Project Director of MedLaw, said, "MedLaw combines the passion and knowledge of a proven legal services agency with the prestige of one of our region's largest hospitals, including the skills of exceptional healthcare providers, all in an effort to improve health outcomes and quality of life for our local population."
Dr. Kathleen Grimm, Supportive Medicine Services, ECMC; and Clinical Assistant Professor of Medicine, University at Buffalo, said, "A person's health can be significantly impacted by social, economic, and environmental factors which are outside of the realm of expertise of the doctor or other clinician providing medical care. We anticipate that this new medical-legal service, for those who require such assistance, will contribute to the reduction of patient stress and ultimately improve patient outcomes."
The MedLaw legal assistance center is located at ECMC, 462 Grider Street, 6th Floor, Room 690, Buffalo, NY 14215. Those individuals interested in finding out about qualifications or to make an appointment, call 716-853-3087, ext. 250, or call toll free 1-844-700-1872. To learn more, visit: www.bit.ly/MedLawWNY.