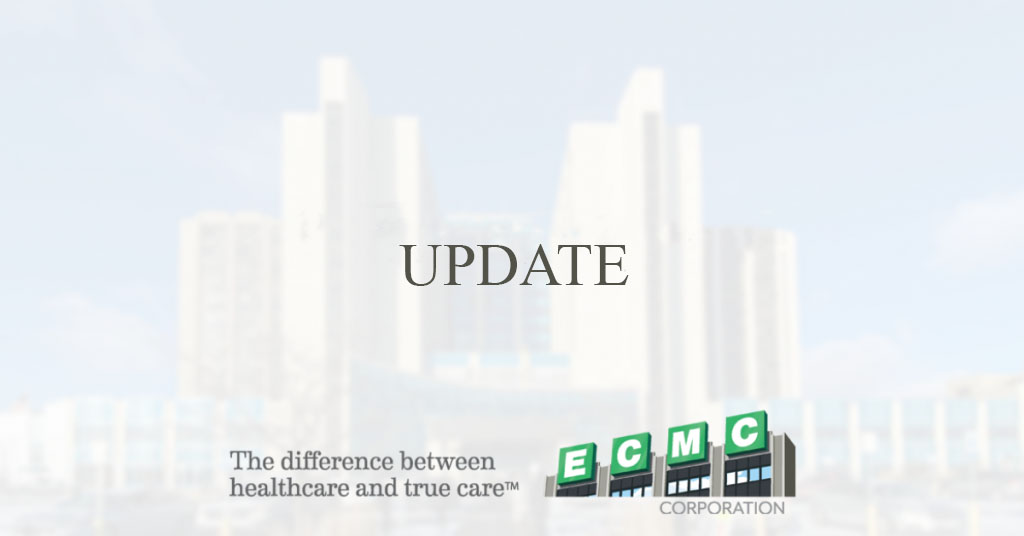 Independent Health Medical Office Building Dedicated at ECMC
Independent Health generously contributed $1 million to ECMC's Capital Campaign; Renamed facility on ECMC health campus houses ECMC Family Health Center
BUFFALO, NEW YORK—Erie County Medical Center (ECMC) Corporation today joined representatives of Independent Health to dedicate the newly renamed Independent Health Medical Office Building, which houses ECMC Family Health Center and the Kaleida Health Kensington OB-GYN clinic on the institution's Grider Street health campus. In 2019, Independent Health donated a generous $1M grant for ECMC's capital campaign, which led to the construction of the new state-of-the-art KeyBank Trauma and Emergency Department, as well as other capital improvements on the 65-acre health campus.
Independent Health President and Chief Executive Officer Michael W. Cropp, M.D., MBA, stated, "Independent Health is proud to support the Erie County Medical Center in its commitment to providing its patients individualized care delivered with excellence, compassion, safety and efficiency. Through the years, the Independent Health and ECMC teams have forged wide-ranging and effective partnerships that have been essential for advancing health care, and we are very proud of the newly named Independent Health Medical Building. I look forward to continued collaboration with ECMC as we identify ways to positively impact the well-being of others and our region."
ECMC Corporation President and CEO Thomas J. Quatroche Jr., PhD, said, "We are very grateful to Independent Health for their leadership in supporting the ECMC Capital Campaign for the new Trauma and Emergency Department.  We are very pleased to recognize them with the naming of this building, which houses our family health services.  ECMC and IHA work collaboratively to ensure access and quality for primary care in our community, and this is just one more example of the strength of that partnership.  I would like to thank IHA CEO Michael Cropp for his leadership in our community and Jon Dandes, Chair of the ECMC capital campaign, for his leadership in securing this donation."
Independent Health Executive Vice President and Chief Medical Offer Anthony J. Billittier IV, MD, added: "ECMC has become the trauma and emergency care destination of choice for those who experience critical injury or other medical emergencies, even when other care options are available, as each patient receives the same high level of care. The shared dedication and alignment of both Independent Health and ECMC are evident in the work we do collectively to improve the lives of our community."
ECMC's Family Health Center, now housed in the Independent Health Medical Office Building, contains 22 exam rooms, onsite phlebotomy, and 9 healthcare providers. Primary care services in the Center include:
Immunization and vaccines
Comprehensive preventative and wellness care
Well child visits (newborn through teens)
Sexually transmitted disease counseling
Cancer screening
High blood pressure screening
Cholesterol screening
Treatment for acute and chronic illnesses
Treatment or referral for acute injuries
Comprehensive physical examinations
Health and wellness programs
Blood testing
Comprehensive lab services
Prenatal care
Basic colposcopy
Stitches
Skin biopsy
Wart removal
Urine pregnancy testing
Blood glucose testing
ABOUT INDEPENDENT HEALTH: Independent Health, a not-for-profit health plan headquartered in Buffalo, New York, serves nearly 355,000 members and provides innovative health care products and benefits designed to engage consumers in their health and well-being.   Established in 1980, our comprehensive portfolio of progressive products include HMO, POS, PPO and EPO products, Medicare and Medicaid plans, traditional indemnity insurance, individual and small group Exchange products, consumer-directed plans and health savings accounts, plus coverage for self-funded employers.  Our subsidiaries and affiliate companies include pharmacy benefit management, specialty pharmacy and the Independent Health Foundation. The company has been recognized nationally for its award winning customer service, dedication to quality health care and unmatched relationships with physicians and providers.  To learn more, go to www.independenthealth.com.
About Erie County Medical Center (ECMC) Corporation: The ECMC Corporation was established as a New York State Public Benefit Corporation and since 2004 has included an advanced academic medical center with 573 inpatient beds, on- and off-campus health centers, more than 30 outpatient specialty care services and Terrace View, a 390-bed long-term care facility. ECMC is Western New York's only Level 1 Adult Trauma Center, as well as a regional center for burn care, behavioral health services, transplantation, medical oncology and head & neck cancer care, rehabilitation and a major teaching facility for the University at Buffalo. Most ECMC physicians, dentists and pharmacists are dedicated faculty members of the university and/or members of a private practice plan. More Western New York residents are choosing ECMC for exceptional patient care and patient experiences – the difference between healthcare and true care™.