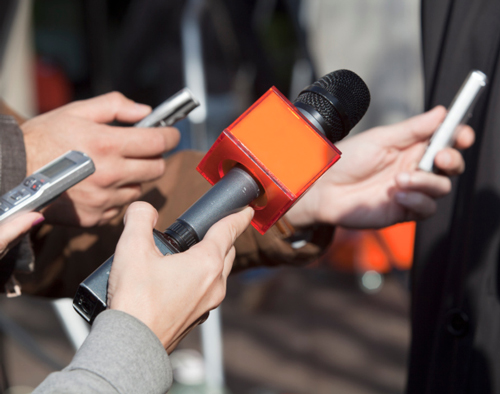 Independent Health Announces $1m Grant To ECMC for Expanded Trauma and Emergency Department
Generous donation adds to significant private sector support for new facility
BUFFALO, NEW YORK—Erie County Medical Center (ECMC) Corporation today announced a generous $1M grant from Independent Health for the hospital's future Trauma and Emergency Department.  To date, total private donations to the future facility have reached $14.7 million.
Independent Health President and Chief Executive Officer Michael W. Cropp, M.D., MBA, stated, "Independent Health is proud to support Erie County Medical Center in its commitment to provide patients with individualized care that is delivered with excellence, compassion, safety and efficiency. By improving access to the highest quality trauma and emergency care, ECMC is raising the bar in the critical role it plays in responding to the needs of the community."
ECMC Corporation President and CEO Thomas J. Quatroche Jr., PhD, said, "ECMC is deeply appreciative and grateful to Independent Health for their strong support of ECMC's future state-of-the-art Trauma and Emergency Department. Independent Health's generous donation underscores their appreciation for the lifesaving care our Trauma and Emergency Department caregivers provide for thousands of patients annually.  ECMC and Independent Health are both committed to improving the lives of our community and this gift is another expression of that shared commitment."
ECMC Board Chair Jonathan A. Dandes, said, "On behalf of my fellow Board members, I thank Independent Health for their extraordinary support for this critically important project. I commend Dr. Michael Cropp and the entire Independent Health team for their confidence in ECMC, especially the lifesaving care of our remarkable clinicians. Once completed, ECMC's new Trauma and Emergency Department will be among our nation's most sophisticated and advanced facilities for trauma and emergency services and support like Independent Health's is essential to that outcome."
The new Trauma and Emergency Department will contain greater efficiencies in patient flow and staff workflow, thereby enabling the Department's medical services team to achieve high quality standards and outcomes. The current facility, built to accommodate 45,000 patients annually, treats over 70,000 patients each year.
The customized layout of the new space will better align with physicians' and staff's work flow while creating a more patient-oriented space containing larger rooms to accommodate patients' families and the medical services team.
Anthony J. Billittier IV, M.D., executive vice president and chief medical officer at Independent Health said, "Having spent nearly three decades working in the Emergency Department at Erie County Medical Center, I can personally attest to the immense impact this project will have on our patients and their families, in addition to physicians and the entire care team. Thanks to greater workflow efficiencies and safety, we can continue to serve the growing number of community members who require the emergency, life-saving care they expect to receive at Erie County Medical Center."
As the region's busiest and only Level 1 Adult Trauma and Emergency Department serving the 1.5 million residents of the eight counties of Western New York, this expansion is crucial to ECMC's efforts to meet current and future demands for appropriate trauma and emergency care. The Trauma and Emergency Department serves patients for trauma, emergency psychiatric conditions via ECMC's Comprehensive Psychiatric Emergency Program ("CPEP") and traditional medical conditions and is best suited of any of the region's Emergency Departments to handle mass casualty, disaster-related circumstances.
ECMC's new Trauma and Emergency Department will address an important community need by expanding the healthcare delivery system's capacity to serve patients that require emergency medical attention, serve as a referral source for other area hospitals to transfer patients requiring specialized emergency care, advance ECMC's engagement and investment in the City of Buffalo's Delevan-Grider Corridor, and build on ECMC's growing and dynamic relationship with Kaleida Health and the University at Buffalo's Jacobs School of Medicine and Biomedical Sciences.
ABOUT INDEPENDENT HEALTH: Independent Health, a not-for-profit health plan headquartered in Buffalo, New York, serves nearly 355,000 members and provides innovative health care products and benefits designed to engage consumers in their health and well-being.   Established in 1980, our comprehensive portfolio of progressive products include HMO, POS, PPO and EPO products, Medicare and Medicaid plans, traditional indemnity insurance, individual and small group Exchange products, consumer-directed plans and health savings accounts, plus coverage for self-funded employers.  Our subsidiaries and affiliate companies include pharmacy benefit management, specialty pharmacy and the Independent Health Foundation. The company has been recognized nationally for its award winning customer service, dedication to quality health care and unmatched relationships with physicians and providers.  To learn more, go to www.independenthealth.com.
ABOUT ERIE COUNTY MEDICAL CENTER (ECMC) CORPORATION: The ECMC Corporation was established as a New York State Public Benefit Corporation and since 2004 has included an advanced academic medical center with 573 inpatient beds, on- and off-campus health centers, more than 30 outpatient specialty care services and Terrace View, a 390-bed long-term care facility.  ECMC is Western New York's only Level 1 Adult Trauma Center, as well as a regional center for burn care, behavioral health services, transplantation, medical oncology and head & neck cancer care, rehabilitation and a major teaching facility for the University at Buffalo.  Most ECMC physicians, dentists and pharmacists are dedicated faculty members of the university and/or members of a private practice plan.  More Western New York residents are choosing ECMC for exceptional patient care and patient experiences – the difference between healthcare and true care ™.