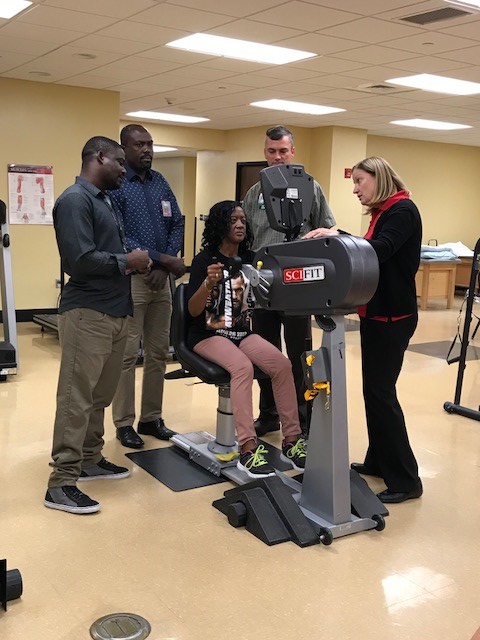 Haitian Rehab. Clinicians Undergo Intensive Training by D'Youville & ECMC Clinical Rehab. Specialists
BUFFALO, NEW YORK-Erie County Medical Center (ECMC) Corporation today hosted two Haitian rehabilitation clinicians who have been undergoing intensive rehabilitation therapy training through D'Youville College since October 9, 2017. The clinicians coordinated training sessions yesterday at School 84 on the ECMC Health Campus and today at ECMC's Department of Rehabilitation Medicine.
Cedieu Fortilus, a Rehabilitation Technician manages a rehabilitation clinic in his native Haiti. His patient case mix includes: pediatrics, people with orthopaedic and back problems, stroke, and amputations. Wilfrid Macena was a welder in Haiti before being injured by the 2010 earthquake, after which he lost his right leg due to the injury and subsequent infection. Macena has since been trained in prosthetics and orthotics in Haiti. Both Haitian clinicians have been participating in intensive training in several areas. D'Youville and ECMC Physical Therapy (PT) and Occupational Therapy (OT) faculty, alumni and current students offered educational sessions in: splinting, pediatrics, back care, body mechanics, and more.
The visit and training was coordinated through the Haiti Rehab Project founded by Ginger Oliver, PT, a physical therapist from the Utica, New York area, who was inspired to help the Haitians after the devastating 2010 earthquake.
ECMC Corporation President and CEO Thomas J. Quatroche Jr., PhD, said: "This is truly a noble humanitarian collaboration. ECMC, D'Youville, and School 84 staff, as well as our Haitian visitors, are demonstrating their compassion for those Haitians impacted by the earthquake, as well as members of our community who require the rehabilitative and therapeutic expertise of these skilled clinicians and their American counterparts. I congratulate and thank all involved for their efforts."
D'Youville College President Dr. Lorrie Clemo said: "Any particular global crisis requires that we all help to the level of our abilities. That's what a mission based organization does" said Dr. Lorrie Clemo, president of D'Youville College. "At D'Youville College we give our students the opportunity to be involved in real-world experiences, in addition to classroom learning, so they become problem solvers and compassionate leaders in the health professions. The ability to partner with ECMC and School 84 was essential in this case."
D'Youville College Physical Therapy Department Chair Dr. Lynn Rivers said: "All D'Youville college school of health profession faculty and students are committed to service. It's just part of what we are" said Dr. Lynn Rivers, chair of the D'Youville College Physical Therapy Department. "The exciting part of this particular trip for us is that we brought health professionals from Haiti to our campus. Students, faculty and many local clinical partners including ECMC and School 84 trained them and equipped them with technology and are returning them to their country better able to service their patients in the long term. This is a sustainable solution."
A full school day at School 84 enabled the Haitians to observe physical and occupational therapy, see adaptive equipment, power wheelchairs, augmentative communication devices, etc. The instruction in ECMC's Rehabilitation Department provided increased awareness in rehabilitation practices for patients who have brain injury, amputations, stroke, and other injuries/illnesses.  D'Youville's Information Technology faculty and staff have been training the Haitian clinicians in computer technology on new laptops, which are being donated to them along with a projector and printers. D'Youville College has also committed to on-going collaboration with the Haiti Rehab Project with the intent to provide telemedicine conferencing with the Haitian clinicians once they return to Haiti.
In addition to their clinical work and training, Fortilus and Macena formed the amputee soccer Team Zaryen, which plays in Haiti to increase awareness of the capabilities of people with disabilities. Macena is the captain. The Team Zaryen website includes photos of the team at: http://haitirehabproject.org/team-zaryen/. YouTube includes videos of the team in action at: https://www.youtube.com/results?search_query=Team+Zaryen.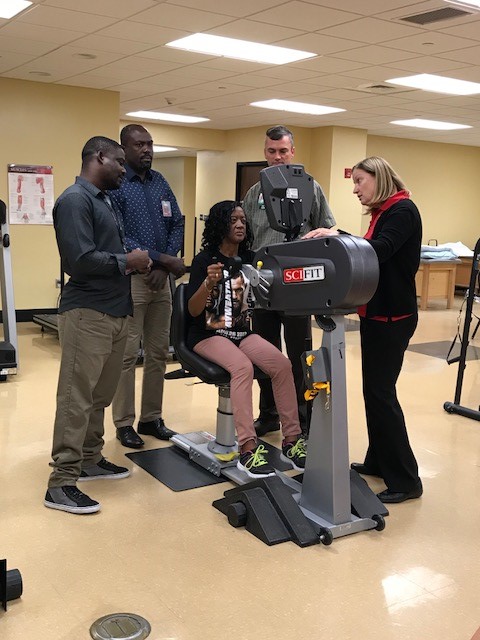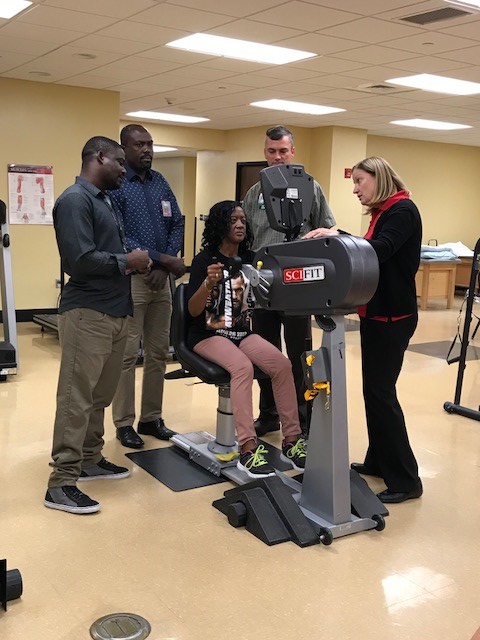 PHOTO CAPTION: Haitian rehab. therapists Wilfred Macena (left) and Cedieu Fortilus (second from left) observe auto accident patient exercising at ECMC as D'Youville College Physical Therapy Dept. Chair Dr. Lynn Rivers (right) and ECMC Rehab. Acute Care Supervisor and Physical Therapist Kevin Jenney (second from right) instruct the Haitian visitors in one of many training sessions held during their multi-week visit for intensive therapeutic instruction.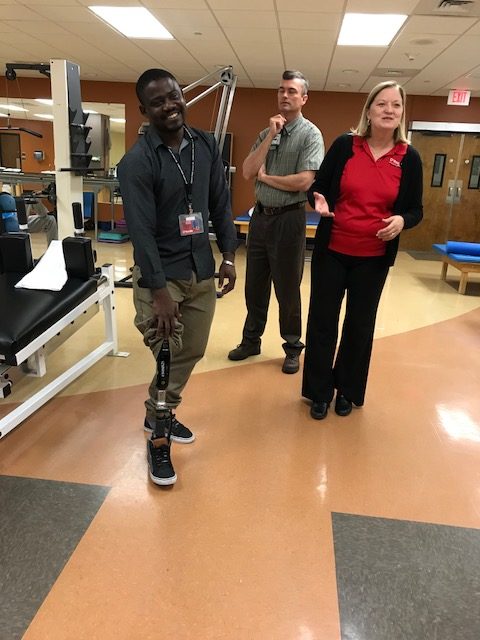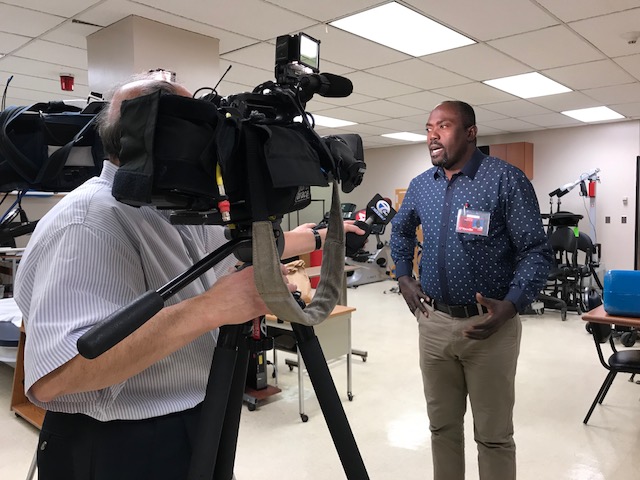 ABOUT D'YOUVILLE COLLEGE: D'Youville is a private college located on the vibrant west side of Buffalo, preparing students for the 21st-century. D'Youville excels in helping students reach their career goals while instilling character to become change agents for the greater good. Featuring an urban, growing campus community of over 3,000 students, D'Youville offers more than 50 majors in undergraduate, graduate, and doctoral studies including advanced certificates and accelerated learning programs. Features degrees in healthcare, business, and the liberal arts, D'Youville encourages students to balance inter-and-extracurricular activities integrating community service with coursework. D'Youville's proud graduates have the academic rigor necessary for careers that make a difference and the skills to be leaders for the world of tomorrow.
ABOUT ERIE COUNTY MEDICAL CENTER (ECMC) CORPORATION: The ECMC Corporation was established as a New York State Public Benefit Corporation and since 2004 has included an advanced academic medical center with 583 inpatient beds, on- and off-campus health centers, more than 30 outpatient specialty care services and Terrace View, a 390-bed long-term care facility. ECMC is Western New York's only Level 1 Adult Trauma Center, as well as a regional center for burn care, behavioral health services, transplantation, medical oncology and head & neck cancer care, rehabilitation and a major teaching facility for the University at Buffalo. Most ECMC physicians, dentists and pharmacists are dedicated faculty members of the university and/or members of a private practice plan. More Western New York residents are choosing ECMC for exceptional patient care and patient experiences – the difference between healthcare and true care™.