Grand Island School District Donation to ECMC Trauma Center/Emergency Department Capital Project
WHAT: Grand Island School District Donation to ECMC Trauma Center/Emergency Department (ED) Capital Project
WHEN: Wednesday, February 28, 2018; 3:15 PM
WHERE: Kaegebein Elementary School, 1690 Love Road, Grand Island NY
WHO: Grand Island School District Representatives:
Brian S. Graham, Superintendent, Grand Island Central Schools
Ann Marie Stewart, Nurse, Kaegebein Elementary School
Dana Papaj, Teacher Aide, Huth Road Elementary School
ECMC Representatives:

Thomas J. Quatroche Jr., PhD, President & CEO, ECMC Corp.
Dr. Michael A. Manka, MD, Chief of Emergency Medicine, ECMC Corp.
WHY: The choice to give toward ECMC's Trauma Center/Emergency Department Capital Project is a life-and-death decision. The hospital will double the size of the existing Trauma Center/Emergency Department, breaking ground this spring with an expected completion date by 4th Quarter 2019. ECMC doctors, nurses, and support staff make life and death decisions every day in ECMC's Trauma Center/ED. Generous contributions help ECMC to expand lifesaving care to the patients who turn to ECMC when it matters most. Teachers throughout the Grand Island School District raised funds via 'Dress Down Fridays" to support ECMC's Trauma Center/Emergency Department Capital Project. The effort was organized by Ann Marie Stewart, whose daughter, Amy Terpening, is a trauma survivor who received her care at ECMC. Amy is currently featured in ECMC's Trauma Center/Emergency Department Capital Project broadcast and print advertising campaign.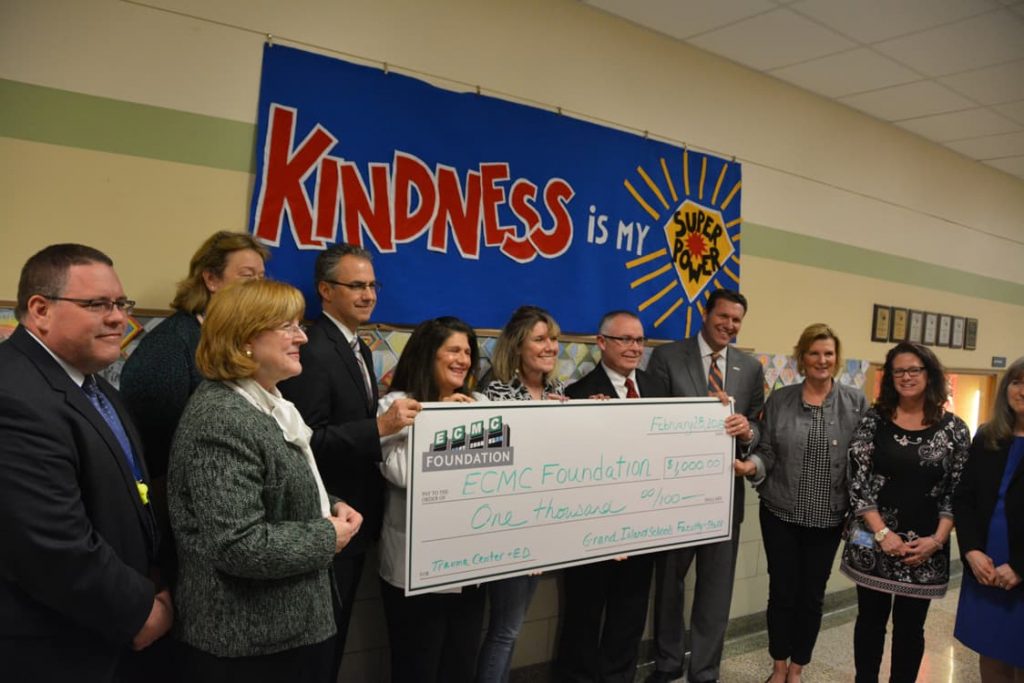 ABOUT ECMC FOUNDATION: From lifesaving surgery for trauma patients to the extra support that makes a difficult time easier for visiting families, ECMC offers true care at every level. ECMC Foundation, a not-for-profit corporation, enhances what ECMC offers to our patients and community, secures the resources that make all the difference, and takes on initiatives to financially support the lifesaving work of ECMC. As our community hospital, ECMC serves a range of patients and families across Western New York. Through generous community support and building connections throughout our region, the Foundation strives to make more possible for our patients, their families, and our community.
ABOUT ERIE COUNTY MEDICAL CENTER (ECMC) CORPORATION: The ECMC Corporation was established as a New York State Public Benefit Corporation and since 2004 has included an advanced academic medical center with 583 inpatient beds, on- and off-campus health centers, more than 30 outpatient specialty care services and Terrace View, a 390-bed long-term care facility. ECMC is Western New York's only Level 1 Adult Trauma Center, as well as a regional center for burn care, behavioral health services, transplantation, medical oncology and head & neck cancer care, rehabilitation and a major teaching facility for the University at Buffalo. Most ECMC physicians, dentists and pharmacists are dedicated faculty members of the university and/or members of a private practice plan. More Western New York residents are choosing ECMC for exceptional patient care and patient experiences – the difference between healthcare and true caretrade;.