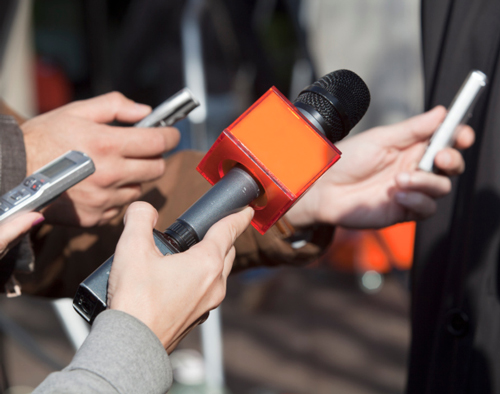 Erie County Medical Center Corporation Continues Record Activity Through Third Quarter
Hospital's strong operations, exceeding 2016's historic patient volume activity in several categories; record financial performance continues
BUFFALO, NEW YORK – Erie County Medical Center Corporation (ECMCC) today announced that the hospital's Third Quarter operations continue the record trends established in 2016, which marked the busiest year in the hospital's history. From discharges to inpatient surgeries and reducing length of stay, key categories for measuring ECMC's record operations indicate continued strong, positive growth. In addition, ECMC is $1.5 million ahead of budget for the current year and $1.8 million ahead of the same period in 2016.

ECMCC President and CEO Thomas J. Quatroche Jr., Ph.D. said, "ECMC's commitment to quality and compassionate care for our patients continues to make ECMC a first choice for care for many Western New Yorkers. While 2016 proved to be ECMC's best year historically, our strong performance through Third Quarter 2017 reinforces what we have known for a very long time – ECMC's unique culture of talented, experienced and compassionate caregivers has helped create an environment of hope and healing that our community turns to when it matters most. Our staff is truly a family of caregivers who each day do everything to help improve the lives of so many in our community. We continue to be good stewards of the community's hospital through our strong operations and sound financial results. We thank our community for continuing to put their trust in ECMC."
As the chart below demonstrates, ECMC's operations through the Third Quarter 2017 were strong versus the same period in 2016, which included the best operations results in the hospital's history.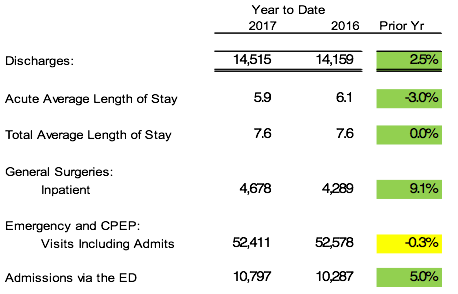 * – Note, decrease in length of stay is, according to industry standards, a positive outcome, especially when hospitals like ECMC are caring for patients with more complex and acute illnesses.


ABOUT ERIE COUNTY MEDICAL CENTER (ECMC) CORPORATION:  The ECMC Corporation was established as a New York State Public Benefit Corporation and since 2004 has included an advanced academic medical center with 583 inpatient beds, on- and off-campus health centers, more than 30 outpatient specialty care services and Terrace View, a 390-bed long-term care facility.  ECMC is Western New York's only Level 1 Adult Trauma Center, as well as a regional center for burn care, behavioral health services, transplantation, medical oncology and head & neck cancer care, rehabilitation and a major teaching facility for the University at Buffalo.  Most ECMC physicians, dentists and pharmacists are dedicated faculty members of the university and/or members of a private practice plan.  More Western New York residents are choosing ECMC for exceptional patient care and patient experiences – the difference between healthcare and true care™.