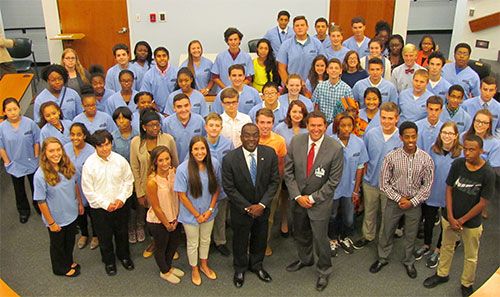 ECMCC Celebrates Completion of 9th Annual Summer Youth Intern Program
125 students from 50 area high schools successfully complete rigorous four-week program
The Erie County Medical Center Corporation (ECMCC) today celebrated the completion of the 9th Annual Summer Youth Intern Program. The four-week comprehensive self-development program, administered by the ECMC Foundation, included 125 students from 50 area high schools who had to meet rigorous academic criteria to be eligible to participate. Fifty percent of the participating students come from Buffalo Mayor Byron Brown's Summer Youth Employment and Internship Program.
The program offered participants a hospital-based career exploration to stimulate interest in employment in health services and to help meet the future need for qualified personnel in this field.  They were required to work two (2) six-hour days for a total of 12 hours per week, which included a hospital-based career exploration program; a heart health education program, an accident prevention course and/or a CPR certification course.
Buffalo Mayor Byron Brown said, "I am very pleased to again work in close collaboration with ECMCC through my annual summer youth employment and internship program to provide these academically high achieving students with real-life health care workplace experience. I am proud of their accomplishment in successfully completing their summer internship and thank our partners at ECMCC for providing the students the opportunity to learn firsthand the demands of a critically important work environment that has such an important impact on the lives of citizens."
ECMCC President and CEO Thomas J. Quatroche, Jr., Ph.D. said, "These students did a great job this summer and ECMCC was again very happy to support this worthy Summer Youth program, helping to reinforce the vital role our hospital plays in the delivery of health care services to the citizens of Western New York. We are grateful to both Mayor Brown and the ECMC Foundation for their key support of this program, giving the participating high school students a better understanding of the important role hospitals play in serving our community."
The criteria in which interns were selected for the ECMCC Summer Youth Intern Program included: an 80% overall GPA; two letters of recommendation from their school; 14 – 17 years of age; attendance of 10th, 11th or 12th grade in the Fall of 2016, medical assessments, working papers, parent permission and a successful completion of a personal interview.  ECMC's Summer Youth Intern Program is a two-year program, where participants, if they maintain the required academic GPA, can return the following summer for the second year of the summer internship.
The participating high schools included: Alden; Amherst Central; Buffalo Academy for the Visual and Performing Arts; Buffalo Academy of Science; Buffalo Academy of the Sacred Heart; Bishop Timon St. Jude; Canisius; Cardinal O'Hara; Charter School of Applied Tech; Cheektowaga Central; City Honors; Clarence; Cleveland Hill; Depew; East Aurora; Global Concepts Charter; Grand Island; Hamburg; Health Science Charter; Hutchinson Central Technical; Kenmore West; Lakeshore Central; Lancaster; Leonardo DaVinci; Maryvale; McKinley; Mt. Mercy Academy, Middle Early College HS; Nardin Academy; Newfane; Nichols School; North Collins; Olmsted; Orchard Park; Park School of Buffalo; St. Joseph's Collegiate; St. Francis; Saints Tabernacle School of Excellence; Springville Griffith Institute; Tapestry Charter; Williamsville East; Williamsville North; and Williamsville South.
ABOUT MAYOR BROWN'S SUMMER YOUTH EMPLOYMENT AND INTERNSHIP PROGRAM: The program provides six weeks of employment and work-readiness training to youth in the City of Buffalo during the summer months.  The Mayor's Administration is committed to preparing city youth for the jobs of the future and the Summer Youth Employment and Internship program helps ensure the success of the next generation by encouraging young people to start their career path with a summer job. Since 2006, the summer youth employment program has provided over 22,000 employment opportunities to city youth. This year, the city added funding to create 50 additional positions, increasing the city's summer youth workforce to 1,500."