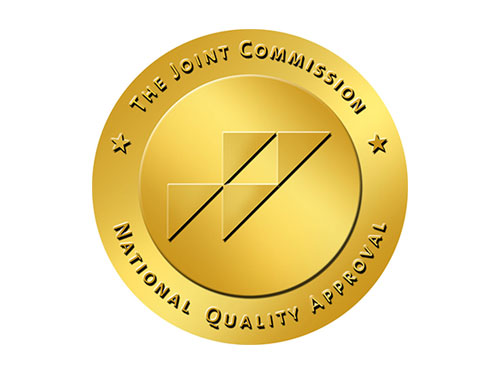 ECMCC Awarded Hospital Accreditation From The Joint Commission
Outcome reflects ECMCC's commitment to providing safe and effective patient care
BUFFALO, NEW YORK— Erie County Medical Center Corporation (ECMCC) today announced it has earned The Joint Commission's Gold Seal of Approval® for its full Hospital Accreditation for a three-year period by demonstrating continuous compliance with its performance standards. The Gold Seal is a symbol of quality that reflects a healthcare organization's commitment to providing safe and quality patient care.
ECMCC Chair Jonathan A. Dandes said, "On behalf of the ECMC Corporation Board of Directors, I thank the Joint Commission for this important accreditation that confirms ECMC's strong adherence to rigorous national standards for delivery of quality healthcare services. As important, I congratulate ECMC's leadership team and all of its physicians, nurses, and staff who every day ensure the very best care for our community, one patient at a time.   ECMC continues to evolve and grow, building on its strong legacy of clinical excellence and surveys conducted by national entities like the Joint Commission that lead to full hospital accreditation is further evidence of the fulfillment of our mission – to provide every patient the highest quality of care delivered with compassion."
ECMCC President and CEO Thomas J. Quatroche Jr., Ph.D., said, "Throughout our nation's network of healthcare institutions, Joint Commission accreditation is universally regarded as the national standard of excellence.  This accreditation affirms ECMC's overall quality of care and I applaud our entire ECMC family of caregivers for their consistently strong quality and clinical outcomes that reflect their dedication to their patients, from the most vulnerable to the most influential. The quality care provided to their patients is a matter of pride and passion for ECMC's doctors, nurses and support staff; they are dedicated to our mission and they sustain our decades-long contributions to the care and support of their fellow Western New Yorkers."
The Joint Commission Chief Operating Officer, Division of Accreditation and Certification Operations & Chief Nursing Executive, Mark G. Pelletier, RN, MS, said, "As a private accreditor, The Joint Commission surveys health care organizations to protect the public by identifying deficiencies in care and working with those organizations to correct them as quickly and sustainably as possible. We commend ECMCC for its continuous quality improvement efforts in patient safety and quality of care."
ECMC underwent a rigorous, unannounced onsite survey in late July. During the review, a team of Joint Commission expert surveyors evaluated compliance with hospital standards related to several areas, including emergency management, environment of care, infection prevention and control, leadership, and medication management.  Surveyors also conducted onsite observations and interviews.
The Joint Commission's standards are developed in consultation with health care experts and providers, measurement experts and patients. They are informed by scientific literature and expert consensus to help healthcare organizations measure, assess and improve performance. The surveyors also conducted onsite observations and interviews.

The Joint Commission: Founded in 1951, The Joint Commission seeks to continuously improve health care for the public, in collaboration with other stakeholders, by evaluating health care organizations and inspiring them to excel in providing safe and effective care of the highest quality and value. The Joint Commission accredits and certifies nearly 21,000 health care organizations and programs in the United States. An independent, nonprofit organization, The Joint Commission is the nation's oldest and largest standards-setting and accrediting body in health care. Learn more about The Joint Commission at www.jointcommission.org.
ABOUT ERIE COUNTY MEDICAL CENTER (ECMC) CORPORATION:  The ECMC Corporation was established as a  New York State Public Benefit Corporation and since 2004 has  included an advanced academic medical center with 573 inpatient beds, on- and off-campus health centers, more than 30 outpatient specialty care services and Terrace View, a 390-bed long-term care facility.  ECMC is Western New York's only Level 1 Adult Trauma Center, as well as a regional center for burn care, behavioral health services, transplantation, medical oncology and head & neck cancer care, rehabilitation and a major teaching facility for the University at Buffalo.  Most ECMC physicians, dentists and pharmacists are dedicated faculty members of the university and/or members of a private practice plan.  More Western New York residents are choosing ECMC for exceptional patient care and patient experiences—the difference between healthcare and true care™.