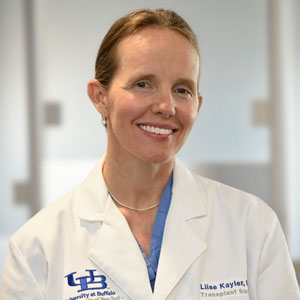 ECMC Transplant Program Director Dr. Liise Kayler Selected by UB CTSI For Top Clinical Research Achievement Award
BUFFALO, NEW YORK— Erie County Medical Center (ECMC) Corporation today announced that the University at Buffalo Clinical and Translational Science Institute (CTSI) has selected Liise Kayler, MD, Program Director, Regional Transplantation and Kidney Care Center of Excellence at ECMC, to receive the "Top Clinical Research Achievement Award."
The research submission, "Hardest-to-place kidney transplant outcomes in the United States" involves the study of the best treatment for kidney failure.  The results of the study determined that the best treatment for kidney failure is kidney transplantation.  Over 100,000 people in the United States are currently waiting for a kidney donation.  Yet 20% of kidneys recovered for transplantation are discarded every year.  Dr. Kayler's study asked the question: Why discard kidneys when so many people are waiting for one?  Dr. Kayler and her team wanted to know if the kidneys that were discarded could have been transplanted with good outcomes.  They looked at national data of kidneys that were "almost" discarded and computed their survival.  They found that the kidney survival was only slightly worse than easy-to-place kidneys, meaning that some discarded kidneys could have been valuable for transplantation.  They also wanted to see how transplant center report cards would fare if the center was good at utilizing kidneys.  They found that transplant centers that are good at utilizing kidneys may be unfairly penalized.  The research findings determined that transplant centers should utilize more kidneys and stop discarding so many.  This research project was submitted to the sixth annual CTSI Clinical Research Achievement Award competition.  CTSI invited Dr. Kayler to present the research findings at the annual CTSI Forum on March 16, 2022.
Dr. Liise Kayler, MD, Program Director, Regional Transplantation and Kidney Care Center of Excellence at ECMC, said, "I am grateful to CTSI for this recognition.  Our hope is that this award helps to increase awareness of the need for policy makers to make their grading system fair to incentivize transplantation to enable us to save more lives of those individuals suffering from end stage renal disease."
ECMCC President and CEO Thomas J. Quatroche Jr., Ph.D. said, "Since joining ECMC in 2015, Dr. Liise Kayler has solidified the preeminent position of our Regional Transplantation and Kidney Care Center of Excellence at ECMC. From establishing the Center's status as having the shortest wait time in the country for kidney transplants to increasing every year the Center's number of transplant surgeries, reaching an historic high for these procedures in 2021, Dr. Kayler has enhanced these accomplishments with exceptional research that has established ECMC's strong reputation among peer institutions across the country. We are proud of Kayler's well-deserved recognition from CTSI."
Additionally, Dr. Kayler and her co-authors' article, "Hardest-to-place kidney transplant outcomes in the United States" was also selected as an Editors' Pickfor the November issue of the American Journal of Transplantation (AJT).  AJT stated that "Having (this) work selected is a testament to its quality and likely impact on the field…"  AJT will highlight this article in the online table of contents with a visual abstract and feature it on the November episode of the AJT Highlights podcast.
ABOUT ECMC's KIDNEY CARE PROGRAM: The Regional Center of Excellence for Transplantation and Kidney Care at ECMC is equipped to treat patients at every stage of kidney disease or kidney failure.  The Center's transplant program has offered kidney transplants since 1964 and pancreas transplants since 2004. ECMC's experienced multidisciplinary team serves Western New York with consistently high scores in outcomes and transplant rates from deceased donors, and also offers laparoscopic (minimally invasive) donor nephrectomy (kidney removal) procedures to promote faster recovery for live kidney donors.  ECMC's commitment to excellence and focus on the patient experience has led to high satisfaction for recipients and living donors alike. With advanced therapies in desensitization and paired-donor exchange, ECMC's living donor transplant program has also made more transplants possible, helping recipients of those organs as well as patients on the waiting list.  ECMC is also well positioned in the forefront of major innovations in transplantation, including opportunities for patients to participate in ongoing research trials, offering patients leading-edge treatments and individualized healthcare protocols.
ABOUT ERIE COUNTY MEDICAL CENTER (ECMC) CORPORATION: The ECMC Corporation was established as a New York State Public Benefit Corporation and since 2004 has included an advanced academic medical center with 573 inpatient beds, on- and off-campus health centers, more than 30 outpatient specialty care services and Terrace View, a 390-bed long-term care facility. ECMC is Western New York's only Level 1 Adult Trauma Center, as well as a regional center for burn care, behavioral health services, transplantation, medical oncology and head & neck cancer care, rehabilitation and a major teaching facility for the University at Buffalo. Most ECMC physicians, dentists and pharmacists are dedicated faculty members of the university and/or members of a private practice plan. More Western New York residents are choosing ECMC for exceptional patient care and patient experiences – the difference between healthcare and true care™.