ECMC and the Seneca Diabetes Foundation Announce Important Partnership
$1,000,000 endowment to support ECMC's planned Trauma Center/Emergency Department modernization effort; ECMC designates Barry & Deanna Snyder Dialysis & Medical Office Building; First health care building in Buffalo named for a leader of the Seneca Nation
BUFFALO, NEW YORK – Erie County Medical Center (ECMC) Corporation and the Seneca Diabetes Foundation (SDF) celebrated an important partnership today that will have a dramatic impact on ECMC's Grider Street health campus, as well as in the Seneca community.
Earlier this year, SDF announced that it will establish a $1,000,000 endowment with the ECMC Foundation to support the construction of ECMC's new Trauma Center/Emergency Department. In addition to SDF's support of the Trauma Center/Emergency Department, ECMC will work collaboratively with the Seneca Nation Health System to address particular health needs and concerns of the Seneca Nation, including: Diabetes education and care, chemical dependency outreach and treatment, behavioral health services and other diversified medical services.
Barry E. Snyder, Sr., Founder and Chairman, The Seneca Diabetes Foundation stated, "The Seneca Diabetes Foundation believes in the power of partnership, especially with the Western New York healthcare community. As our region's trauma center, ECMC is at the leading edge of care in our community, treating people in the most severe medical situations. The new Trauma Center/Emergency Department will increase ECMC's capacity to reach and treat the people of Western New York when they need it most."
ECMC Corporation President and CEO Thomas J. Quatroche Jr., PhD, said, "On behalf of the over 3,000 dedicated caregivers at ECMC and most especially the remarkable doctors, nurses and support staff of our Trauma Center/Emergency Department, I accept this incredibly generous donation. ECMC has enjoyed a long and mutually beneficial relationship with the Seneca Nation for many generations. That relationship will live on for generations to come through both the generous donation from the Seneca Diabetes Foundation, and through the work done at the Barry and Deanna Snyder Dialysis & Medical Office Building."
While the $1,000,000 endowment from SDF will support the Trauma Center/Emergency Department, ECMC officials also officially unveiled a new name for the existing ambulatory services building located on the hospital's Grider Street campus. Having been approved by ECMC's Board of Directors, the building will now be known as the Barry & Deanna Snyder Dialysis & Medical Office Building, which makes it the first health care building in Buffalo named for a leader of the Seneca Nation. Opened in 2011, the facility currently offers multiple healthcare services including, outpatient dialysis treatment, head and neck oncological services and ambulatory surgical services.
Snyder is a longtime Seneca government, civic and business leader. Throughout his more than 50 years of service to the Seneca Nation and its people, he has served five terms as the Nation's president, and has also been elected to serve as treasurer and as a member of the Nation Council. As the long-time Chairman of the Seneca Gaming Corporation board of directors, Snyder has been a leading figure in the growth and development of the company into one of the region's largest private employers. He and his wife founded SDF in 2005 to support diabetes education, prevention, and treatment, and to fund research to improve the lives of Seneca Nation members and non-Native Americans afflicted with diabetes. The foundation has raised more than $6 million to date.
"Deanna and I are incredibly humbled to be recognized in this way," Snyder said. "It is especially meaningful since this state-of-the-art facility offers vital services to thousands in our community who battle diabetes every day, including many Seneca individuals and families. More than anything, we want them to know that diabetes is not an unbeatable foe and that there are extraordinary partners, like ECMC, who are committed to treating, preventing, and ultimately curing, this terrible disease."
Erie County Medical Center Corporation (ECMCC) will relocate its existing Trauma Center/Emergency Department into a newly-constructed ground floor facility on its Grider Street health campus. As the region's busiest and only Level 1 Adult Trauma Center and Emergency Department serving the 1.5 million residents of the eight counties of Western New York, it is imperative to expand to meet current and future demands for appropriate trauma and emergency care. The Trauma Center/Emergency Department serves patients for trauma, emergency psychiatric conditions via ECMC's Comprehensive Psychiatric Emergency Program ("CPEP") and traditional medical conditions and is best suited of any of the region's Emergency Departments to handle mass casualty, disaster-related circumstances.
The new Trauma Center/Emergency Department will contain greater efficiencies in patient flow and staff workflow thereby enabling the Department's medical services team to achieve high quality standards and outcomes. The customized layout of the space will better align with physicians' and staff's work flow while creating a more patient-oriented space containing larger rooms to accommodate patients' families and the medical services team.
ECMC's new Trauma Center/Emergency Department will address an important community need by expanding the health care delivery system's capacity to serve patients that require emergency medical attention, serve as a referral source for other area hospitals to transfer patients that require specialized emergency care, advance ECMC's engagement and investment in the City of Buffalo's Delevan-Grider Corridor, and build on ECMC's growing and dynamic relationship with the State University of New York at Buffalo (School of Medicine) and Kaleida Health System.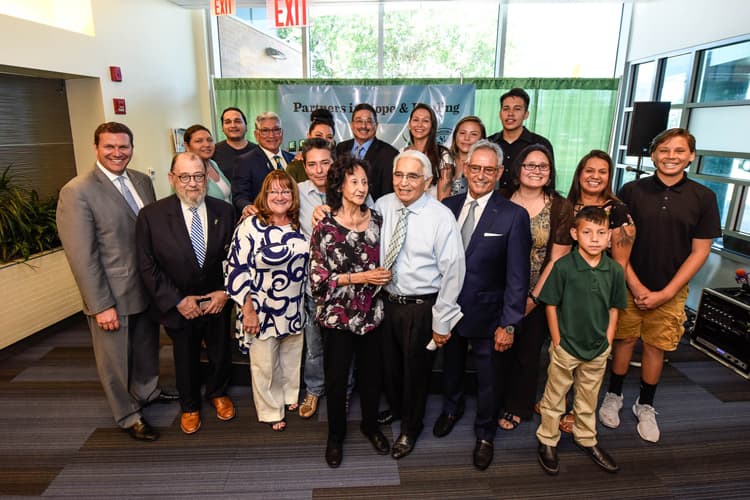 ABOUT THE SENECA DIABETES FOUNDATION: Established in 2005, the Seneca Diabetes Foundation raises funds to support important diabetes education, research and treatment programs. In addition, the foundation provides scholarships for Seneca students pursuing higher education in the health and human services fields, and provides funding to health education, prevention, and wellness programs throughout the community.
ABOUT ERIE COUNTY MEDICAL CENTER (ECMC) CORPORATION: The ECMC Corporation was established as a New York State Public Benefit Corporation and since 2004 has included an advanced academic medical center with 593 inpatient beds, on- and off-campus health centers, more than 30 outpatient specialty care services and Terrace View, a 390-bed long-term care facility. ECMC is Western New York's only Level 1 Adult Trauma Center, as well as a regional center for burn care, behavioral health services, transplantation, medical oncology and head & neck cancer care, rehabilitation and a major teaching facility for the University at Buffalo. Most ECMC physicians, dentists and pharmacists are dedicated faculty members of the university and/or members of a private practice plan. More Western New York residents are choosing ECMC for exceptional patient care and patient experiences – the difference between healthcare and true care™.