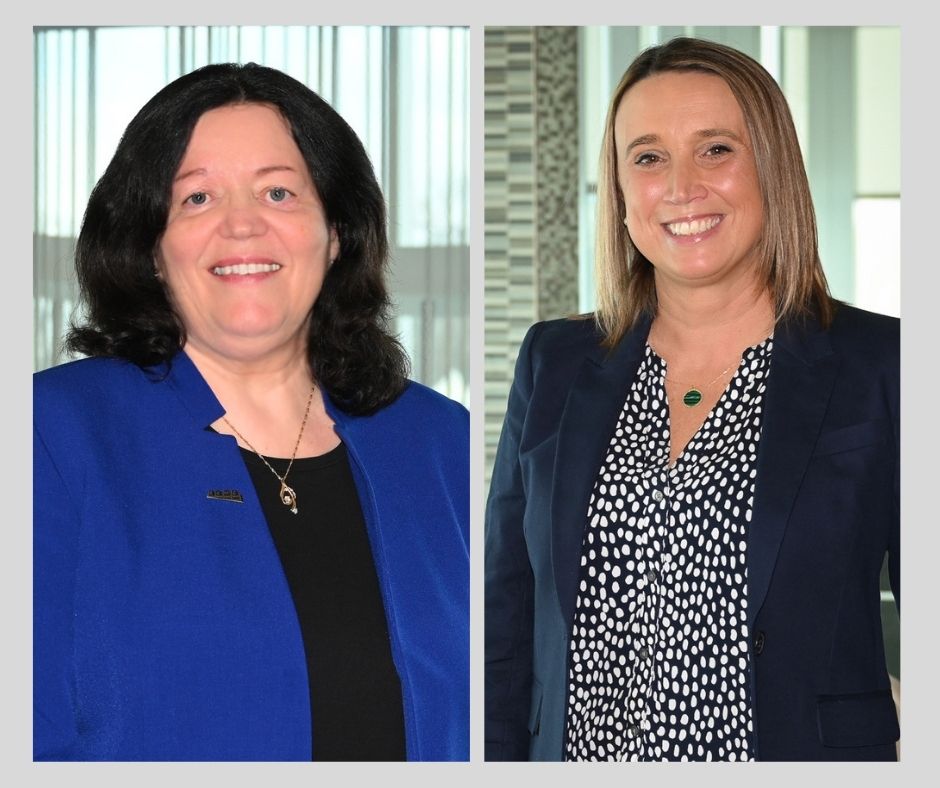 ECMC Promotes Two Health Care Professionals to Executive-level Positions
BUFFALO, NEW YORK—Erie County Medical Center (ECMC) Corporation officials today announced that they have promoted two health care professionals to executive-level positions.
Charlene J. Ludlow, RN, BSN, MHA, CIC, has accepted the position of Senior Vice President of Nursing for ECMC Corporation.  Charlene Ludlow has been with ECMC for 19 years and has been instrumental in obtaining accreditations and the support of nursing.  Charlene will begin in her new role on March 1, 2022.  She succeeds Karen Ziemianski, RN, MS, who will retire on April 1, 2022.
Charlene Ludlow most recently served as Vice President and Chief Quality & Safety Officer at ECMC, where she was responsible for the facility-wide Quality & Patient Safety program.  In addition to her general professional responsibilities at ECMC, Ms. Ludlow has chaired the institution's internal COVID Task Force since the onset of the pandemic in spring 2020. She oversaw Patient Safety (inclusive of Quality Assessment Performance Improvement and Infection Prevention) and EOC Management (Environmental Services, Pharmacy, Laboratory, Plant Operations/Construction and Emergency Preparedness).  She was also responsible for Joint Commission Accreditation and Regulatory matters and management of the survey process by regulatory bodies.
Board certified in Infection Control, Ms. Ludlow also serves as adjunct faculty at Erie Community College, where she provides the NYS Mandatory Infection Prevention Course to licensed healthcare professionals.  In addition to serving as a representative on the New York State APIC Coordinating Council, she remains an active member of the Association of Professionals in Infection Control and Epidemiology (APIC) Chapter 111 – Greater Buffalo, National APIC Consulting Services, NYS Technical Advisory Committee for Infection Prevention, and ConnectLife Quality Committee.
Charlene Ludlow holds a Master of Science in Healthcare Administration from Roberts Wesleyan College and a Bachelor of Science in Nursing from D'Youville College.
Cassandra "Cassie" Davis, MS, has been appointed Senior Vice President of Operations for ECMC Corporation.  Cassie Davis has been with ECMC for 14 years.  She has been instrumental in the COVID-19 response and demonstrated her strong leadership skills to support ECMC caregivers and the WNY community.  In her new role, she will help better support the ECMC management team in response to the needs of the ECMC staff and medical providers, as well as our local community.
In her most recent role as Vice President of Ambulatory Services and Population Health for ECMC, Ms. Davis covered a broad spectrum of duties impacting the health and wellness of the community, as well as many operational needs within the health care organization.  She oversaw outpatient operations, including Primary Care and over twenty different Specialty Services, focusing on transformation of care delivery and growth of services.  Since the onset of the COVID-19 pandemic, her role significantly evolved and grew, including establishing processes and services to provide COVID-19 testing, monoclonal infusion services and vaccinations for both the healthcare staff and the community.  These efforts included working closely with New York State representatives to establish pop-up vaccination sites across the City of Buffalo and its suburbs.  Cassie Davis represents ECMC and participates in several community partnerships and collaborations across Western New York.
Cassie Davis holds a Master of Science in Community and School Health from Canisius College and a Bachelor of Arts in Sociology, Justice in Society track, from SUNY Oswego.  She also completed a Fellowship with America's Essential Hospitals in 2020.
About Erie County Medical Center (ECMC) Corporation: The ECMC Corporation was established as a New York State Public Benefit Corporation and since 2004 has included an advanced academic medical center with 573 inpatient beds, on- and off-campus health centers, more than 30 outpatient specialty care services and Terrace View, a 390-bed long-term care facility. ECMC is Western New York's only Level 1 Adult Trauma Center, as well as a regional center for burn care, behavioral health services, transplantation, medical oncology and head & neck cancer care, rehabilitation and a major teaching facility for the University at Buffalo. Most ECMC physicians, dentists and pharmacists are dedicated faculty members of the university and/or members of a private practice plan. More Western New York residents are choosing ECMC for exceptional patient care and patient experiences – the difference between healthcare and true care™.