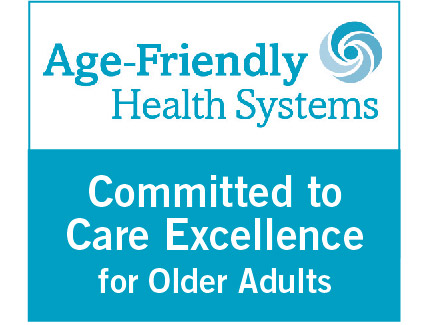 ECMC Participates In NAtional 'Age-Friendly Health Systems' Initiative
ECMC received Level 2 – recognition as an 'Age-Friendly Health System – Committed to Care Excellence'
BUFFALO, NEW YORK—Erie County Medical Center (ECMC) Corporation today announced that it is part of a movement to improve health care for older adults, contributing to a goal of continuing to expand and grow Age-Friendly care.
As part of the Age-Friendly Health Systems initiative, The John A. Hartford Foundation and the Institute for Healthcare Improvement, in partnership with the American Hospital Association and the Catholic Health Association of the United States,​ are helping hospitals and other care settings implement a set of evidence-based interventions specifically designed to improve care for older adults.  ECMC now joins an international group of more than 2,700 health systems working to tailor care to patients' goals and preferences and to deliver care that is consistently of the highest quality.
Thomas J. Quatroche Jr., PhD, ECMC President and CEO, said, "ECMC was first recognized as an Institute for Healthcare Improvement Level 1 – Participant of the Age-Friendly Health Systems in January 2021 and now has achieved the even higher Level 2 recognition as an 'Age-Friendly Health System – Committed to Care Excellence' thanks to the work of our Geriatrics, Medicine D, and Palliative Care interdisciplinary team. These dedicated caregivers worked collaboratively to elevate the quality of care for our hospitalized older adults. We look forward to both sharing our best practices and learning what's working for others around the country in providing age-friendly care.  The Age-Friendly Health Systems initiative is an important part of our commitment to provide every older adult with the best care possible."
To achieve Level 2 recognition, ECMC had to submit counts for the number of patients that received Age-Friendly care. From April to October 2022, approximately 425 patients had their 4Ms addressed during hospitalization.  The interventions can be tested and adapted by participating in Age-Friendly Health Systems Action Communities.  These collaborative initiatives bring together health care teams committed to sharing data and learning together.  All teams strive toward reliably implementing age-friendly best practices across emergency departments, intensive care units, medical-surgical units, general wards, and primary and specialty care settings.
The Age-Friendly Health Systems initiative is based on a series of practices focused on addressing four essential elements (known as the 4Ms) of care for older patients:
Mind – To address inpatient delirium, ECMC created a CAM nursing assessment. Currently, 298 of 364 Med-Surg nurses have completed delirium education. This initiative is currently being expanded into the Emergency Department.
Mobility – ECMC's rehab team has created a progressive mobility initiative. The team shares personalized goals with patients and the interdisciplinary team.
Medications – For the past three years, UBMD Pharmacy has been rounding with ECMC's Medicine D caregivers. Together, UBMD and ECMC created a polypharmacy and deprescribing template completed on patients admitted to Medicine D.
Matters Most – The Palliative Care team interviewed 76 patients about What Matters most to them during their hospitalization. Common themes included: being with their family, being aware of discharge plans, independence, and mobility.
The Age-Friendly Health Systems initiative was launched in 2017 by The John A. Hartford Foundation and IHI, in partnership with the American Hospital Association and Catholic Health Association of the US.  For more information, visit www.ihi.org/agefriendly.
ABOUT THE INSTITUTE FOR HEALTHCARE IMPROVEMENT: The Institute for Healthcare Improvement is an independent not-for-profit organization based in Boston. For 30 years, IHI has used improvement science to advance and sustain better outcomes in health and health systems across the world. IHI brings awareness of safety and quality to millions, catalyzes learning and the systematic improvement of care, develops solutions to previously intractable challenges, and mobilizes health systems, communities, regions, and nations to reduce harm and deaths. IHI collaborates with a growing community to spark bold, inventive ways to improve the health of individuals and populations. IHI generates optimism, harvests fresh ideas, and supports anyone, anywhere who wants to profoundly change health and health care for the better. Learn more at https://www.ihi.org/
ABOUT ERIE COUNTY MEDICAL CENTER (ECMC) CORPORATION: The ECMC Corporation was established as a New York State Public Benefit Corporation and since 2004 has included an advanced academic medical center with 573 inpatient beds, on- and off-campus health centers, more than 30 outpatient specialty care services and Terrace View, a 390-bed long-term care facility. ECMC is Western New York's only Level 1 Adult Trauma Center, as well as a regional center for burn care, behavioral health services, transplantation, medical oncology and head & neck cancer care, rehabilitation, and a major teaching facility for the University at Buffalo. Most ECMC physicians, dentists and pharmacists are dedicated faculty members of the university and/or members of a private practice plan. More Western New York residents are choosing ECMC for exceptional patient care and patient experiences – the difference between healthcare and true care™.