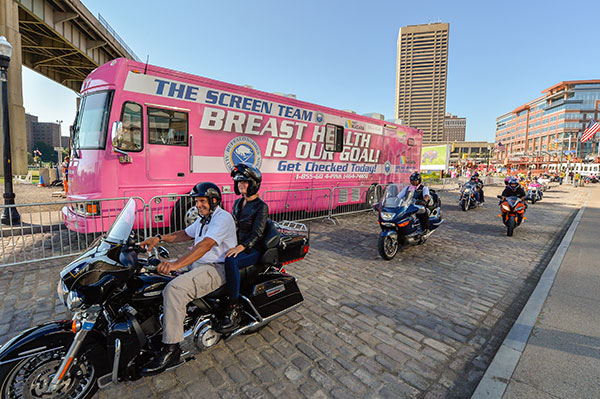 ECMC Mobile Mammography Unit Featured at Governor's "Get Screened, No Excuses" Event in Buffalo
Thanks again to Governor Cuomo and Sandra Lee for including ECMC's Mobile Mammography Unit (MMU) in concluding event to final leg of a statewide motorcycle ride highlighting the Governor's comprehensive "Get Screened, No Excuses" campaign, which marks the nation's most aggressive effort to eliminate barriers to treatment, remove insurance hurdles and expand access to life-saving breast cancer screenings.
Since 2012, ECMC's Mobile Mammography Unit (the only such mobile breast cancer screening unit in the region) has screened over 9,000 women, with 21 women found to have breast cancer and an additional 987 women were identified as needing additional diagnostic imaging and case management after coach screening. The MMU's goal is to make a significant impact in increasing mammography screening and decreasing disparities faced by women in four target counties with significant gaps in breast cancer services and access to care: Allegany, Cattaraugus, Erie & Wyoming Counties.  Through this effort, culturally-competent, evidence-based breast health education, patient navigation, screening, transportation, interpreter services, and support will be provided for women who are medically underserved and who face disparities in seeking breast health care.
Thomas J. Quatroche, Jr., PhD, President & CEO, Erie County Medical Center Corp. said, "Since its initial operation in 2012, ECMC Foundation's Mobile Mammography Coach has had a significant impact in the delivery of critically important breast cancer prevention and screening services to thousands of women in Western New York, particularly women living in what is regarded as at-risk, economically challenged communities, both in urban and rural areas. Thanks to the dedication of the caregivers from the WNY Breast Health (WNYBH) team and The National Witness Project (TNWP) who coordinate the MMU's activities, we are reaching women who represent what some have described as the 'never served' and consequently, we are saving lives."