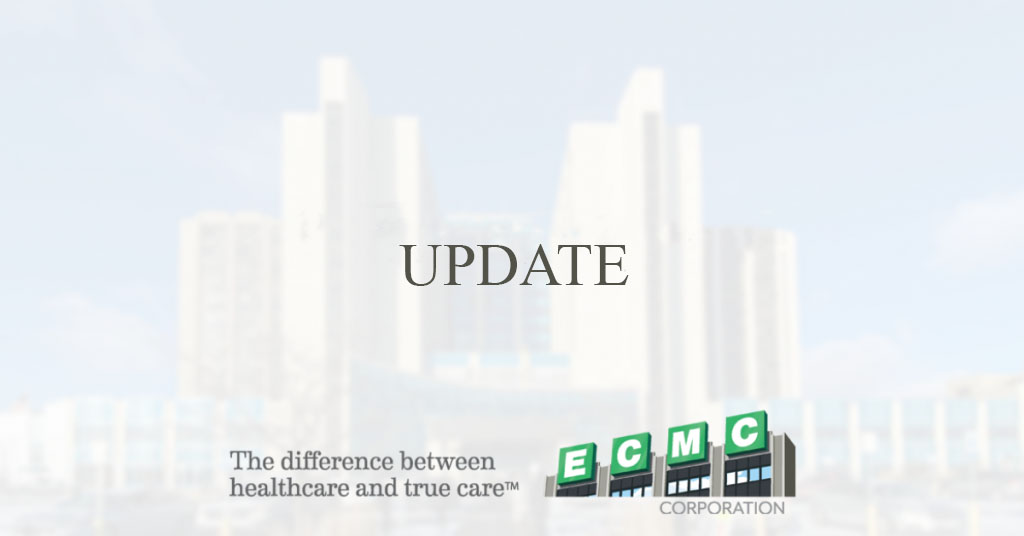 ECMC Medical Rehab Unit Ranks Above Top 20 North American Trauma Programs in Case Complexity and Outcomes
BUFFALO, NEW YORK – Erie County Medical Center (ECMC) Corporation officials recently learned that the Uniform Data System for Medical Rehabilitation has ranked ECMC's Medical Rehabilitation Unit above the top 20 national trauma programs for case complexity and patient outcomes.
The Functional Assessment Specialists at the Uniform Data System recently issued the "Custom Report for M150."  The "Comparison of ECMC and Peers-Trauma-Related Cases," January 1, 2021 – December 31, 2021, includes data for 884 Medical Rehabilitation Unit (MRU) facilities in North America.  ECMC has cared for the highest percentage of complex trauma patients in its MRU for the eighth consecutive year.  When compared with the top 20 MRU trauma programs in the "Comparison of Facility Characteristics and Outcomes – Traumatic Spinal Cord Injury (TSCI) January-December 2021 ECMC and Peers," ECMC's patient mix included 56.7 percent trauma patients, whereas the next closest facility included only 39.3 percent trauma cases.  Further, for the TBI population, the values for the "Change in Self-Care Obs/Exp Ratio" and the "Change in Mobility Obs/Exp Ratio" indicate that on average the TBI patients at ECMC exceed the amount of change expected.  Any value over 100% on the "Obs/Exp Ratio" measures indicates outcomes are better than expected.
Thomas J. Quatroche Jr., PhD, President & CEO, Erie County Medical Center Corp., said, "The national, third-party data confirms that ECMC's rehabilitation team continues to deliver exceptional results in the care of complex patients.  We are proud of the success of these dedicated caregivers as demonstrated by these results, proof that these patients are cared for by the best in their field."
Mark A. LiVecchi, DMD, MD, MBA, Chief of Service, Physical Medicine and Rehabilitation, ECMC, said, "This achievement reflects favorably on ECMC as an organization, along with several disciplines and individuals.  Trauma services, emergency services, nursing, therapy, and administration have all played integral roles in achieving this accomplishment.  This type of consistent achievement only occurs in the presence of true teamwork."
ECMC's Center for Rehabilitation Services consists of a team of physicians, nurses, psychologists, social workers, speech-language pathologists, and occupational and physical therapists.  Rehabilitation services at ECMC are provided at several levels of care to ensure that each patient receives the specific support they require to achieve better outcomes, whether recovery from trauma or improved mobility after a minor injury.
ECMC's Physical and Occupational Therapy programs employ a talented staff of therapists who are uniquely qualified to evaluate, consult, educate, and provide therapies for individuals with a wide range of physical limitations.  Physical therapy at ECMC is tailored to meet individual patient needs, ensuring that patients are as successful as possible in achieving or reclaiming physical function, mobility, and independence.
ABOUT Uniform Data System for Medical Rehabilitation: Uniform Data System for Medical Rehabilitation, a division of University at Buffalo Foundation Activities, Inc., is a not-for-profit corporation affiliated with the University at Buffalo. UDSMR offers a wide range of products and services that enable rehabilitation providers to document the severity of patient disability and the results of medical rehabilitation in a uniform way. UDSMR's products address the needs of rehabilitation providers across the post-acute care continuum. For more than thirty years, UDSMR has been recognized as a leader in medical rehabilitation outcomes data. Today, UDSMR maintains the world's largest government-independent repository of rehabilitation outcomes and IRF‑PAI data. The data is derived from more than 1,400 rehabilitation facilities worldwide, nearly 900 of which are inpatient rehabilitation facilities (IRFs) in the United States, that use UDSMR's outcomes reporting, credentialing, auditing, training, and consulting services.
About Erie County Medical Center (ECMC) Corporation: The ECMC Corporation was established as a New York State Public Benefit Corporation and since 2004 has included an advanced academic medical center with 573 inpatient beds, on- and off-campus health centers, more than 30 outpatient specialty care services and Terrace View, a 390-bed long-term care facility. ECMC is Western New York's only Level 1 Adult Trauma Center, as well as a regional center for burn care, behavioral health services, transplantation, medical oncology and head & neck cancer care, rehabilitation and a major teaching facility for the University at Buffalo. Most ECMC physicians, dentists and pharmacists are dedicated faculty members of the university and/or members of a private practice plan. More Western New York residents are choosing ECMC for exceptional patient care and patient experiences – the difference between healthcare and true care™.