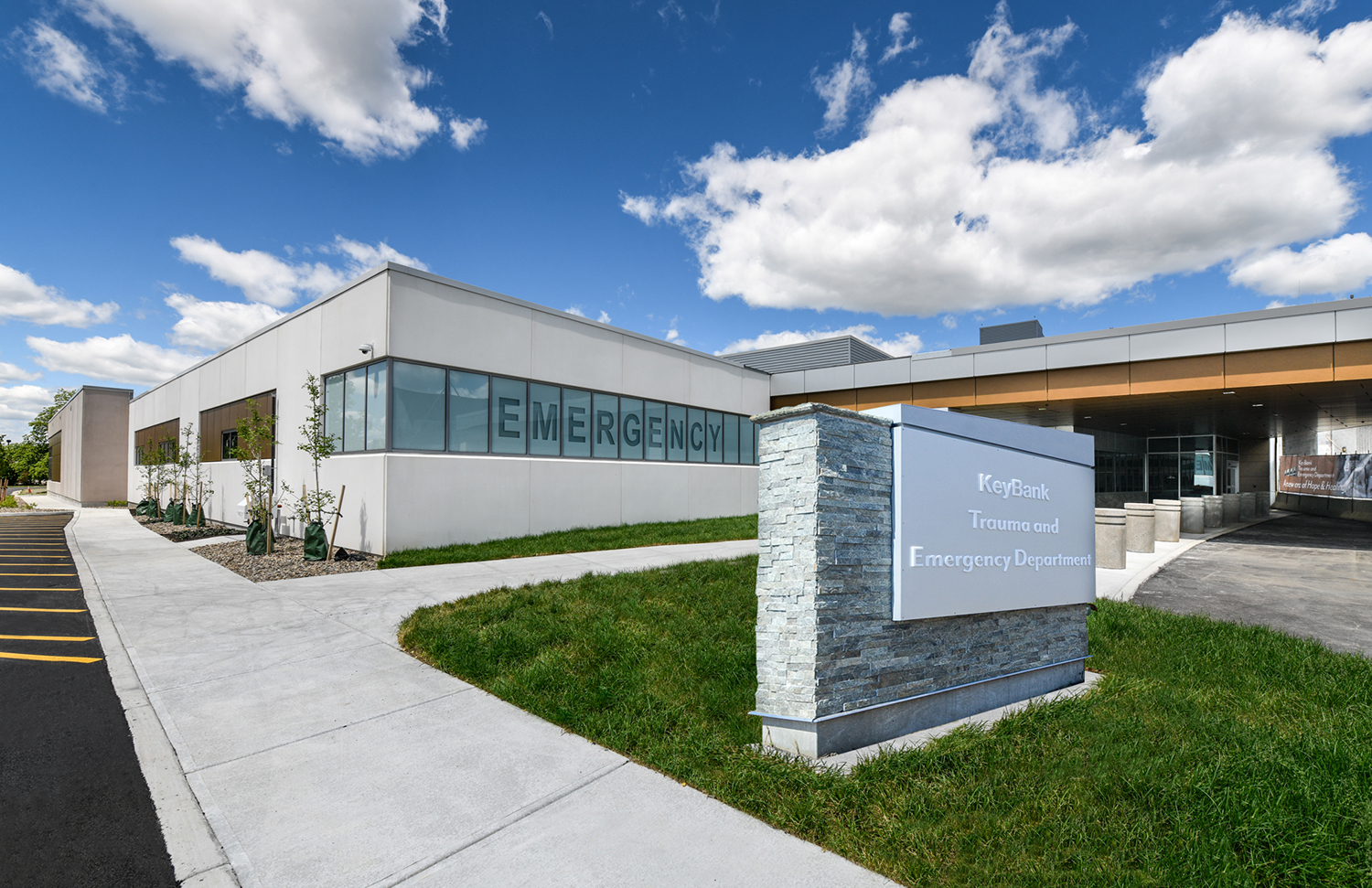 ECMC Marks First-Year Anniversary of KeyBank Trauma and Emergency Department
BUFFALO, NEW YORK—Erie County Medical Center (ECMC) Corporation today commemorated the first-year anniversary of the opening of the institution's $55 million KeyBank Trauma and Emergency Department, which  doubled the size of the previous 40-year old facility and features state-of-the-art technology and equipment for the region's only Level I Adult Trauma Center. Since it opened to patients on June 2, 2020, nearly 70,000 patients have been cared for in the new facility. The project raised $15,050,717 from private philanthropy and received a $10 million award from New York State.
ECMC Corporation Board Chair and Chair of ECMC's Capital Campaign Jonathan A. Dandes, said, "On the first anniversary of the opening of this truly remarkable facility, we again express our most sincere admiration and gratitude to Emergency Department caregivers who day-in, day-out provide lifesaving care for our friends, relatives and neighbors throughout Western New York. Further, we are deeply thankful to all of the donors to the capital campaign that helped make this project possible. Every donation, large or small, made a difference in our ability to build the most state-of-the-art Trauma and Emergency Department in our region and beyond. As chair of the project's capital campaign, I can say without qualification that our first major solicitation for public support of any capital project in ECMC's esteemed history was an overwhelming success."
ECMC Corporation President and CEO Thomas J. Quatroche Jr., PhD, said, "From the very beginning of planning for the future KeyBank Trauma and Emergency Department, our process was one of inclusion, collaboration and cooperation. Working closely with our Emergency Department clinicians, our goal was to design a new facility that met their needs and expectations, while always keeping patient care as our guiding principle. Thanks to their input, the support of our community and the guidance of our Board of Directors, we managed to complete this project as the COVID-19 pandemic dominated our region, as well as across the country. Yet, despite that significant challenge, and thanks to everyone involved, we kept the completion and eventual opening of the facility on schedule. As I have said previously, our Emergency Department clinicians have always provided national best-in-class care and now they have a national best-in-class facility to match their excellence."
Dr. Michael A. Manka Jr., ECMC Chief of Emergency Medicine stated, "My colleagues and I are deeply grateful to the community for their support of this project, as well as their incredible generosity and thoughtfulness throughout the pandemic. Opening a new Emergency Department under any circumstance has inherent challenges, but to do so in the midst of the COVID-19 pandemic created additional complications. Nevertheless, our frontline caregivers rose to that challenge, as they continue to do, to ensure that we provide the highest level of care to every patient. I am extremely proud of our entire Emergency Department team for successfully opening the new KeyBank Trauma and Emergency Department."
As the region's busiest and only Level 1 Adult Trauma and Emergency Department serving the 1.5 million residents of the eight counties of Western New York, the facility serves patients for trauma, emergency psychiatric conditions via ECMC's Comprehensive Psychiatric Emergency Program ("CPEP") and traditional medical conditions and it is best suited of any of the region's Emergency Departments to handle mass casualty, disaster-related circumstances.
The new facility, designed by CannonDesign and built by The Pike Company, nearly doubled facility square footage to 54,000sf from the previous facility and increased treatment space from 36 to 57 stations including 4 dedicated trauma rooms, 2 behavioral health safe rooms, 2 isolation rooms, and 4 medical resuscitation rooms.  It features intradepartmental imaging consisting of 2 CT rooms and 2 x-ray rooms, direct access from the hospital's rooftop helipad, and a care initiation zone to support an enhanced triage model of care.
About the Erie County Medical Center (ECMC) Corporation: The ECMC Corporation was established as a New York State Public Benefit Corporation and since 2004 has included an advanced academic medical center with 573 inpatient beds, on- and off-campus health centers, more than 30 outpatient specialty care services and Terrace View, a 390-bed long-term care facility. ECMC is Western New York's only Level 1 Adult Trauma Center, as well as a regional center for burn care, behavioral health services, transplantation, medical oncology and head & neck cancer care, rehabilitation and a major teaching facility for the University at Buffalo.  Most ECMC physicians, dentists and pharmacists are dedicated faculty members of the university and/or members of a private practice plan.  More Western New York residents are choosing ECMC for exceptional patient care and patient experiences – the difference between healthcare and true care ™. For additional information about ECMC, visit: www.ecmc.edu.