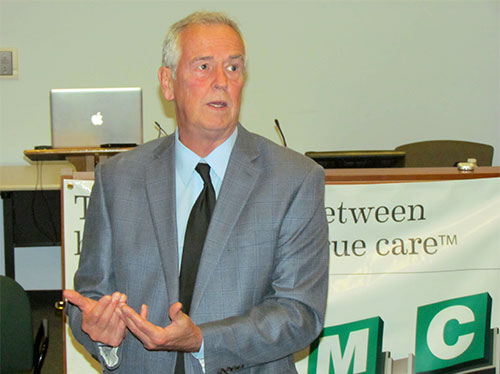 ECMC Leads Autism Training for Law Enforcement and First Responders
A parent rushes off with a kicking and screaming young child and observers believe the scene is child abduction. An individual displaying unusual behavior in a residential neighborhood is observed looking into homes and police are notified that a burglar is threatening homes. A teenager keeps moving products around on shelves in a department store and security determines that the person is in the act of shoplifting. While all of those situations may be true, it may also be as true that the persons engaged in the specific cited activities have Autism Spectrum Disorder (ASD) and the people that they first encounter, usually law enforcement or another first responder do not know that they are encountering a person with autism. To help law enforcement and first responders better recognize and understand someone who is autistic and then determine how best to interact with them, often in a crisis situation, Erie County Medical Center (ECMC) today hosted a training session for law enforcement and first responders about managing children, adolescents, and adults with autism in crisis situations. The two sessions were presented by ECMC, in conjunction with the Jacobs School of Medicine and Biomedical Sciences and Access to Psychiatry through Intermediate Care (APIC).
Nationally recognized authority Dennis Debbaudt was the featured presenter at today's sessions. A professional investigator and law enforcement trainer who is the father of an autistic child, Mr. Debbaudt was first to address the interactions between law enforcement and people with autism in his 1994 report Avoiding Unfortunate Situations. He has since authored or co-authored over 35 articles and books on this subject; he has also produced innovative and acclaimed training videos for law enforcement and first responders such as paramedics, fire rescue, police, and hospital staff who may respond to an autism emergency. For over two decades, Dennis has presented his multi-media training for agencies including those in the United States and overseas.
ECMC Corporation President and CEO Thomas J. Quatroche Jr., PhD, said, "Dr. Michael Cummings has been a leader in innovative and successful practices for addressing and treating autism. By convening this training opportunity for law enforcement and first responders and bringing in a respected national expert such as Dennis Debbaudt is another example of ECMC leading in creative health care techniques and practices."
ECMC Associate Medical Director, Behavioral Health Services Michael R. Cummings, MD, said, "As our efforts through initiatives like APIC have increased our ability to better understand individuals with autism, to help them, their families and loved ones, we similarly want to present to the community the knowledge and understanding of how best to interact with people who are autistic. Dennis Debbaudt was just the expert we wanted to join us today and help our law enforcement and first responders benefit from his depth of experience and knowledge. These types of training efforts will go a long way to building greater understanding of autism."
Dennis Debbaudt, Autism Risk & Safety Management said, "I have been training for many years and I was very happy to accept Dr, Cummings' invitation to come to ECMC and provide information that I believe will help law enforcement and first responders better understand autism and to give them a practical understanding of effective approaches when interacting with individuals affected by autism."