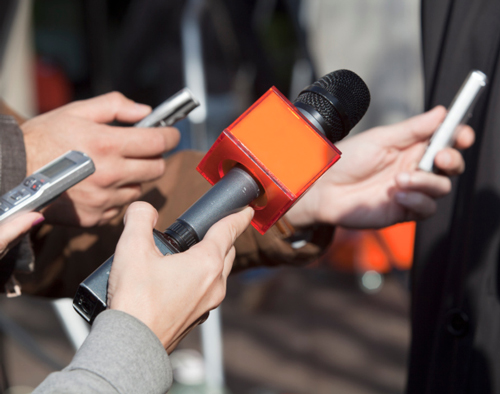 ECMC Goes Red & Blue for the Buffalo Bills
Institution's Iconic Tower Lights Illuminated in Bills' Colors; Official Healthcare Provider of the Buffalo Bills Rooting for Victory!
BUFFALO, NEW YORK — Erie County Medical Center (ECMC) Corporation, the official healthcare provider of The Buffalo Bills, this week illuminated its iconic tower lights in red and blue to demonstrate the strong support of The Buffalo Bills during the upcoming playoff games.
While the Buffalo Bills coaches and players are hard at work preparing for the team's first home playoff game since 1996, ECMC healthcare heroes/frontline and support staff continue to root for the hottest team in the NFL this season—The Buffalo Bills—for their matchup this weekend against the Colts, and beyond. The Bills' colors on display on the ECMC tower are an outward expression of the enthusiasm of the ECMC family and the entire Buffalo/Western New York community for The Buffalo Bills.
In September of 2020, the four 14 ft. x 14 ft., new/refurbished letter cabinets including the iconic "ECMC" letters were re-installed on ECMC's 12th floor roof (200 ft. above ground). The refurbished letter cabinets now include energy-efficient, LED lights that can display various assigned colors, such as the red and blue for the Buffalo Bills.
Iconic ECMC Tower Lights Illuminated in Bills Colors
About Erie County Medical Center (ECMC) Corporation: The ECMC Corporation was established as a New York State Public Benefit Corporation and since 2004 has included an advanced academic medical center with 573 inpatient beds, on- and off-campus health centers, more than 30 outpatient specialty care services and Terrace View, a 390-bed long-term care facility. ECMC is Western New York's only Level 1 Adult Trauma Center, as well as a regional center for burn care, behavioral health services, transplantation, medical oncology and head & neck cancer care, rehabilitation and a major teaching facility for the University at Buffalo. Most ECMC physicians, dentists and pharmacists are dedicated faculty members of the university and/or members of a private practice plan. More Western New York residents are choosing ECMC for exceptional patient care and patient experiences — the difference between healthcare and true care.