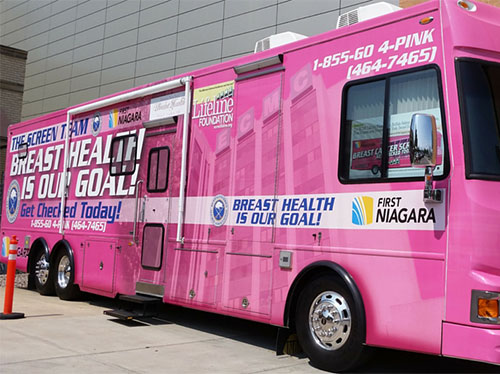 ECMC Foundation Receives Susan G. Komen Grant to Support Breast Health Education and Screening Services
$71,598 grant will assist planned mammography screening and evidence-based breast health education
ECMC Foundation today announced receipt of a generous $71,598 grant from the Susan G. Komen Foundation, which helped fund additional breast cancer education and screening services, including the creation of a new video highlighting ECMC Foundation's Mobile Mammography Coach.
Jonathan Dandes, Chair, ECMC Foundation said, "We are very appreciative of this important support from the Susan G. Komen Foundation, which will help us spread the word further about the benefits of the Mobile Mammography Coach and our ability to make the vital services provided via the Coach available to more and more women throughout Western New York."
Thomas J. Quatroche, Jr., PhD, President & CEO, Erie County Medical Center Corp. said, "Since its initial operation in 2012, ECMC Foundation's Mobile Mammography Coach has had a significant impact in the delivery of critically important breast cancer prevention and screening services to thousands of women in Western New York. Thanks to the generosity of the Susan G. Komen Foundation, together, we are saving lives."
Dr. Vivian Lindfield, M.D., Founder & CEO, WNY Breast Health said, "Breast cancer awareness and education, coupled with the types of services provided through the Mobile Mammography Coach improve greatly our overall effort of reducing breast cancer. Thanks to this grant, we will be able to serve an even greater cross-section of women throughout Western New York."
In seeking the Susan G. Komen Foundation's support, ECMC Foundation and its community partners, Dr. Vivian Lindfield/WNY Breast Health (WNYBH) team and The National Witness Project (TNWP), stated that their goal is to make a significant impact in increasing mammography screening and decreasing disparities faced by women in four target counties with significant gaps in breast cancer services and access to care: Allegany, Cattaraugus, Erie & Wyoming Counties. Through this effort, culturally-competent, evidence-based breast health education, patient navigation, screening, transportation, interpreter services, and support will be provided for women who are medically underserved and who face disparities in seeking breast health care. Services will be provided by the Mobile Mammography Coach visiting these areas.
The targets of this effort are: community education-1,000 women; patient navigation and screening services-500 women; further diagnostic testing for those with abnormal mammography results-100 women; transportation assistance as needed-250 women; patient navigation & interpreter services for women who face language barriers-25 women- will be provided by the International Institute of Buffalo.
Since ECMC Foundation's Mobile Mammography Coach was launched in 2012:
9376 women have been screened on the coach
21 women were found to have breast cancer
987 women were identified as needing additional diagnostic imaging and case management after coach screening
ECMC Foundation is best-suited to lead this program because it owns and operates Western New York's only Mobile Mammography Coach (MMC). Along with its community partners, the Foundation has the capacity to launch this project in the four WNY target areas and accomplish the project's goals and objectives. WNYBH's team of specialists will provide breast cancer mammography screening, clinical patient navigation & follow-up services. This includes a nurse practitioner for Clinical Breast Exams, two certified mammography technologists for screenings, and a board-certified radiologist to read images.
Outreach, education, and community-based patient navigation will be led by Detric Johnson of TNWP. TNWP has 6+ years of experience responding to WNY's challenges of identifying minority women non-adherent for breast screening, providing outreach/education and developing program methods to motivate women to obtain breast cancer screening.
ECMC Foundation will also collaborate with the International Institute of Buffalo (IIB) to provide culturally-competent patient navigation in serving immigrant and refugee women with abnormal mammogram results who need further diagnostic testing. Their navigator will serve as an advocate and cultural liaison to address communication and trust barriers for this clientele and arrange interpreter services.
This 3-tiered team-based model will help successfully guide patients through the Breast Cancer Continuum of Care. WNYBH medical professionals will explain medical procedures and provide linkage as they move across the health care continuum for screening and follow-up diagnostic treatment/care as needed. TNWP community health navigators will help meet patients' specific cultural, educational, knowledge & learning style needs. They will provide encouragement and support to help patients overcome barriers to treatment. Linkage will be provided to community resources/services (i.e., education, supportive counseling, transportation, child care, insurance, and financial assistance).
The new ECMC Foundation breast cancer awareness video can be viewed below.