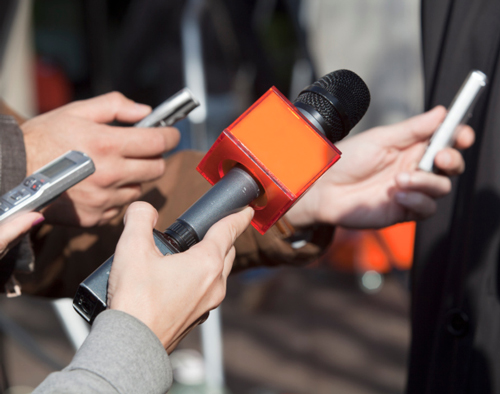 ECMC Foundation Receives Susan G. Komen Grant to Increase Breast Screenings
$67,683 grant allocated for breast health patient navigation, screening, transportation, interpreter services to increase mammography rate of underserved/unscreened women in four WNY counties.
BUFFALO, NEW YORK-The ECMC Foundation today announced receipt of a generous $67,683 grant from Susan G. Komen Upstate New York, to provide culturally competent, evidence-based breast health patient navigation, screening, transportation, and interpreter services to increase the mammography rate among underserved/unscreened women in target communities within four counties, as identified in Susan G. Komen Western NY Region's 2015 Community Profile Report.
The ECMC Foundation and its partnering organizations will implement the next phase of work through the Mobile Mammography Services Program (MMSP). The objective is to reach medically underserved women who face disparities in seeking breast health care, with special emphasis on African-American and Latina women in Erie County, and women living in Allegany, Cattaraugus and Wyoming counties.
Owned by the ECMC Foundation, WNY's only Mobile Mammography Coach (MMC) is operated by Dr. Vivian Lindfield, Founder/Director of WNY Breast Health. The MMC has demonstrated success through its MMSP working with a network of community partners to reach underserved women. Breast cancer screening services will be provided aboard the Mobile Mammography Coach.
Western New York Breast Health medical professionals will provide outreach, clinical patient navigation, mammography screening, and follow-up services. They will explain medical procedures and help meet specific cultural, educational, knowledge and learning styles of women to help them overcome barriers to screening; and provide linkage as patients move across the continuum of care for screening and follow-up diagnostic evaluation as needed.
The ECMC Foundation will collaborate with the International Institute of Buffalo (IIB) to provide cultural patient navigation to serve immigrant and refugee women with abnormal mammogram results who need further diagnostic testing. Their navigator will serve as an advocate and cultural liaison to address communication and trust barriers and arrange interpreter services.
UB Family Medicine Patient Voices Network will collaborate on this project by providing linkage and patient navigation for the MMC at specific primary care sites. The project focuses on increasing screenings at current partnering UB/MD practice sites in Erie County and outlying counties by having patient ambassadors there to enhance the patient experience. On-site patient ambassadors will schedule women for screenings, register them on screening days, provide one-on-one education, and follow-up by phone with patients. They will also work with WNYBH to facilitate patient navigation following results and provide other required patient support.
MMC partners in the target counties will work through community agencies, insurance providers, medical practices/clinics, housing facilities, community centers and churches, and Indian reservation sites.
Jonathan Dandes, Chair, ECMC Foundation said, "We are grateful for this additional support from the Susan G. Komen Foundation. This funding helps us spread the word about the benefits of the Mobile Mammography Coach to increase awareness of the important services available to more and more women throughout Western New York.""
Thomas J. Quatroche Jr., PhD, President & CEO, Erie County Medical Center Corp. said, "Since its initial operation in 2012, the ECMC Foundation's Mobile Mammography Coach has provided the delivery of critically important breast cancer prevention and screening services to thousands of women in Western New York. Thanks once again to the generosity of Susan G. Komen Upstate NY, this additional grant will enable many more women to access these vitally important services.""
Vivian Lindfield, M.D., FACS, Founder/Director, WNY Breast Health said, "The goal of the Mobile Mammography Unit is to provide screening mammograms in areas where women have difficulty accessing healthcare, so that all women in WNY may benefit from the early detection capabilities of mammography. Thanks to this third award, we will be able to reach a greater population and provide additional services that will assist in the diagnosis and treatment of breast problems. Our ultimate goal is to provide lifelong breast health to all.""
Since ECMC Foundation's Mobile Mammography Coach was launched (in 2012) more than 13,000 women have been screened on the coach.
ABOUT ECMC FOUNDATION: From lifesaving surgery for trauma patients to the extra support that makes a difficult time easier for visiting families, ECMC offers true care at every level. ECMC Foundation, a not-for-profit corporation, enhances what ECMC offers to our patients and community, secures the resources that make all the difference, and takes on initiatives to financially support the lifesaving work of ECMC. As our community hospital, ECMC serves a range of patients and families across Western New York. Through generous community support and building connections throughout our region, the Foundation strives to make more possible for our patients, their families, and our community.
ABOUT ERIE COUNTY MEDICAL CENTER (ECMC) CORPORATION: The ECMC Corporation includes an advanced academic medical center (ECMC) with 583 inpatient beds, on- and off-campus health centers, more than 30 outpatient specialty care services and Terrace View, a 390-bed long-term care facility. ECMC is a Level 1 Adult Trauma Center, a regional center for burn care, behavioral health services, transplantation, medical oncology and head & neck cancer care, rehabilitation and a major teaching facility for the University at Buffalo. Most ECMC physicians, dentists and pharmacists are dedicated faculty members of the university and/or members of a private practice plan. More Western New York residents are choosing ECMC for exceptional patient care and patient experiences-the difference between healthcare and true care™.