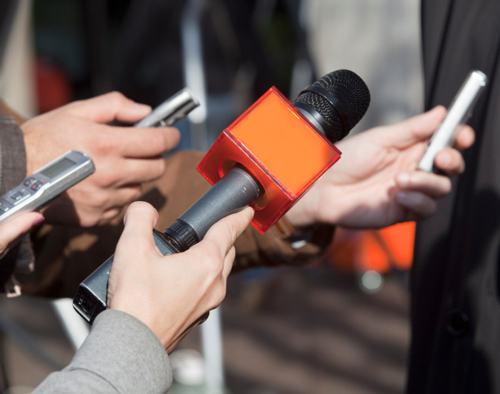 ECMC Earns Blue Distinction® Center+ Designation For Quality And Cost-efficiency In Knee And Hip Replacement Surgeries
BUFFALO, NEW YORK—BlueCross BlueShield of Western New York has selected Erie County Medical Center Corporation as a Blue Distinction Center+ for Knee and Hip Replacement, part of the Blue Distinction Specialty Care program.  Blue Distinction Centers are nationally designated healthcare facilities that show a commitment to delivering high-quality patient safety and better health outcomes, based on objective measures that were developed with input from the medical community and leading accreditation and quality organizations.
ECMCC President and CEO Thomas J. Quatroche Jr., Ph.D., said, "ECMC is proud to be recognized by BlueCross BlueShield of Western New York for achieving quality outcomes for knee and hip replacements set by the Blue Distinction Specialty Care program.  We could not be more proud of our physicians, nurses and orthopedic care team who always strive to provide the very best care to our patients."
"We are pleased to recognize Erie County Medical Center for providing exceptional knee and hip replacement care," said Dr. Thomas Schenk, Senior Vice President and Chief Medical Officer, BlueCross BlueShield of Western New York. "Having these nationally recognized centers in our network ensures that our members have access to high quality, effective specialty care that they rely on."
Facilities designated as Blue Distinction Centers® for Knee and Hip Replacement demonstrate expertise in total knee and total hip replacement surgeries, resulting in fewer patient complications and hospital readmissions. Designated facilities include hospitals (with and without an onsite Intensive Care Unit) and Ambulatory Surgery Centers (ASC).  All designated facilities must maintain national accreditation, and ASCs are also required to have an advanced orthopedic certification.  In addition to meeting these quality thresholds, hospitals designated as Blue Distinction Centers+ are on average 20 percent more cost-efficient in an episode of care compared to other facilities.
Knee and hip replacement procedures remain some of the most commonly performed, elective surgical procedures in the U.S., according to a 2018 study released by the American Academy of Orthopedic Surgeons.  In 2014, there were 370,770 total hip replacements and 680,150 total knee replacements1.  Quality is key: only those facilities that first meet nationally established, objective quality measures will be considered for designation as a Blue Distinction Center+.
Between 2015 and 2019, total hip and knee replacement surgeries combined performed at ECMC increased by 97%, contributing to ECMC's strong orthopaedic service line.
The Blue Distinction Specialty Care program has helped patients find quality care in the areas of bariatric surgery, cancer care, cardiac care, cellular immunotherapy, fertility care, gene therapy, knee and hip replacements, maternity care, spine surgery, substance use treatment and recovery and transplants. Research for many of these programs show that, compared to other providers, those designated as Blue Distinction Centers demonstrate better quality and improved outcomes for patients.
For more information about the program and for a complete listing of designated facilities, visit www.bcbs.com/bluedistinction.
ABOUT ERIE COUNTY MEDICAL CENTER (ECMC) CORPORATION: The ECMC Corporation was established as a New York State Public Benefit Corporation and since 2004 has included an advanced academic medical center with 573 inpatient beds, on- and off-campus health centers, more than 30 outpatient specialty care services and Terrace View, a 390-bed long-term care facility. ECMC is Western New York's only Level 1 Adult Trauma Center, as well as a regional center for burn care, behavioral health services, transplantation, medical oncology and head & neck cancer care, rehabilitation and a major teaching facility for the University at Buffalo. Most ECMC physicians, dentists and pharmacists are dedicated faculty members of the university and/or members of a private practice plan. More Western New York residents are choosing ECMC for exceptional patient care and patient experiences – the difference between healthcare and true care™.
ABOUT BLUE CROSS BLUE SHIELD ASSOCIATION: The Blue Cross and Blue Shield Association is a national federation of 36 independent, community-based and locally operated Blue Cross and Blue Shield companies that collectively provide health care coverage for one in three Americans. BCBSA provides health care insights through The Health of America Report series and the national BCBS Health Indexsm. For more information on BCBSA and its member companies, please visit BCBS.com. We also encourage you to connect with us on Facebook, check out our videos on YouTube and follow us on Twitter.
ABOUT BLUE DISTINCTION CENTERS: Blue Distinction Centers (BDC) met overall quality measures for patient safety and outcomes, developed with input from the medical community. A Local Blue Plan may require additional criteria for facilities located in its own service area; for details, contact your Local Blue Plan. Blue Distinction Centers+ (BDC+) also met cost measures that address consumers' need for affordable health care. Each facility's cost of care is evaluated using data from its Local Blue Plan. Facilities in CA, ID, NY, PA, and WA may lie in two Local Blue Plans' areas, resulting in two evaluations for cost of care; and their own Local Blue Plans decide whether one or both cost of care evaluation(s) must meet BDC+ national criteria. National criteria for BDC and BDC+ are displayed on bcbs.com. Individual outcomes may vary. For details on a provider's in-network status or your own policy's coverage, contact your Local Blue Plan and ask your provider before making an appointment. Neither Blue Cross and Blue Shield Association nor any Blue Plans are responsible for non-covered charges or other losses or damages resulting from Blue Distinction or other provider finder information or care received from Blue Distinction or other providers.
ABOUT BLUECROSS BLUESHIELD OF WNY: BlueCross BlueShield of Western New York is a division of HealthNow New York Inc., an independent licensee of the BlueCross BlueShield Association. Since 1936, BlueCross BlueShield has helped millions of people lead healthier lives. BlueCross BlueShield offers a full range of insured, self-insured, and government programs and services covering businesses, families, and individuals, as well as life and disability coverage, dental and vision plans and stop-loss coverage. As a community-based, not-for-profit health plan, BlueCross BlueShield contributes significantly to organizations that strengthen and enrich the health of our community.
For up-to-date news, facts, and information about the company, leadership, and industry, please visit the BlueCross BlueShield News Center at bcbswny.com/news or follow us on Twitter.