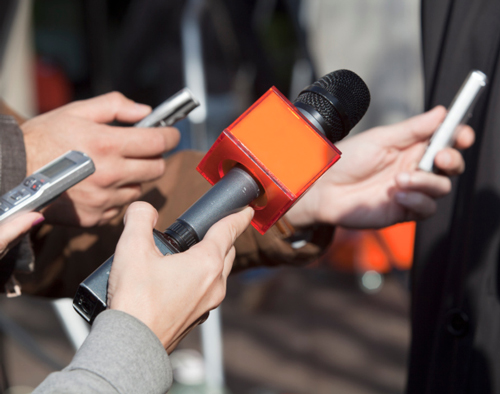 ECMC dedicates the "Anthony V. Mannino Comfort Room" A quiet place for cancer patients to reflect, discuss treatments with their doctors and spend time with family
Erie County Medical Center (ECMC) Corporation today held a dedication and ribbon-cutting of the "Anthony V. Mannino Comfort Room."
Anthony V. Mannino was a young man who lost his battle with cancer on March 8th, 2009, at the age of 21.  Anthony was just three months shy of his 20th birthday when he was diagnosed with stage IV esophageal cancer.  He battled this cancer for 22 months, beating the original diagnosis of 6 to 12 months.
His family started The Anthony V. Mannino Foundation to benefit young adults between the ages of 18-29 who they believe are often undeserved regarding emotional and financial support.  This age group may not have insurance through their parents and they are not at an age where they have families of their own for support.
Although Anthony was not a patient at ECMC, Richard Cleland, ECMC CEO, is a strong supporter of the Mannino Foundation and wanted to provide a meaningful and comfortable area at ECMC for cancer patients of all age groups.
"I am pleased to support The Mannino Foundation by creating the 'Anthony V. Mannino Comfort Room' at ECMC," explained Richard C. Cleland, MPA, FACHE, NHA, Chief Executive Officer, ECMC Corp.  "This 'Comfort Room' is meant to be a quiet place for patients to reflect, discuss treatments with their doctors, visit with family, or spend time alone in a comfortable setting.  It also supports our goal to further enhance the ECMC patient experience."
The room is located in ECMC's Ambulatory Center building on its second floor in Medical Oncology, part of the Center for Oncology Care, specializing in head and neck, plastic and reconstructive surgery, dental and medical oncology, maxillofacial prosthetics, and breast oncology.  ECMC medical oncologists offer expert clinical care that emphasizes aesthetic principles in a healing atmosphere.  A collaborative team of physicians discusses each case in a group setting to develop a comprehensive approach for each patient.
The "Comfort Room" conveys the personality of Anthony.  The room has an Asian theme.  The theme was selected because Anthony was an avid martial artist.  The "Comfort Room" is painted in relaxing earth tones. Soft lighting is installed and two recliners are available for patient comfort.  A custom table with a modern Japanese design displays Anthony's portrait and The Mannino Foundation name engraved into the table.  Included are a bonsai tree and a six foot tall bamboo tree.  On the wall is a large photo print of a Japanese waterfall.  Another wall includes the words "Compassion, Hope, Courage" which is a slogan used by "The Mannino Foundation."  The theme has a deeper meaning for anyone experiencing difficulty.  The bonsai tree traditionally represents stability and perseverance.  The waterfall is a sign of change and water is often associated with relaxation and healing.
ABOUT THE ANTHONY V. MANNINO FOUNDATION: The mission of The Anthony V. Mannino Foundation is to financially assist young adults in the age group of 18-28, while they are undergoing their cancer treatment, and to help develop support programs to aid this unique age group, with their special needs, as they battle cancer.  Anthony's age group of 18 plus does not have the type of emotional or financial support of other age groups.  This age group also has unique circumstances and this Foundation wishes to help those adolescents and their families.  For more information about The Anthony V. Mannino Foundation, and/or to support the Foundation, log-on to: www.avmfoundation.com