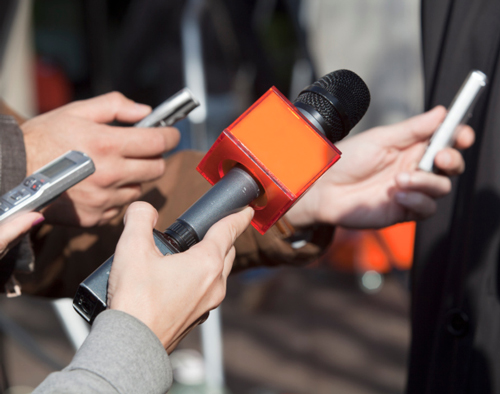 ECMC, Deaf Access Services to Use ER Signing Guide – Goal to give doctors, nurses, staff quick way to communicate with deaf patients
Erie County Medical Center and Buffalo Deaf Access Services are joining to utilize a 20-page Deaf Emergency Awareness Form [DEAF] booklet so doctors and nurses can more effectively communicate with deaf and hard-of-hearing patients.
ECMC is the first hospital in the country to adopt the book, which contains easy-to-follow guidelines for how to most effectively communicate with deaf patients, as well as customized terms needed in a hospital and medical context. The booklet will soon become available to personnel in the region's largest trauma center and for other hospital needs as well.
"This is a thoughtful and, we expect, effective approach to making certain our staff can communicate with deaf and hard-of-hearing patients, especially at crucial times in their care," said Karen Ziemianski, ECMC's senior vice president of nursing.
The DEAF booklet is based on the American Sign Language (ASL) system and would be used as a stop-gap in emergency situations, before and until a sign-language interpreter is available. The booklet is a visual and gestural form of communication that includes ASL vocabulary and precise illustrations that are easily understood and useable even for those who do not sign.
"The DEAF booklet is designed to facilitate interaction between emergency medical staff and patients who are deaf or hard of hearing," said Edward Welsh, who with his fiancée, Laura Paynter, came up with the idea and designed the booklet.
Deaf Access Services provides services in Buffalo helping the deaf, hard of hearing and hearing communities come together through advocacy, sign language, community education, employment, technology assistance, communication skills, and interpreting services that promote equal access.
"It does not take the place of an interpreter. Aside from sign language dictionaries, and abbreviated guides, there are no effective tools to aid communication in such a situation. That is why the DEAF booklet is such a great tool," said Paynter, an illustrator and fit model.
Customized terms in the booklet include how to sign things like "intravenous;" "medicine;" "oxygen;" "test;" as well as general functional words, signs for major organs and parts of the body. Other easy-to-use illustrations and instructions include how to sign words and phrases like "admit," "calm down," "difficult," "discharge," "doctor," "nurse," "hospital," "understand," "age," "allergies," "disease," "street drugs," "family," "insurance," "medical," "name," "bleeding," "breathing," "cough," and several more.
"Deaf and hard-of-hearing patients should be entitled to the same care and access to communication as the rest of the population, but not having an interpreter on hand or visual aids can cause communication problems," said Paynter. "This can lead to misdiagnoses, treatment errors as well as other issues. What we would like to accomplish is helping the deaf and hard-of-hearing community get the right care they deserve with the use of the booklet."
The booklet's last two pages are the sign alphabet from A to Z, which can be used to fingerspell any words or phrases that are not found in the booklet.
"This could also be used in the 911 system so dispatchers could assist first responders dealing with sick or injured deaf patients to help procure a safe and effective transport for deaf patients," said Welsh, a registered nurse.
Welsh, who lives in Philadelphia with Paynter, devised the idea for the booklet after an experience in a hospital there in 2007. Doctors could not communicate effectively with a scared pregnant deaf woman that she needed a C-section. Fear and pressure mounted on both sides until an emergency was declared. Mother and child were fine, but the need for quick, effective sign communication was obvious to Welsh.
"The booklet will benefit the deaf and hearing communities by facilitating communication and enhancing access to health care, particularly in emergent situations," said DAS Board Member Sharon Manning, who introduced DAS to Welsh. "The idea is to provide immediate information for the health-care provider and the deaf/hard of hearing consumer, which will hopefully decrease fear and possibly allow for quicker treatment in an emergency situation."
Manning is an assistant clinical professor in the School of Nursing at D'Youville College and her research involves health-care issues with the deaf community. She is also a student at Sacred Heart University in Fairfield, CT, seeking her doctorate of nursing practice. Carol Gallo, who lives outside of Philadelphia, is a fellow student with Manning at Sacred Heart. Gallo was also Welsh's clinical instructor in nursing school in Philadelphia. Gallo brought Manning and Welsh together.
Manning then worked with Sharon L. Hanson, executive director of DAS in to make DAS and ECMC the first partners to apply the booklet in a clinical setting.