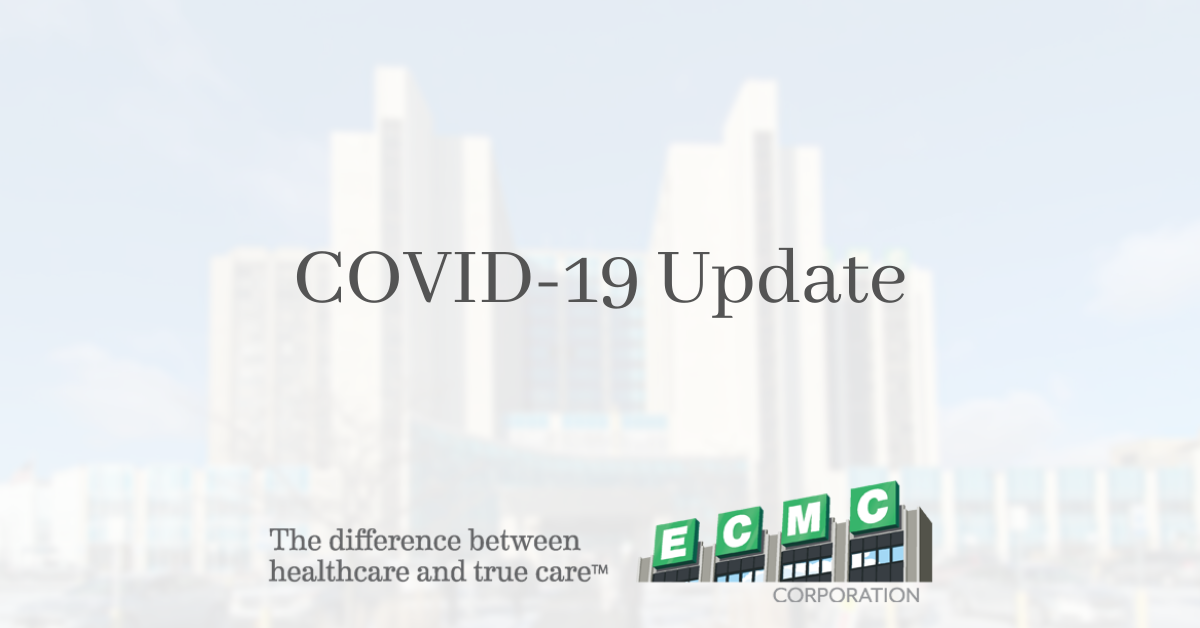 ECMC Corporation COVID-19 Update – March 25th
BUFFALO, N.Y – Erie County Medical Center Corporation today provided an updated on COVID-19 actions taking place on its health campus. 
Testing
ECMC's Lab is waiting to receive the necessary reagents and test kits to conduct on-site testing with its FDA-approved equipment.
We continue to urge anyone with COVID-19 symptoms – fever, cough, sneezing – to go home and consult with their primary physician.  ECMC has only conducted tests on admitted patients with symptoms suggestive of COVID-19 or ECMC caregivers who may be symptomatic.
ECMC Surge Plan
As required by the NYS Department of Health, ECMC yesterday submitted a COVID-19 Surge Plan that includes how ECMC will expand to the required 50% bed capacity increase, while also identifying how the institution could expand that capacity to 100%.  ECMC's pandemic plan has been in place since 2005.  A COVID-19 inpatient unit has also been established.
PPE
ECMC currently has approximately 1.5 weeks PPE available for our caregivers.  We are taking every step to conserve PPE equipment; we have identified PPE suppliers and have placed orders for additional supplies.  Without guarantees of their delivery date, we are asking for donations of masks.
ECMC is asking for our community's help in protecting our dedicated caregivers in the coming weeks by donating unused masks they may have.
Any N95 and Non-N95 mask donations will be accepted.
N95 masks that are in high need are: 3M 1860 model (size regular and small)
As a Level 1 Adult Trauma Center, we continually assess our PPE inventory to be prepared to care for our patients and are following our established pandemic plan.
To contact ECMC, please go to: hospitalcommandcenter@ecmc.edu or call 716-898-3844.
Early in March, ECMC established an organization-wide COVID-19 task force and command center operation to address this pandemic.  The group has been coordinating emergency preparedness, response efforts, as well as daily communication with Federal, State and County agencies.
ECMC's website has more information on COVID-19 at https://www.ecmc.edu/health-services-and-doctors/preparing-for-coronavirus-covid-19/