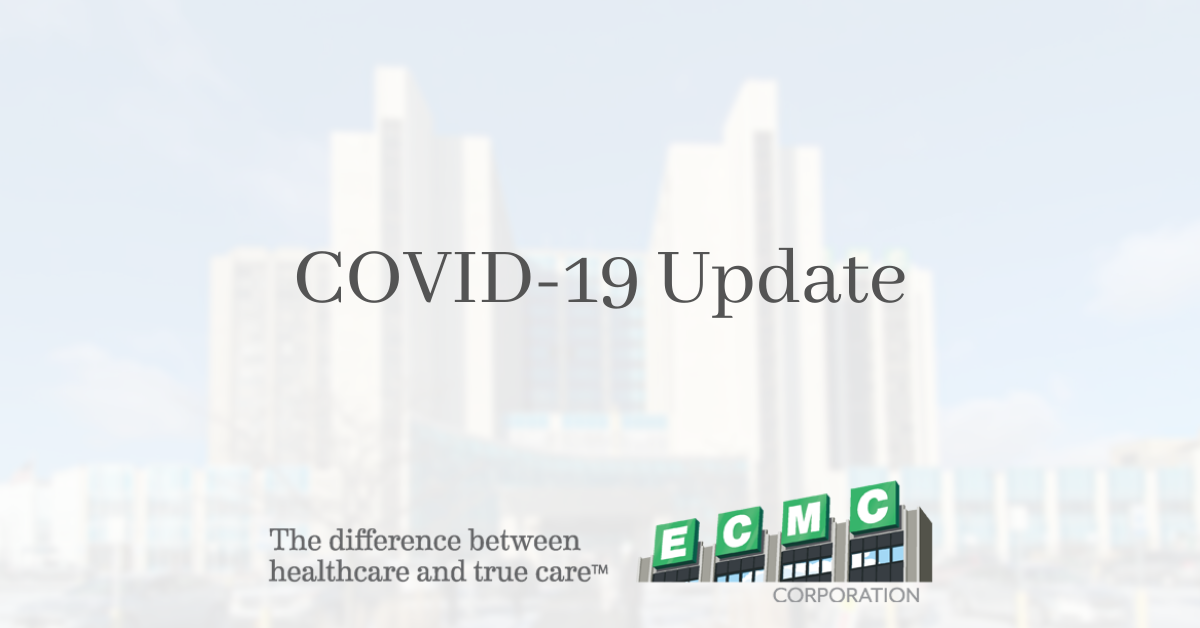 ECMC Corporation COVID-19 Update – April 15th
ECMC launches virtual ER care platform to provide at-home care for patients
BUFFALO, N.Y – Erie County Medical Center Corporation (ECMCC) today announced it has launched a virtual ER care platform to provide video visits for remote emergency room visits, in addition to previously established virtual care outpatient services. ECMC provides vital health care services to our Western New York community and the virtual care platform allows care to continue throughout the COVID-19 pandemic. The services being provided are for both COVID-19 related and non-COVID-19 matters.
ECMC Virtual ER Visits
ECMC's new virtual ER program allows patients to schedule on-demand virtual visits for appropriate medical conditions via ECMC's website (www.ecmc.edu).
How ECMC Virtual ER Visits work:
Individuals with appropriate clinical conditions schedule a Virtual ER Visit at www.ecmc.edu. Conditions include: allergies, bronchitis, suspected COVID-19, cold and flu, cough, fever, sore throat, sinus infection, eye infection/irritation, rash, hives, upset stomach, heartburn, diarrhea, nausea, vomiting, and other minor ailments.
Upon appointment confirmation, a care team member contacts the individual by phone to complete registration and general assessment. Depending on the individual's symptoms and care needs, an on-site visit may be required at the discretion of the care team.
Prior to the appointment time, the individual receives information on how to connect to a secure video conference line, accessible on a smartphone, PC or tablet.
The emergency room provider consults with patient to assess symptoms, provide recommendations and prescribe medications as needed.
Dr. David Ellis, ECMC Emergency Department and Director of Telemedicine, UBMD Emergency Medicine said, "Life and healthcare have changed significantly due to COVID-19. Our ability to use telemedicine and telehealth capabilities to reach out to our patients is more important than ever. I am very excited that ECMC and UBMD Emergency Medicine have partnered to provide this service to the community."
Outpatient Virtual Visits
ECMC's outpatient medical, surgical, dental and behavioral health services are now conducting both video and telephonic visits.
ECMC outpatient services are continuing to follow the recommended social distancing guidelines as part of our COVID-19 response. As a result, some in-person visits are being limited. To continue to meet the healthcare needs of ECMC's valued patients, ECMC is now offering virtual visits by video and telephone.
For visits that cannot be done virtually, ECMC staff contact patients to reschedule in-person appointments as needed.
Patients can call 716-898-3700 or visit www.ecmc.edu/virtual to schedule a virtual visit for an ECMC outpatient service.
Dr. Ellen Rich, Medical Director of the Internal Medicine Center at ECMC said, "Even in a pandemic people have chronic medical conditions and urgent concerns. We can help guide patients through their questions and concerns during this difficult time via telemedicine. We want to reassure patients that their doctor is available to manage their healthcare needs during the COVID-19 pandemic."
ECMC COVID-19 STATISTICS:
Wednesday, 4/1520
Inpatients: 36 confirmed cases currently in-house (20 on ventilators)
8 under investigation
ABOUT ERIE COUNTY MEDICAL CENTER (ECMC) CORPORATION: The ECMC Corporation was established as a New York State Public Benefit Corporation and since 2004 has included an advanced academic medical center with 573 inpatient beds, on- and off-campus health centers, more than 30 outpatient specialty care services and Terrace View, a 390-bed long-term care facility. ECMC is Western New York's only Level 1 Adult Trauma Center, as well as a regional center for burn care, behavioral health services, transplantation, medical oncology and head & neck cancer care, rehabilitation and a major teaching facility for the University at Buffalo. Most ECMC physicians, dentists and pharmacists are dedicated faculty members of the university and/or members of a private practice plan. More Western New York residents are choosing ECMC for exceptional patient care and patient experiences – the difference between healthcare and true care™.