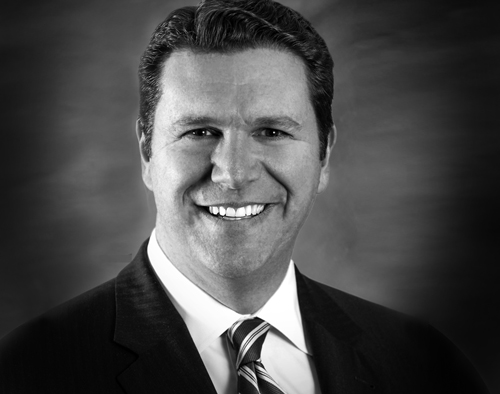 ECMC Corporation Appoints Thomas Quatroche Jr. CEO
Moves into top hospital job after more than a decade overseeing operations
BUFFALO, NY – Jan. 26, 2016 – The Erie County Medical Center Corp. Board of Directors announced today that Thomas J. Quatroche Jr. Ph.D., is the corporation's new CEO.
As CEO of ECMCC, Quatroche will provide leadership for all operations at ECMC and Terrace View, the skilled nursing facility on the Grider Street health campus. He will continue to engage physicians, nurses and staff in transforming the care delivered to patients every day with a focus on improving the patient experience. He will also continue his collaborative work in the community with clinical, business and community leaders.
The board also voted unanimously to embark on a national search for a new chief operating officer.
The board's decisions came after widespread outside and internal input from community leaders, health officials, doctors, nurses and staff. These included leaders of the local Civil Service Employees Association, the American Federation of State, County and Municipal Employees and the New York State Nurses Association, three major unions at the hospital.
"I've known and worked with Tom Quatroche for more than a decade and I fully agree with the board's unanimous decision to appoint him to lead the health system," said incoming ECMC Board Chair Sharon L. Hanson. "Tom has been a major part of ECMC's renaissance, image change, and its growth into a superior regional health system."
Quatroche has worked at ECMC for 11 years, most recently serving as president and for many years as senior vice president of Marketing, Planning and Business Development.
"I have worked closely with Tom Quatroche for more than 20 years. He is an exceptional individual with the skills and temperament to lead ECMC through the years ahead," said Lieutenant Governor Kathy Hochul. "His ongoing advocacy for ECMC in Washington and Albany have already established him as a respected representative of the hospital and I am confident he will successfully transition into this new position to the benefit of not just the hospital, but the entire community."
Quatroche worked in higher education and health care for more than 20 years in various executive roles. For the past 11 years at ECMC, he was responsible for surgical services, all surgical service lines; oncological services; business development; marketing; strategic planning; and external relations.
"Tom is well-known and respected by the doctors, nurses and staff," said Dr. Sam Cloud, president of the ECMC medical staff. "He has developed a high level of trust and credibility overseeing multiple practices and with his leadership of key segments of our growth areas."
Quatroche oversaw the departments of Orthopedics, Neurosurgery, General Surgery, Oncology, Head & Neck/Plastic and Reconstructive Surgery, and Oral Oncology and Maxillofacial Prosthetics.
Quatroche, who became hospital president in May 2015, previously served as the chief corporate affairs officer, responsible for external affairs and strategic initiatives of the corporation, including affiliations with Great Lakes Health, Kaleida Health, and other organizations important to the corporation's strategic direction.
"In my time at ECMC, I saw first-hand the work and critical relationship that Tom had with doctors, nurses, staff, labor, the community and more," said Kaleida President and CEO Jody L. Lomeo. "He was instrumental in the culture change and he really helped drive the growth of the hospital. He is uniquely positioned to take ECMC to the next level."
As a senior vice president and a member of the executive team for 10 years prior to becoming hospital president, Quatroche advanced ECMC's brand and image in the community.
"ECMC is known as an organization that collaborates with a very high level of integrity for the benefit of the community, and I am therefore honored to assume this new leadership role," Quatroche said. "I've said multiple times that I am – and really any CEO is – the least important person here. What the doctors, nurses and staff do for our patients is what really matters, and it humbles me to lead them."
"I thank the board for entrusting me in this new role to lead these initiatives to provide better health care in our region," he added.
Quatroche served on statewide committees in education and health care for the State University of New York and the Healthcare Association of New York State. He represented ECMC on HANYS's Task Force on Improving New York State's Medicaid Program and Allied Executives Committee and is currently serving on the Western New York Health Association Board, Trocaire College Board of Trustees, Buffalo State Foundation Board, Buffalo Renaissance Foundation Board of Directors.
"Under Tom Quatroche's leadership, together the University at Buffalo and ECMC are reaching new levels of cooperation and effectiveness across our physician-training programs, medical student education, clinical research and patient care," said Satish K. Tripathi, UB's president. "We look forward to continuing to work with Tom and strengthening our relationship and building upon the health-care excellence we provide for Buffalo and Western New York."
A lifelong Western New Yorker, Quatroche has been involved in many civic organizations. He is a past recipient of Buffalo Business First's 40 Under 40 award for business and civic leadership and has been a featured presenter at health care conferences regarding the new Federal Healthcare Reform.
"I have known and respect Tom for his work as ECMC's liaison to Great Lakes Health, and I am completely confident that he will lead ECMC in a positive direction with continued strong financial performance," said Robert D. Gioia, chair of the Great Lakes Health board.
Quatroche received his Bachelor's degree in Business Administration and Marketing from the State University of New York College at Fredonia, holds a Master's degree in Student Personnel Administration from the State University of New York College at Buffalo and earned his Doctorate in Higher Education – Educational Leadership and Policy – from the State University of New York at Buffalo.
"It has been our experience that Tom listens to and appreciates all of the employees for the clinical and non-clinical care they deliver to the patients. For many years, Tom's positive interaction with staff has reinforced the trust and respect he has earned," said Denise Szymura, president of CSEA Local 815/Erie Unit.
Quatroche lives in Amherst with his wife Jodi Johnston Quatroche and their son Max.