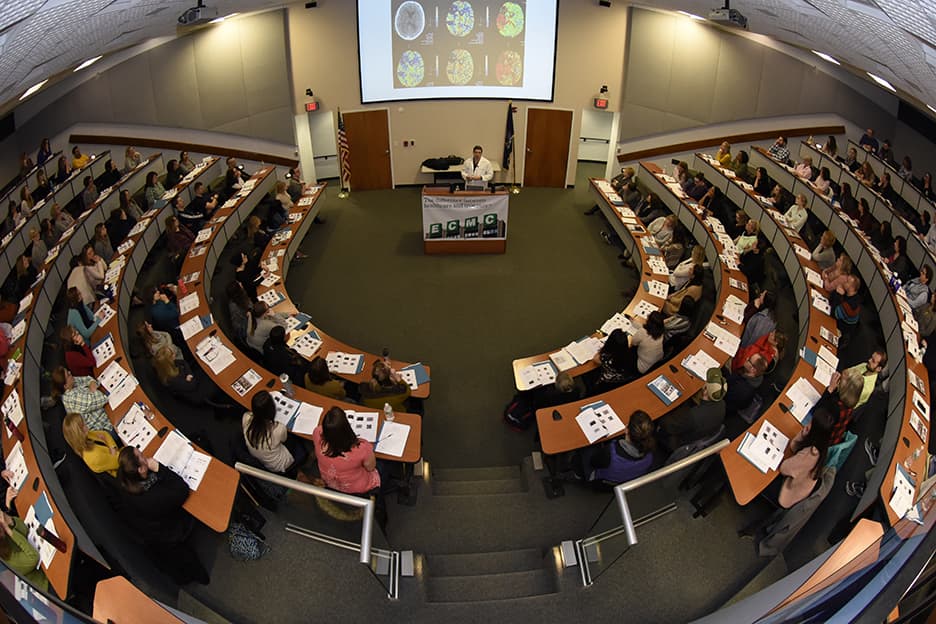 ECMC Center for Rehabilitation Services hosts fourth annual Rehab Symposium
by Kevin Jenney, PT, DPT
On Saturday, March 11th, Erie County Medical Center Corporation (ECMCC) and ECMC Foundation held the fourth annual Rehab Symposium, titled "A Multidisciplinary Approach to the Acute Care Patient." For this conference, many of the region's most experienced clinicians were invited to speak on a variety of topics pertaining to rehabilitation on acute and critical care services.
Area therapists, rehab professionals, and therapy students from the community were invited to learn about some of the specialty services that are available at ECMC. The keynote speaker was Kenneth Snyder, MD, PhD, who presented an update on current treatment for ischemic and hemorrhagic stroke patients. Other presenters included: Pamela Bartlo, PT, DPT, NCS; Gregory Bennett, MD; Kristen Butterfoss, PharmD, BCGP; James Cypert, MS, MCSE, MCT; Heather Ferro, OTD, MS, OTR/L; Katrina Fulcher-Rood, PhD, CCC-SLP; Kathleen Grimm, MD; Lisa Keenan, PhD; Sandra Lauer, RN; Mary Matteliano, PhD, OTR/L; Loretta Miller, PT,DPT, NCS, CEAS; Patricia Ohtake, PT, PhD; Karen Panzarella, PT, PhD, CHSE; James Simmons, OD, MS; Lauren Snyder, MS, CCC-SLP; and Linda Wiecek, VRT, BA, COTA.
Over 150 people attended the sold-out conference, which also included a vendor fair. The presenting sponsor for the symposium was East Coast Orthotics. Feedback from attendees was overwhelmingly positive, and ECMC's Center for Rehabilitation Services is starting to make plans for next year's symposium.
Kevin Jenney, PT, DPT, is Supervisor of Rehabilitation Services, Acute Care for Erie County Medical Center