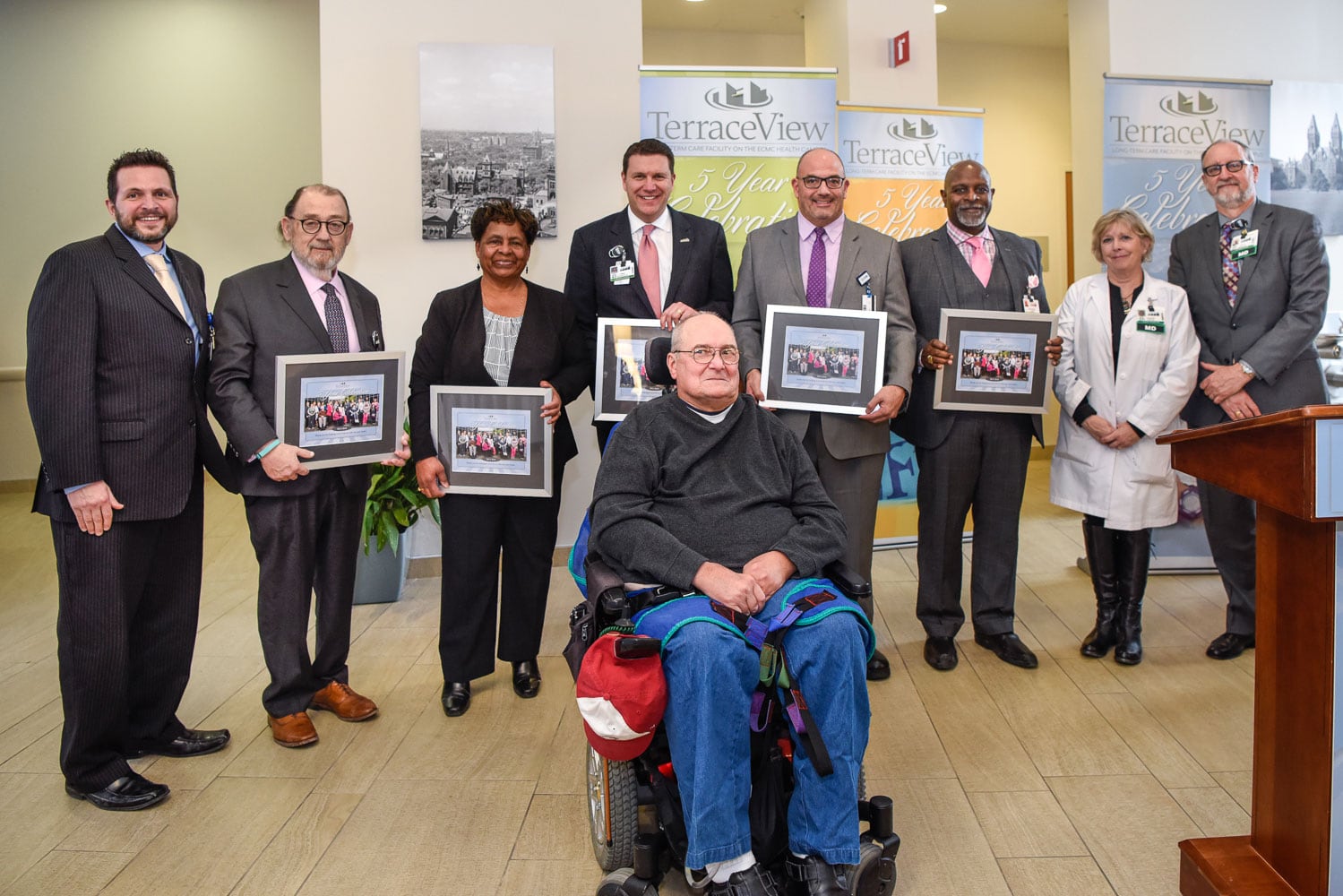 ECMC Celebrates 5-Year Anniversary of Terrace View Long-Term Care Facility
BUFFALO, NEW YORK – Erie County Medical Center Corporation Friday celebrated the 5-year anniversary of the opening of its Terrace View Long-Term Care Facility. The 390-bed nursing home on the ECMC Health Campus on Grider Street was formally opened on February 8, 2013.
ECMC Corporation President and CEO Thomas J. Quatroche Jr., PhD, said, "Thanks to the vision of our board of directors and collaborative efforts within our community, the construction of, and move to, Terrace View became a reality in 2013. And five years later – with such outcomes as Terrace View last May earning a Four-Star Rating for Overall Quality from CMS – the standard of care for the residents is excellent and we are proud of the dedicated administrators and caregivers who work so tirelessly on behalf of each resident."
Terrace View Long-Term Care Facility, named for the design feature of its multiple terraces providing outside areas for residents, replaced the then 87-year-old Erie County nursing home in Alden. Terrace View also combines in one location long-term care beds previously housed within the Medical Center.
The move from Alden to the ECMC Health Campus focused on providing higher quality, state-of-the-art care for residents. It also moved residents closer to family, increased access to employment by staff residing in Buffalo and its immediate suburbs and reduced operating costs for ECMC Corp. In line with New York State Department of Health recommendations, there was a 332-bed reduction to the new facility from the 722 beds in the Alden facility. Most Alden employees who wanted to transfer to the new location, or to other ECMC operations, did so. All residents not transferring to the new facility were moved to other facilities or home. Eighty percent of Terrace View residents are from Buffalo or the first-ring suburbs. Terrace View allows residents to be closer to family and loved ones who can participate in their care and well-being.
Terrace View, for which current residents had design input, is 275,500 square feet on five levels. It contains three floors of 96 skilled nursing beds each; one floor containing 66 sub-acute rehab beds; a 20-bed ventilator unit and 16-bed behavioral intervention unit – for a total of 390 beds. The building is connected to the existing hospital and to other facilities on campus via a corridor used to transport patients and residents in need of varying degrees of medical care. The facility is organized into small-scale, 12-bed households, each with a living room and fireplace, kitchen and dining rooms. Each floor features a generous outdoor terrace and an indoor terrace lounge with a view to the terrace. The ground floor includes shared communal spaces with adjacent gardens and courtyards. The features offer a stimulating community for residents, families and staff members.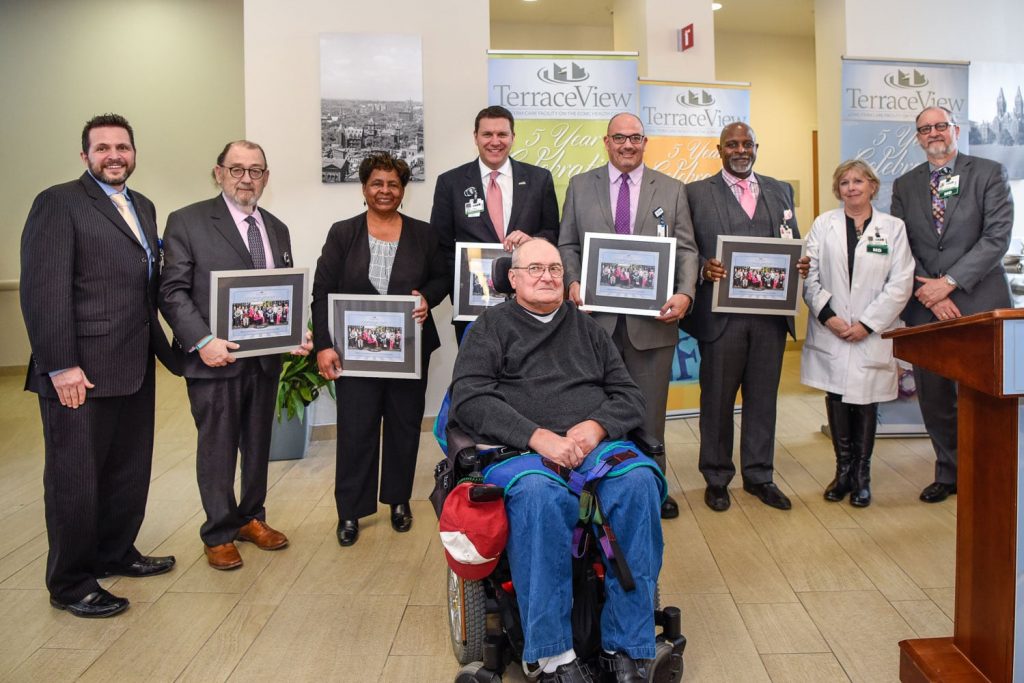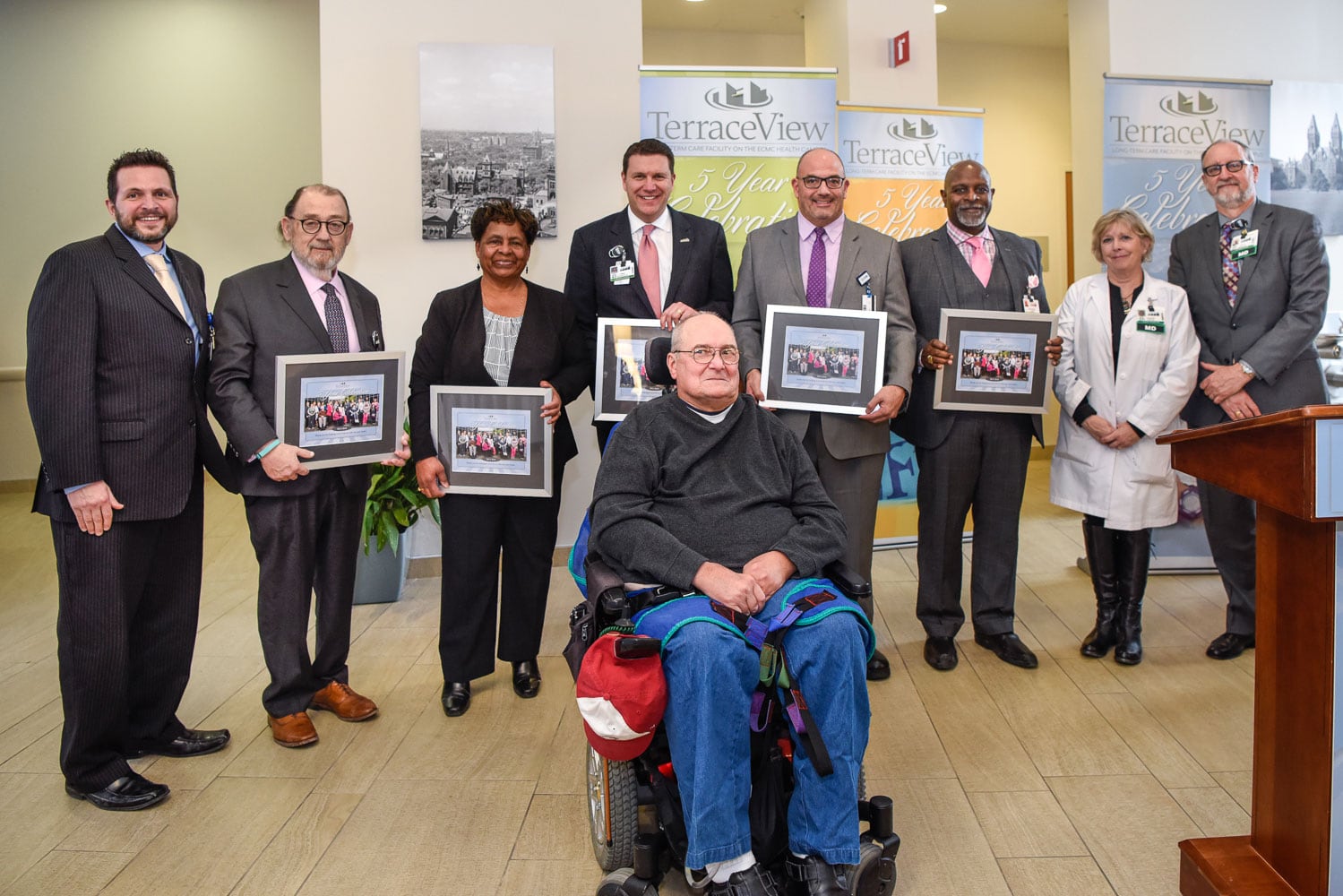 PHOTO CAPTION: ECMC Corp. (ECMCC) celebrates on 2/9/18 the 5-Year Anniversary of Terrace View Long-Term Care Facility (TVLTCF). In addition to residents and staff members, event participants included: (front) Paul Anthon, president, Resident Council, Terrace View; and (l. to r.) Anthony DePinto, administrator, TVLTCF; Jonathan A. Dandes, board chair, ECMCC; Sharon L. Hanson, immediate past board chair, ECMCC; Thomas J. Quatroche Jr., PhD, president & CEO, ECMCC; Jody L. Lomeo, president & CEO, Great Lakes Health System of WNY and Kaleida Health; Bishop Michael A. Badger, board officer, ECMCC; Dr. Kathleen Grimm, board member and president of Medical-Dental Staff, ECMCC; Dr. Brian M. Murray, chief medical officer, ECMCC.
ABOUT ERIE COUNTY MEDICAL CENTER (ECMC) CORPORATION: The ECMC Corporation was established as a New York State Public Benefit Corporation and since 2004 has included an advanced academic medical center with 583 inpatient beds, on- and off-campus health centers, more than 30 outpatient specialty care services and Terrace View, a 390-bed long-term care facility. ECMC is Western New York's only Level 1 Adult Trauma Center, as well as a regional center for burn care, behavioral health services, transplantation, medical oncology and head & neck cancer care, rehabilitation and a major teaching facility for the University at Buffalo. Most ECMC physicians, dentists and pharmacists are dedicated faculty members of the university and/or members of a private practice plan. More Western New York residents are choosing ECMC for exceptional patient care and patient experiences – the difference between healthcare and true care™.