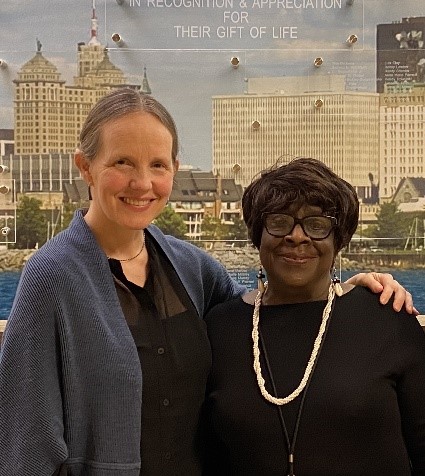 ECMC Awarded Grant Funding for the Research and Partnering Initiative Co-Creating Solutions to Enhance Kidney Transplant Access of Black Western New Yorkers
BUFFALO, NEW YORK—ECMC is pleased to announce the UB Clinical and Translational Science Institute (CTSI) has awarded grant funding for the research/community partnering initiative "Co-Creating Solutions to Enhance Kidney Transplant Access of Black Western New Yorkers with End-Stage Kidney Disease
The clinical leader of this research initiative is Liise K. Kayler, MD, MS, FACS, Program Director (http://medicine.buffalo.edu/faculty/profile.html?ubit=liisekay) Kidney and Pancreas Transplantation, Chief of the Division of Transplant Surgery, UB Jacobs School of Medicine and Biomedical Sciences; and Program Director (https://www.ecmc.edu/our-doctors/liise-kayler-md/) of the Regional Center of Excellence for Transplantation and Kidney Care at ECMC.
The community leader is Barbara Breckenridge, kidney transplant recipient and Founder, Western New York Kidney Disease and Transplant Support Group, Patient Advisory Committee (PAC); and Western New York Regional Advisor, IPRO ESRD Network of New York Partner and Health Disparities Liaison, Fruit of the City.
The objective of this project, funded by this $5,000 UB grant, is to involve community stakeholders in a transplant advisory board to address disparities in kidney transplant (KTX) access experienced by Black Western New Yorkers with end-stage kidney disease (ESKD).  This advisory board will include a diverse membership of individuals with kidney disease and their families.  The members will focus on identifying and prioritizing kidney transplant barriers to access and exchange ideas to identify possible solutions to minimize or ideally eliminate the disparities.  The board will present proposed solutions to members of the community and clinical stakeholders, including patients and family members, living donors, dialysis social workers and ECMC transplant clinical staff.  The community and clinical stakeholders will then determine workable options for follow-up research and community efforts in this regard.
About the Erie County Medical Center (ECMC) Corporation: The ECMC Corporation was established as a New York State Public Benefit Corporation and since 2004 has included an advanced academic medical center with 573 inpatient beds, on- and off-campus health centers, more than 30 outpatient specialty care services and Terrace View, a 390-bed long-term care facility.  ECMC is Western New York's only Level 1 Adult Trauma Center, as well as a regional center for burn care, behavioral health services, transplantation, medical oncology and head & neck cancer care, rehabilitation and a major teaching facility for the University at Buffalo.  Most ECMC physicians, dentists and pharmacists are dedicated faculty members of the university and/or members of a private practice plan.  More Western New York residents are choosing ECMC for exceptional patient care and patient experiences – the difference between healthcare and true care ™.  For additional information about ECMC, visit: www.ecmc.edu.