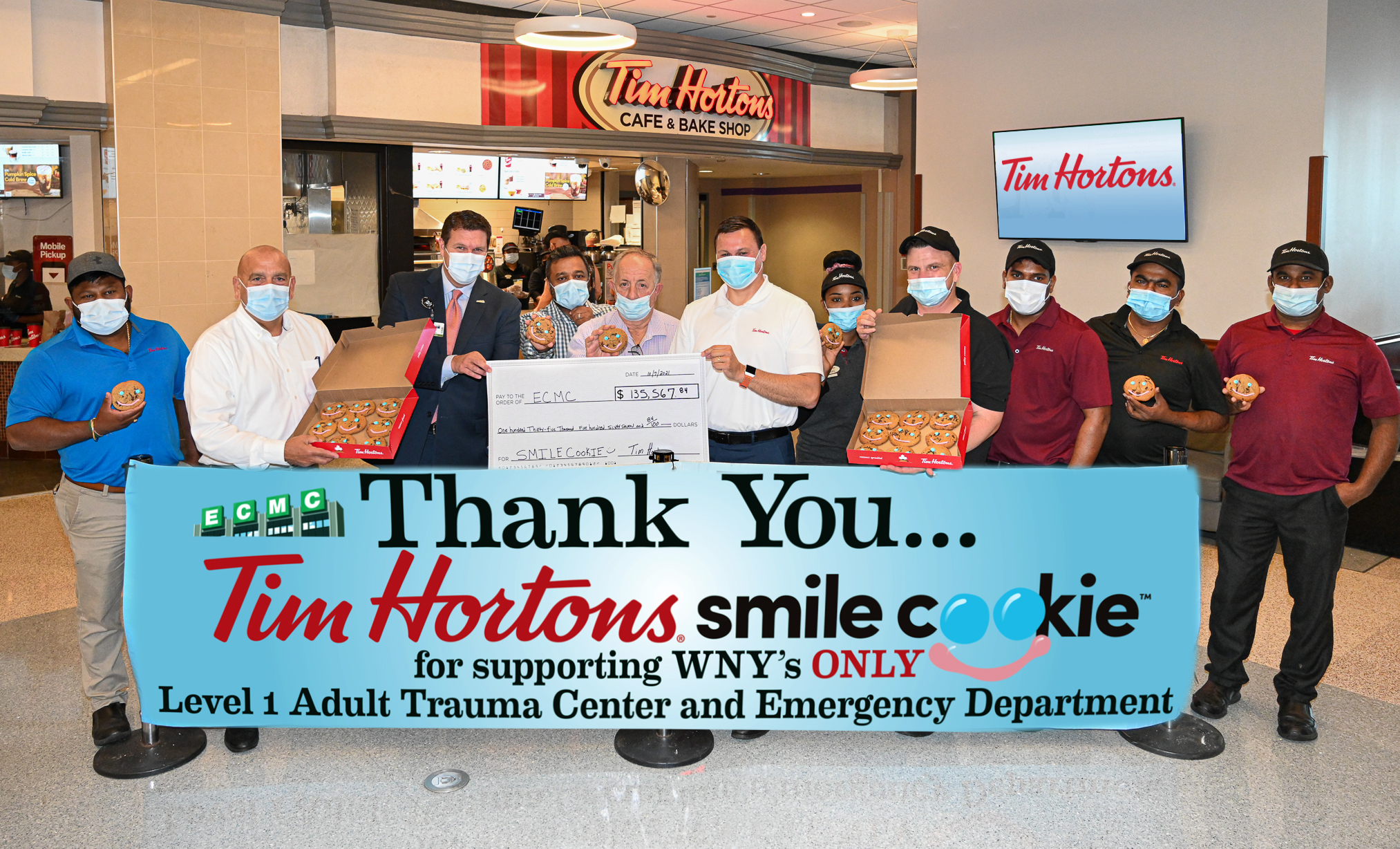 ECMC and Tim Hortons partner again to support ECMC frontline care services
Tim Hortons Annual Smile Cookie™ Campaign raises over $550,000 in four consecutive years to benefit ECMC.
BUFFALO, NEW YORK — For a fourth consecutive year, Erie County Medical Center (ECMC) Corporation and Tim Hortons® restaurants partnered to support the institution's frontline care services, raising $135,567 this year.  More than $550,000 has been raised through the Tim Hortons Smile Cookie campaign for the Erie County Medical Center since 2018.  As in previous years, 100% of proceeds from Tim Hortons® annual Smile Cookie™ campaign throughout Western New York, running from Monday, September 13th – Sunday, September 19th, will go this year to ECMC's frontline care services.  Each Smile Cookie™ costs $1.00.  Over 160 Tim Hortons® restaurants in Western New York participated in this year's campaign benefitting ECMC.
Jalila Bouchareb, Tim Hortons US General Manager and Head of Operations said, "We are honored and proud that the Tim Hortons Smile Cookie campaign has now raised over half a million dollars that has contributed to the lifesaving trauma and emergency department care that the Erie County Medical Center provides every day to families throughout Western New York.  As always, we are grateful for the continuing support from our Guests, the local Restaurant Owners of our Tim Hortons restaurants throughout Western New York, and the businesses who raise money through Smile Cookie each year for local charities and organizations in their community."
ECMC Corporation President and CEO Thomas J. Quatroche Jr., PhD said, "We thank Tim Hortons and the thousands of Western New Yorkers who have again this year supported the Smile Cookie campaign.  We celebrate the generosity of our community demonstrated even during the COVID-19 pandemic.  Every day our skilled and dedicated caregivers deliver lifesaving care to thousands of Western New Yorkers who depend on ECMC during many of their most challenging moments.  Previously, Tim Hortons Smile Cookie campaign helped raise financial support and public awareness for our state-of-the-art KeyBank Trauma and Emergency Department that now serves our region and will do so for generations to come.  We are again grateful to our partners at Tim Hortons for their commitment and we are extremely thankful to area residents for their continuing support and confidence in ECMC."
ABOUT TIM HORTONS®: Tim Hortons Inc., part of Restaurant Brands International, is one of North America's largest restaurant chains operating in the quick service segment. Founded as a single location in Canada in 1964, Tim Hortons®  appeals to a broad range of guest tastes, with a menu that includes premium coffee, hot and cold specialty drinks (including lattes, cappuccinos and espresso shots), specialty teas and fruit smoothies, delicious baked goods, grilled panini and classic sandwiches, wraps, soups, prepared foods and other food products. Tim Hortons® has more than 4,700 system wide restaurants located in Canada, the United States and around the world. More information about the company is available at www.timhortons.com.
ABOUT ERIE COUNTY MEDICAL CENTER (ECMC) CORPORATION: The ECMC Corporation was established as a New York State Public Benefit Corporation and since 2004 has included an advanced academic medical center with 583 inpatient beds, on- and off-campus health centers, more than 30 outpatient specialty care services and Terrace View, a 390-bed long-term care facility.  ECMC is Western New York's only Level 1 Adult Trauma Center, as well as a regional center for burn care, behavioral health services, transplantation, medical oncology and head & neck cancer care, rehabilitation and a major teaching facility for the University at Buffalo.  Most ECMC physicians, dentists and pharmacists are dedicated faculty members of the university and/or members of a private practice plan.  More Western New York residents are choosing ECMC for exceptional patient care and patient experiences – the difference between healthcare and true care ™.