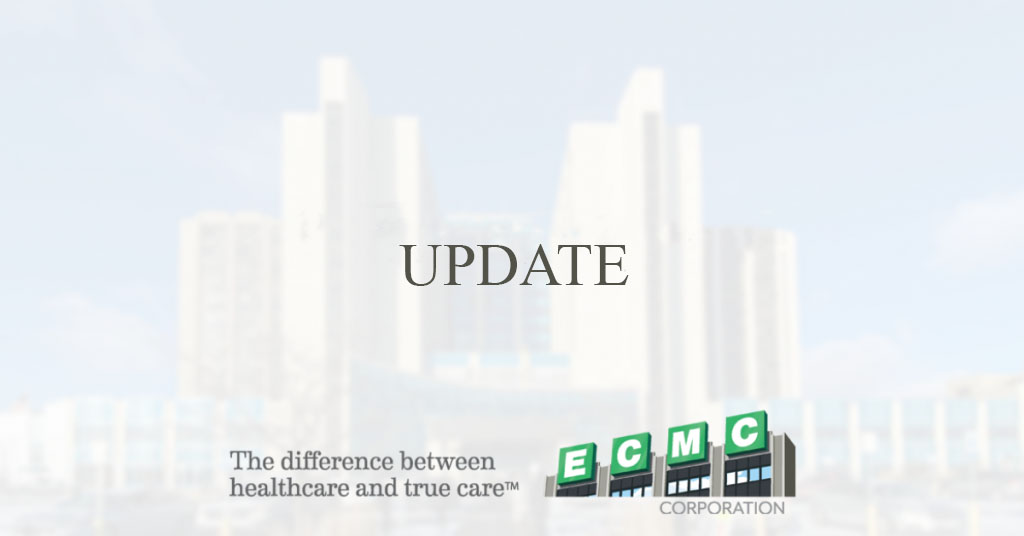 ECMC Achieves National LGBTQ Healthcare Equality Index 2022 "Leader Status"
ECMC one of 496 national healthcare institutions to earn an "LGBTQ+ Healthcare Equality Leader" designation; more than 2,000 healthcare facilities nationwide evaluated for their dedication and commitment to LGBTQ inclusion.
BUFFALO, NEW YORK—Erie County Medical Center (ECMC) Corporation today announced it has achieved "Leader Status" in the Human Rights Campaign's LGBTQ Healthcare Equality Index (HEI). ECMC scored 100 points in the HEI to earn the "LGBTQ+ Healthcare Equality Leader" designation.
The Human Rights Campaign Foundation released its 15th anniversary edition of the Healthcare Equality Index (HEI) on Sunday, March 27th; it is the country's foremost benchmarking survey of healthcare facilities on policies and practices dedicated to the equitable treatment and inclusion of their LGBTQ+ patients, visitors and employees. A record 906 healthcare facilities actively participated in the 2022 HEI survey and 496 of those earned an "LGBTQ+ Healthcare Equality Leader" designation, while 251 earned the "LGBTQ+ Healthcare Top Performer" designation.
Thomas J. Quatroche Jr., PhD, ECMC President and CEO, said, "ECMC is committed to the principles and objectives of Human Rights Campaign and we are honored to receive this designation, which reinforces our dedication to ensuring these important standards are maintained throughout our institution. I commend ECMC's HEI Council members for their hard work and success in achieving this important recognition from such a prestigious national organization."
Cynthia R. Bass, MBA, CDM, ECMC Chief Diversity Officer, said, "After much time and effort put forth to achieve this goal, we are honored and thankful to the Human Rights Campaign for recognizing ECMC's commitment to achieving this level of recognition.  As a result, ECMC is now nationally a recognized LGBTQ+ healthcare leader; we are pleased and proud of this very gratifying accomplishment."
Tari Hanneman, Director of Health & Aging at The Human Rights Campaign said, "Every person deserves to have access to quality healthcare, be respected and heard by their doctor, and feel safe in the facility where they are receiving care. But LGBTQ+ people are often subject to discrimination in all spaces, including healthcare facilities, which leads to members of the community avoiding care and anticipating our voices will not be respected in an incredibly vulnerable environment. The Healthcare Equality Index, at its core, strives to ensure LGBTQ+ people are protected and affirmed by their healthcare providers and feel safe seeking services. Our HEI active participants are truly pioneering the healthcare industry by implementing robust, comprehensive LGBTQ+ inclusive policies that hopefully, because of their work, will become standard practice."
The Healthcare Equality Index has four core objectives:
Ensure foundational non-discrimination protection for patients, visitors and staff in via policy implementation and provide cultural competency training on LGBTQ-inclusion.
Demonstrate progress toward inclusion on LGBTQ patient care services and support.
Cultivate an inclusive workplace by providing LGBTQ-inclusive employee policies and benefits.
Demonstrate engagement with and public commitment to the LGBTQ community.
In a press release distributed by the HEI, the organization noted significant progress achieved in 2022:
93% of participants met the HEI's training requirements, completing more than 200,000 hours of staff training in LGBTQ+ patient-centered care.
82% of participating facilities earned either the Leader or Top Performer.
99% of HEI participants documented that they include both "sexual orientation" and "gender identity" in their patient non-discrimination policy.
99% of HEI participants documented that they include both "sexual orientation" and "gender identity" in their employment nondiscrimination policy.
81% of HEI participants offer transgender-inclusive healthcare benefits to their employees, up from 75% in 2019, which was the first year this it was required in order to obtain Leader status. 2020.
A record 176 facilities, nearly 20% of all participants, participated in the HEI for the first time.
View the Healthcare Equality Index 2022 here: https://www.hrc.org/resources/healthcare-equality-index
About Erie County Medical Center (ECMC) Corporation: The ECMC Corporation was established as a New York State Public Benefit Corporation and since 2004 has included an advanced academic medical center with 573 inpatient beds, on- and off-campus health centers, more than 30 outpatient specialty care services and Terrace View, a 390-bed long-term care facility. ECMC is Western New York's only Level 1 Adult Trauma Center, as well as a regional center for burn care, behavioral health services, transplantation, medical oncology and head & neck cancer care, rehabilitation and a major teaching facility for the University at Buffalo. Most ECMC physicians, dentists and pharmacists are dedicated faculty members of the university and/or members of a private practice plan. More Western New York residents are choosing ECMC for exceptional patient care and patient experiences – the difference between healthcare and true care™.