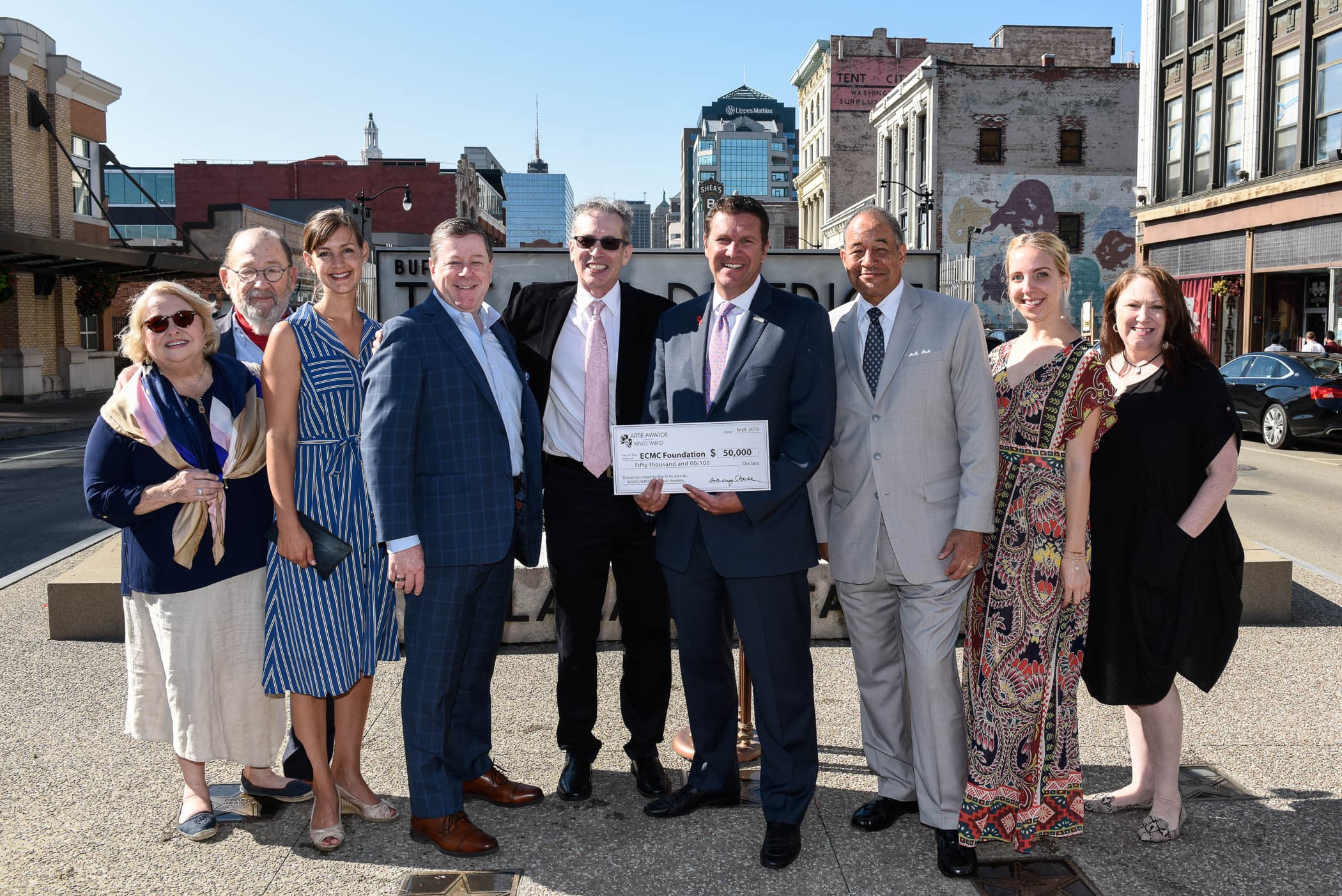 Artie Awards & WNED | WBFO Present Check to ECMC HIV/AIDS & Immunodeficiency Clinic
For the second year in a row, the Artie Awards and WNED | WBFO raised a record amount of money for the ECMC Immunodeficiency (HIV/AIDS) Services. The clinic was presented with a check of $50,000 from the Arties and WNED | WBFO Wednesday, Sept. 4 in Plaza of Stars.
WNED | WBFO President & CEO Don Boswell, PhD; Thomas Quatroche Jr., PhD, President & CEO of ECMC; and Artie Awards Founder & co-host of WBFO's Theatre Talk Anthony Chase all spoke at the event.
"Our mission is to enrich our audiences by providing educational and entertaining programming and services, and engaging our communities through cultural and civic involvement, and the Artie Awards continue to hit every one of those goals," said Boswell. "We are particularly gratified that the record-breaking amount of funds raised during this event go to such a worthy cause in our community."
"On behalf of ECMC's dedicated caregivers, thank you to WNED | WBFO, our great local theaters and Buffalo theatre audiences, as well as those who attended this year's Annual Artie Awards – all of whom contributed to this important donation," said Dr. Quatroche. "Your strong support means so much to our clinicians who provide ECMC's HIV/AIDS and Immunodeficiency services. It is also important to our patients who receive those services."
"We are lucky to have such a strong theater community in Buffalo," said Chase. "Through the Artie Awards, with the sponsorship of WNED | WBFO, we are proud to continue to support the health needs of the community and those living with a disease that continues to be stigmatized and misunderstood. Through this unique partnership of not-for-profit theaters and public broadcasting, the Artie Awards shows the power of the arts to tell everyone's story, to reveal truths, and to do good in the world."
The 2018-2019 Artie Awards were announced at a red-carpet style event at Shea's 710 Theatre, Monday, June 3. The Arties is an event that recognizes Western New York's theater arts, as well as, raises funds for AIDS-related charities. Funds are raised through contributions from theatre audiences and proceeds from red ribbon sales.
About WNED | WBFO: The WNED | WBFO family of stations broadcasts PBS, NPR and Classical music programming throughout the Western New York and Southern Ontario regions. These high-quality programs and community outreach services inform, enlighten, entertain and educate our local and regional communities. Our member-supported stations include WNED-TV (PBS), WBFO-FM 88.7 (NPR), Classical 94.5 WNED, JazzWorks, WNED thinkbright Create and PBS KIDS 24/7. WNED-TV is also a national producer of award-winning documentaries. Additional information about WNED ǀ WBFO can be found at wned.org.
ABOUT ERIE COUNTY MEDICAL CENTER (ECMC) CORPORATION: The ECMC Corporation was established as a New York State Public Benefit Corporation and since 2004 has included an advanced academic medical center with 573 inpatient beds, on- and off-campus health centers, more than 30 outpatient specialty care services and Terrace View, a 390-bed long-term care facility. ECMC is Western New York's only Level 1 Adult Trauma Center, as well as a regional center for burn care, behavioral health services, transplantation, medical oncology and head & neck cancer care, rehabilitation and a major teaching facility for the University at Buffalo. Most ECMC physicians, dentists and pharmacists are dedicated faculty members of the university and/or members of a private practice plan. More Western New York residents are choosing ECMC for exceptional patient care and patient experiences – the difference between healthcare and true care™.