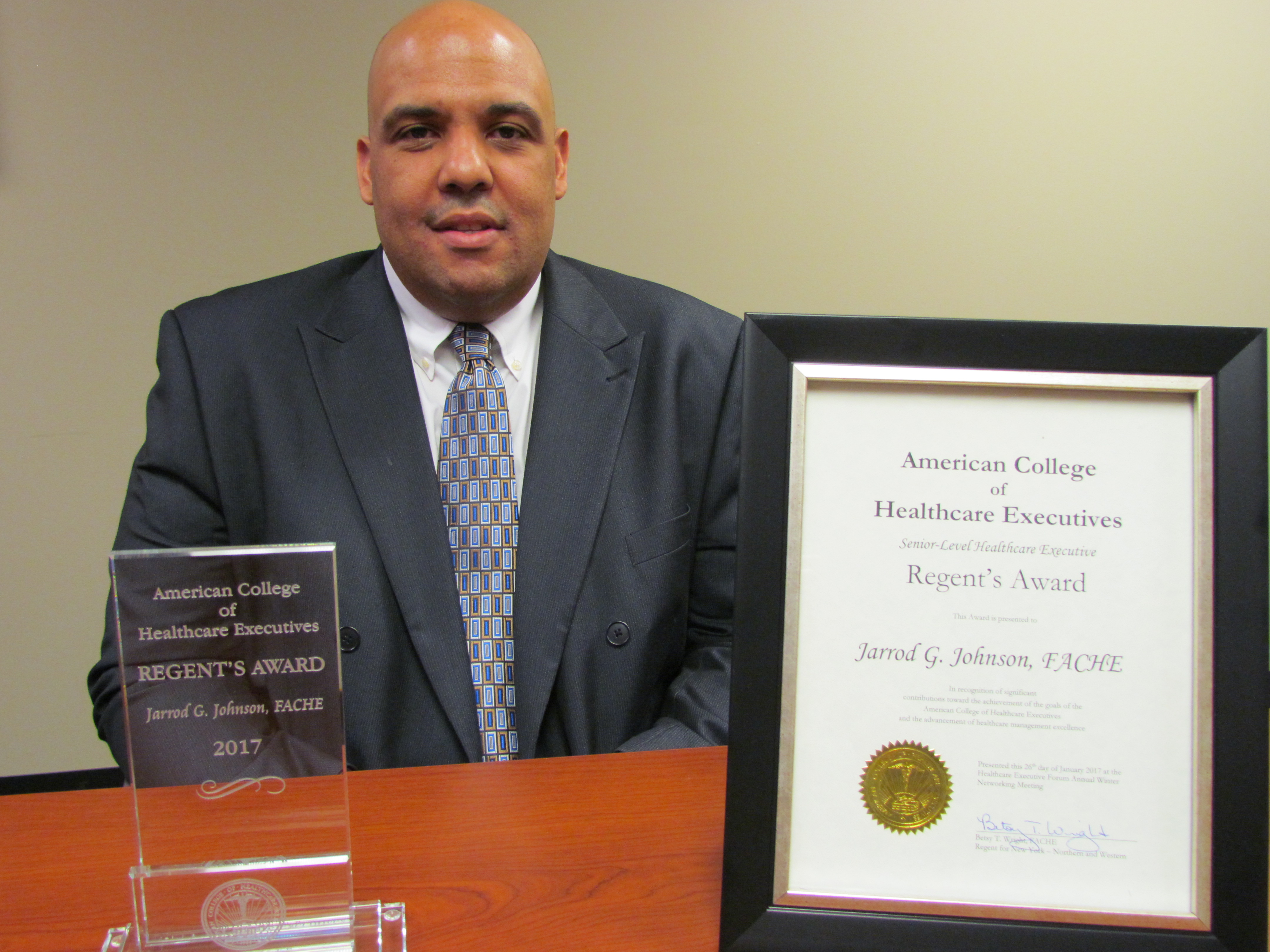 ACHE recognizes ECMC Sr. VP of Operations Jarrod Johnson with "Senior-Level Healthcare Executive Award"
Jarrod G. Johnson, MBA, NHA, FACHE, Senior Vice President of Operations for ECMC Corporation, was recently recognized by the American College of Healthcare Executives (ACHE) with an award and certification as a "Senior-Level Healthcare Executive" (New York, 2017).
Each ACHE Regent is encouraged to provide an award for outstanding healthcare executives in her/his jurisdiction. ACHE supports two of these awards each convocation year. This year, Jarrod Johnson was selected as one of the two deserving honorees.
Criteria for the ACHE Senior-Level Award include: Fellow of ACHE, a CEO, COO, or other senior-level executive within the organization, demonstration of leadership ability, demonstration of innovative and creative management, executive capable in developing his or her organization and promoting its growth and stature in the community, contributions to the development of others in the healthcare profession, demonstration of leadership in local, state, or provincial hospital and health association activities, participation in civic/community activities and projects, and demonstration of participation in ACHE activities and interest in assisting ACHE in achieving its objectives.
Jarrod Johnson previously received the "Early Career Healthcare Executive Award" (Nebraska, 2008).
Jarrod comes to ECMC with over 19 years of healthcare experience. His most recent position was serving as Chief Operating Officer at Brooks Memorial Hospital (since 2012) where he was responsible for the daily operations of the 65-bed not-for-profit community hospital with a medical staff of 75. Prior to Brooks, he held the Chief Operating Officer position with Optim Healthcare in Savannah, Georgia.
Jarrod earned his MBA from Howard University, Washington, DC, and his undergraduate degree in Economics from Lehigh University, Bethlehem, PA.
About The American College of Healthcare Executives: ACHE is an international professional society of more than 30,000 healthcare executives who lead our nation's hospitals, healthcare systems and other healthcare organizations. ACHE is known for its prestigious credentialing and educational programs and its annual Congress on Healthcare Leadership, which draws more than 4,500 participants each year. ACHE is also known for its journal, the Journal of Healthcare Management, and magazine, Healthcare Executive, as well as groundbreaking research and career development and public policy programs.