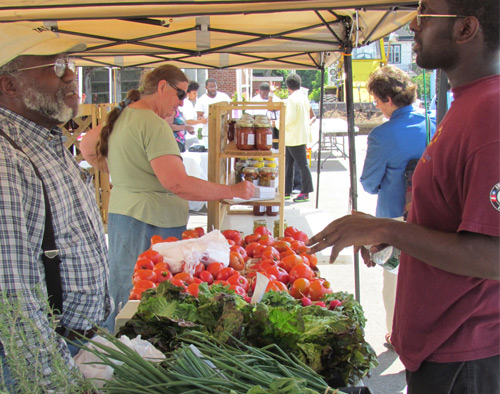 8th Annual "ECMC Farmers' Market at Grider" presented by M&T Bank looking for new Farmers/Growers to Vend
Free opportunities are available for vendors to offer produce, meats, eggs, cheese, plants, flowers and locally produced food products each Friday from June 3rd to September 30th, 2016 from 10:00 AM to 2:30 PM.
To increase access to healthy food and promote healthy lifestyles in the 14215 zip code area of Buffalo, the eighth annual ECMC Farmers' Market at Grider presented by M&T Bank is seeking new farmers and growers to vend at its market located across the street from the ECMC Health Campus.
This market is a resource to the community, which will include youth outreach programs and food demonstrations. In addition, most vendors accept SNAP benefits, as well as WIC Vegetables and Fruits Checks, WIC & Senior Farmers Market Coupons, Just Say Yes (JSY) Health Bucks, and Double Up Food Bucks.
Local farmers and food producers are invited to participate in this market. The goal is to improve the health and eating habits of residents in the neighborhood and the hospital community by bringing fresh produce and other healthy goods to this section of the city. Applications are now being accepted. Interested vendors are invited to contact Kelly Showard at 716-898-4737.
Download More Information
Farmers' Market Flyer
Food Truck Schedule
Youth Activities
July 29, 2016 Schedule