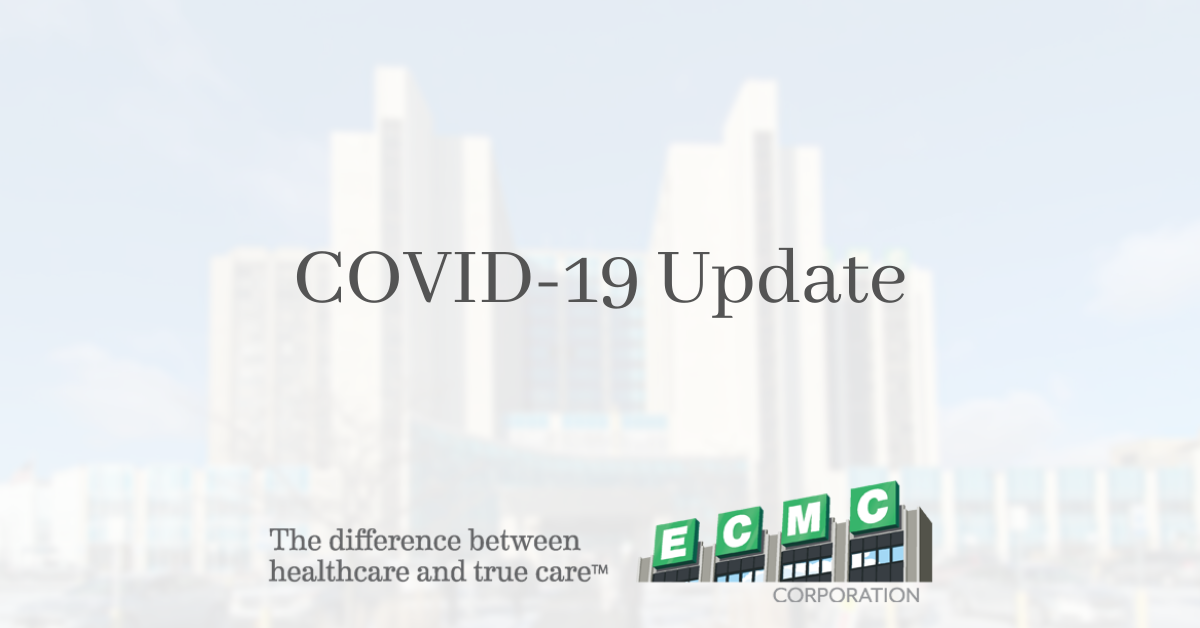 ECMC Corporation COVID-19 Update – 01/07/22
United States Military Hospital Support Coming to ECMC; Medical Response Team Deployed at Request of FEMA and NYS Governor Hochul
BUFFALO, NEW YORK — Due to the continuing impact of the current COVID-19 pandemic on staffing and operations at Erie County Medical Center (ECMC), a 20-member clinical Medium Medical Team (MMT) will be deployed to the healthcare institution for an estimated 30-day mission; the MMT are expected to arrive this coming weekend and should be operational by early next week. The MMT will be comprised of 4 physicians, 14 nurses, 2 respiratory techs, with an additional 3 non-clinical administrative support members. Governor Kathy Hochul announced the MRT coming to ECMC on December 31st when the Governor unveiled the state's Winter Surge Plan 2.0.
Thomas J. Quatroche Jr. PhD, President and CEO of Erie County Medical Center Corporation said, "On behalf of our dedicated frontline caregivers, we are grateful to Governor Hochul and the federal Department of Defense for this very timely and needed support. We will welcome warmly the members of the Medium Medical Team into our ECMC Family and look forward to their collaboration and participation as we continue to fight against the COVID-19 virus and maintain our high quality care for the residents of Western New York."
All photos and videos of the MMT at ECMC will be produced by the MMT public affairs team and will be published to a site called DVIDS (link is below). It is the military hub for all photo and video content. Once on that site, the photos and videos are available for public use. Products are usually posted there within 24 hours of being collected. Additional information associated with the MMT mission is contained in the following links. For additional information, please contact ARNORTH Public Affairs office at 210-845-9693 or usarmy.jbsa.arnorth.mbx.pao@army.mil.
DVIDS website: https://www.dvidshub.net/unit/DSFC19
About Erie County Medical Center (ECMC) Corporation: The ECMC Corporation was established as a New York State Public Benefit Corporation and since 2004 has included an advanced academic medical center with 573 inpatient beds, on- and off-campus health centers, more than 30 outpatient specialty care services and Terrace View, a 390-bed long-term care facility. ECMC is Western New York's only Level 1 Adult Trauma Center, as well as a regional center for burn care, behavioral health services, transplantation, medical oncology and head & neck cancer care, rehabilitation and a major teaching facility for the University at Buffalo. Most ECMC physicians, dentists and pharmacists are dedicated faculty members of the university and/or members of a private practice plan. More Western New York residents are choosing ECMC for exceptional patient care and patient experiences – the difference between healthcare and true care™.