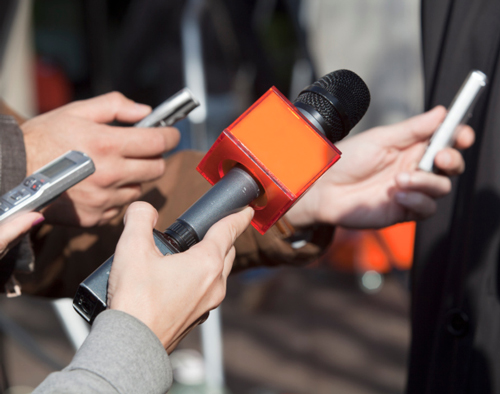 ECMC Corporation Appoints Richard C. Cleland CEO – Also names Thomas Quatroche Jr. Corporation President
The Erie County Medical Center Corp. Board of Directors announced today that Richard C. Cleland, MPA, FACHE, NHA, is the hospital system's new CEO and Thomas J. Quatroche Jr., Ph.D., is the corporation's new president.
Cleland most recently served as interim CEO and Quatroche was senior vice president.
As CEO of ECMCC, Cleland will provide leadership for all operations and coordinate care at ECMC and Terrace View, the skilled nursing facility on the Grider Street health campus.  He will continue to engage physicians, nurses and staff in transforming the care delivered to patients every day with a focus on improving the patient experience.
Quatroche will serve as the corporate affairs officer, responsible for external affairs and strategic initiatives of the corporation, including affiliations with Great Lakes Health, Kaleida Health, and other organizations important to the corporation's strategic direction.
"The board has been very impressed with the leadership Rich Cleland has shown during his time as interim CEO," said Kevin Hogan, board chair of ECMC Corp.  "He continues to demonstrate a true passion for the patient and staff who provide exceptional care every day."
"We have been equally impressed by Tom Quatroche's ability to provide strategic leadership as we continue to focus on collaborations in the community with various stakeholders," Hogan said.
"These two individuals are perfectly suited for their roles to face the opportunities and challenges before ECMC in the coming years," Hogan concluded.
Cleland has been interim CEO since April 2014, was chief operating officer from 2012-14, and held various other leadership positions at ECMC since 2008.  Cleland is a veteran health-care administrator with over 25 years in various organizations.
"I am honored and humbled by this opportunity to lead and serve the hard-working physicians, nurses, and staff of ECMC, and most importantly serve our patients," Cleland said.  "I thank the Board of Directors for their confidence as we continue to provide 'True Care' for the patients of Western New York."
As a senior vice president and a member of the executive team for the last 10 years, Quatroche helped guide collaborations with strategic partners, and has advanced ECMC's brand and image in the community.
"ECMC is known as an organization that collaborates with a very high level of integrity for the benefit of the community," Quatroche said.  "This reputation has generated many opportunities for ECMC to develop strategic initiatives with our partners at Great Lakes Health and Kaleida to prepare for the many changes in health care."
"I thank the board for entrusting me in this new role to lead these initiatives to provide better health care in our region."
Cleland became interim CEO after former Chief Executive Officer Jody L. Lomeo was named President/CEO of the Great Lakes Health System of WNY and Kaleida Health.  Cleland served as senior vice president of operations from 2006-2014.  Prior to joining ECMC, Cleland was the administrator of Brothers of Mercy Nursing and Rehabilitation Center from 2000-2006 and director of maintenance, plant operations, and environmental services at Brothers of Mercy from 1994-2000.  Cleland's history with ECMC dates back to the late'80s, when he served as director and assistant director of cleaning services from 1988-1994.
Cleland holds a Master of Public Administration from Canisius College, has a New York State Nursing Home Administrator's license and a certification from St Joseph's College of Maine in Long Term Care Administration.  He earned his undergraduate degree from Buffalo State College.
He is a Fellow of the American College of Health Care Executives.  He was one of the first two ECMC executive administrators specially selected to participate in a nine-month Harvard University leadership development program. Cleland lives in Clarence.
Quatroche has worked in higher education and health care for more than 20 years in various executive roles.  For the past 10 years, he was responsible for surgical services, all surgical service lines, Oncology Services, business development, marketing, strategic planning, and external relations.  He oversaw the departments of Orthopedics, Neurosurgery, General Surgery, Oncology, Head & Neck/Plastic and Reconstructive Surgery, and Oral Oncology and Maxillofacial Prosthetics.
Quatroche also served on statewide committees in education and health care for the State University of New York and the Healthcare Association of New York State.  He represented ECMC on the HANYS Task Force on Improving New York State's Medicaid Program and Allied Executives Committee and is currently serving on the Western New York Health Association Board, Trocaire College Board of Trustees, Buffalo State Foundation Board, Buffalo Renaissance Foundation Board of Directors, and Seneca Nation Economic Development Commission.
A lifelong Western New Yorker, he served on the Hamburg Town Board from 1994-2009, was a member of the Immaculata Academy School Board from 2004 to 2009, and has been involved in other civic organizations.  He is a past recipient of Buffalo Business First's 40 Under 40 award for business and civic leadership and has been a featured presenter at health care conferences regarding the new Federal Healthcare Reform.
Quatroche received his Bachelor's degree in Business Administration and Marketing from the State University of New York College at Fredonia, holds a Master's degree in Student Personnel Administration from the State University of New York College at Buffalo and earned his Doctorate in Higher Education – Educational Leadership and Policy – from the State University of New York at Buffalo.