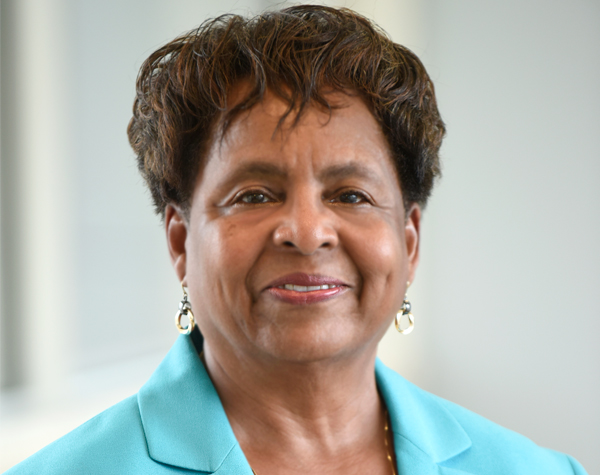 Sharon Hanson Elected to American Hospital Association's Regional Policy Board
Will serve as an at-large alternate delegate and member of AHA's Regional Policy Board 2
BUFFALO, NEW YORK – Erie County Medical Center Corporation (ECMCC) Board Chair Sharon L. Hanson was recently elected by the American Hospital Association's Board of Trustees as an at-large alternate delegate and member of AHA's Regional Policy Board 2 (covering New Jersey, New York & Pennsylvania).
ECMCC Chair Sharon L. Hanson said, "It is an honor to represent ECMC on AHA's Regional Policy Board. I look forward to participating in the development of healthcare policy recommendations for AHA's Board of Trustees and providing insight on a range of healthcare issues, particularly those faced by safety net hospitals like ECMC."
ECMCC President and CEO Thomas J. Quatroche, Jr., Ph.D. said, "This prestigious appointment will enable Sharon to actively participate on behalf of ECMC in discussions that will lead to formal positions on national policies from one of our country's most influential healthcare organizations. This appointment, in connection with Sharon's 2016 appointment to the Healthcare Trustees of New York State Board of Governors, also provides an excellent opportunity for ECMC to now more actively participate in critically important healthcare policy issues on both the state and national level."
According to the AHA, representatives from the Section for Health Care Systems serve on all nine of AHA's Regional Policy Boards (RPBs), which meet three times a year to foster communication between the AHA, its members and state hospital associations. The RPBs provide input on public policy issues considered by the Board of Trustees, serve as ad hoc policy development committees when appropriate, and identify needs unique to a region and assist in developing programs to meet those needs.
Throughout her many years of volunteer service to ECMC, Ms. Hanson, in various leadership positions at the hospital, has been instrumental in working with the dedicated ECMCC caregivers, the ECMCC Board and the broader community guiding ECMCC to great success.  She has fought tirelessly alongside her fellow Board members to protect the very valuable mission of ECMCC to care for everyone in our community, no matter their circumstance.
ABOUT ERIE COUNTY MEDICAL CENTER (ECMC) CORPORATION: The ECMC Corporation includes an advanced academic medical center (ECMC) with 583 inpatient beds, on- and off-campus health centers, more than 30 outpatient specialty care services and Terrace View, a 390-bed long-term care facility.  ECMC is a Level 1 Adult Trauma Center, a regional center for burn care, behavioral health services, transplantation, medical oncology and head & neck cancer care, rehabilitation and a major teaching facility for the University at Buffalo.  Most ECMC physicians, dentists and pharmacists are dedicated faculty members of the university and/or members of a private practice plan.  More Western New York residents are choosing ECMC for exceptional patient care and patient experiences-the difference between healthcare and true care™.