Professional Announcement: Lindy Nesbitt Appointed ECMCC Sr. Counsel & Assistant Vice President of Compliance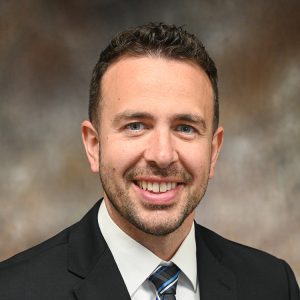 BUFFALO, NEW YORK—Erie County Medical Center Corporation (ECMCC) officials today announced a recent promotion.
Lindy Nesbitt, Esq., was recently promoted to Senior Counsel and Assistant Vice President of Compliance for ECMCC.  In this role, Lindy will continue to serve as corporate counsel to ECMCC while also assuming responsibility for the corporation's compliance and internal audit programs as its chief compliance officer.  Lindy previously served since 2016 as ECMCC Staff Counsel.
Prior to joining ECMCC, Lindy served as a corporate attorney at Colucci & Gallaher, P.C., with ECMCC as a primary client.  When ECMCC established an in-house legal department, Lindy was hired as corporate counsel, including oversight of legal matters relating to ECMCC's lead role in New York State's DSRIP program.  Prior to attending law school, he worked at the George Eastman Museum in Rochester, NY.
Lindy Nesbitt graduated from SUNY College at Brockport, NY, with a Bachelor of Arts degree in Communications.  He earned his Juris Doctorate degree from Baylor Law School, Waco, TX.
ABOUT ERIE COUNTY MEDICAL CENTER (ECMC) CORPORATION: The ECMC Corporation was established as a New York State Public Benefit Corporation and since 2004 has included an advanced academic medical center with 573 inpatient beds, on- and off-campus health centers, more than 30 outpatient specialty care services and Terrace View, a 390-bed long-term care facility. ECMC is Western New York's only Level 1 Adult Trauma Center, as well as a regional center for burn care, behavioral health services, transplantation, medical oncology and head & neck cancer care, rehabilitation, and a major teaching facility for the University at Buffalo. Most ECMC physicians, dentists and pharmacists are dedicated faculty members of the university and/or members of a private practice plan. More Western New York residents are choosing ECMC for exceptional patient care and patient experiences – the difference between healthcare and true care™.