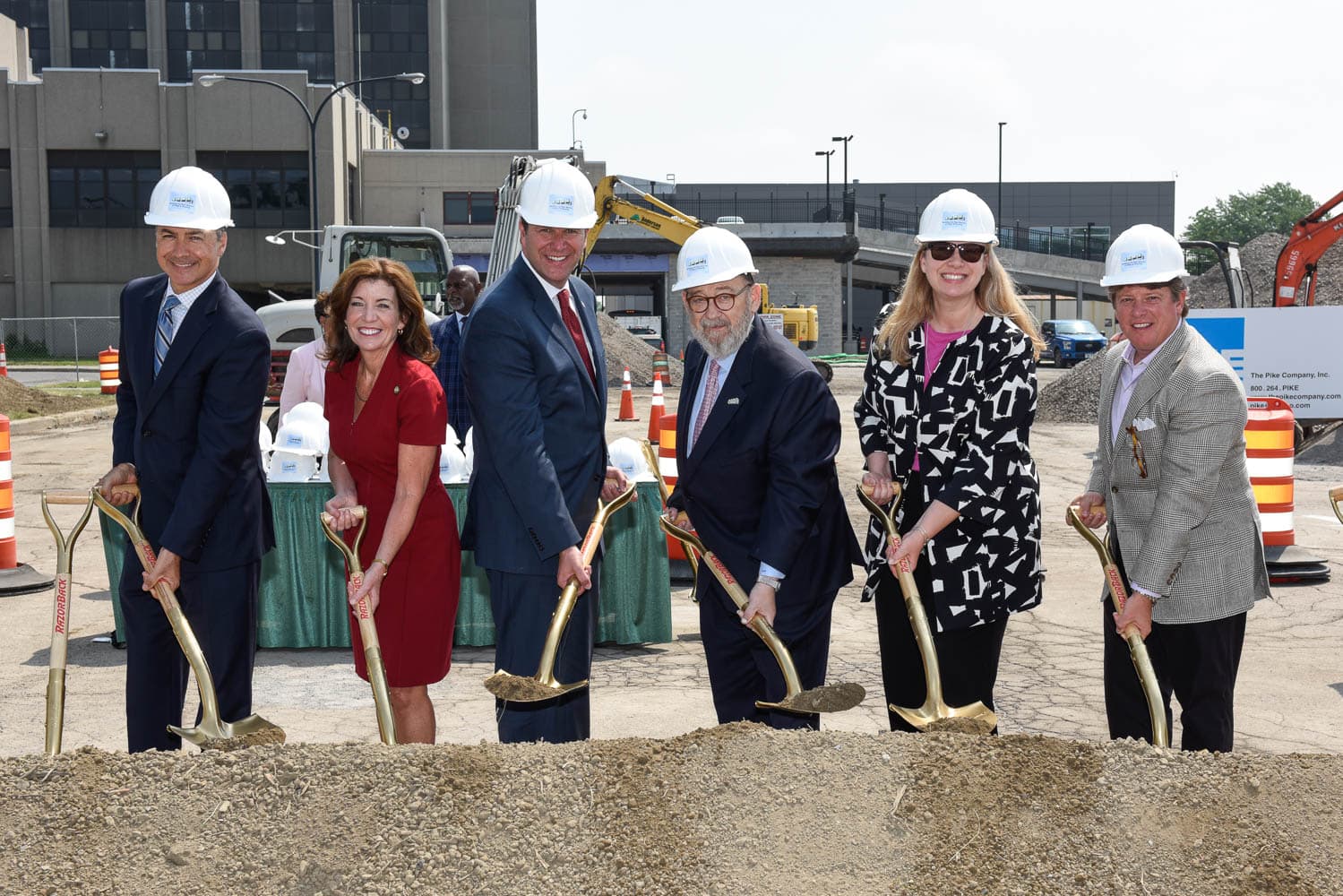 ECMC Breaks Ground on State-of-the-Art Trauma Center and Emergency Department
$55 million facility to replace existing department opened in 1978; New Trauma Center and Emergency Department will double in size to 54,000 square feet; Renderings of future "One Buffalo Waiting Room" unveiled during event
---

News Coverage

WGRZ
https://www.wgrz.com/article/news/health/ecmc-breaks-ground-on-new-trauma-center-and-emergency-room/71-560634057
WGRZ
https://www.wgrz.com/video/news/local/work-begins-on-new-ecmc-trauma-center-er/71-8147455
Spectrum News
http://spectrumlocalnews.com/nys/buffalo/news/2018/06/01/ecmc-groundbreaking-new-wing-
WBFO
http://news.wbfo.org/post/ecmc-breaks-ground-new-trauma-center-and-emergency-department
WBEN
http://www.wben.com/articles/ecmc-groundbreaking
Buffalo News
http://buffalonews.com/2018/06/02/sports-themed-one-buffalo-waiting-room-to-be-part-of-new-ecmc-emergency-room/
Business First
https://www.bizjournals.com/buffalo/news/2018/06/01/ecmc-breaks-ground-for-58m-emergency-expansion.html
Erie County Legislature
http://www2.erie.gov/savage/index.php?q=erie-county-legislative-chair-savage-celebrates-groundbreaking-new-ecmc-trauma-center
---
BUFFALO, NEW YORK – Erie County Medical Center (ECMC) Corporation today broke ground for the hospital's future $55 million Trauma Center and Emergency Department, which will double the size of the existing 40-year old facility and feature state-of-the-art technology and equipment. Originally opened in 1978 to accommodate 35,000-40,000 patients annually, the current facility has reached patient levels of nearly 70,000 for both 2017 and 2016, and patient volumes are expected to reach over 75,000 annually by 2024. The project is expected to be completed by the First Quarter 2020.
ECMC Corporation Board Chair Jonathan A. Dandes, said, "Through careful planning, working closely with the Emergency Department frontline staff – physicians, nurses and support personnel – we have developed what will be widely regarded as the 'gold standard' for emergency and critical care services. We are very thankful for the strong community support we have received to date for this project that has resulted in nearly $10 million raised to date from private sources for the new facility."
ECMC Corporation President and CEO Thomas J. Quatroche Jr., PhD, said, "As the region's busiest and only Level 1 Adult Trauma Center and Emergency Department serving the 1.5 million residents of the eight counties of Western New York, it is imperative to expand to meet current and future demands for appropriate trauma and emergency care. The Trauma Center and Emergency Department serves patients for trauma, emergency psychiatric conditions via ECMC's Comprehensive Psychiatric Emergency Program ("CPEP") and traditional medical conditions and is best suited of any of the region's Emergency Departments to handle mass casualty, disaster-related circumstances. This new facility will enhance and strengthen our dedicated Emergency Department caregivers' ability to provide the lifesaving care they are known for throughout our region."
Dr. Michael A. Manka Jr., Chief of Service, ECMC Department of Emergency Medicine, stated, "The new Emergency Department will incorporate design features that allow for greater efficiencies in patient flow and will enable the Department's medical team to achieve high quality outcomes. The customized layout of the space will better align with physicians' and staff's work flow while creating a more patient-oriented space containing larger rooms to accommodate patients' families and the medical team. This is a very exciting project for the entire Emergency Department and, working collaboratively with ECMC's Executive Leadership and Board in its design and overall development process, we are confident our new facility will continue our strong tradition of lifesaving care for decades to come."
The future "One Buffalo Waiting Room" was unveiled at today's groundbreaking ceremony following the previously announced generous $1 million donation from Pegula Sports and Entertainment/Buffalo Bills Foundation.
The existing Emergency Department is accessed only by a ramp, which does not meet current accessibility codes and creates safety risks for patients and staff. It is located in functionally obsolete space in need of modernization to align with current and future standards of care for emergency medicine and to support improved quality of care and operational efficiency. A 2014 operational assessment indicates that, on average, 12 hours each day the existing Emergency Department is operating over capacity.
The new facility, designed by CannonDesign and being built by The Pike Company, nearly doubles facility square footage to 54,000sf and will increase treatment space from 36 to 54 stations including 4 dedicated trauma rooms, 2 behavioral health safe rooms, 2 isolation rooms, and 4 medical resuscitation rooms. It features intradepartmental imaging consisting of 2 CT rooms and 2 x-ray rooms, direct access from the hospital's rooftop helipad, and a care initiation zone to support an enhanced triage model of care.
ECMC's new Trauma Center/Emergency Department will address an important community need by expanding the health care delivery system's capacity to serve patients that require emergency medical attention, serve as a referral source for other area hospitals to transfer patients that require specialized emergency care, advance ECMC's engagement and investment in the City of Buffalo's Delevan-Grider Corridor, and build on ECMC's growing and dynamic relationship with the State University of New York at Buffalo (School of Medicine) and the Kaleida Health System.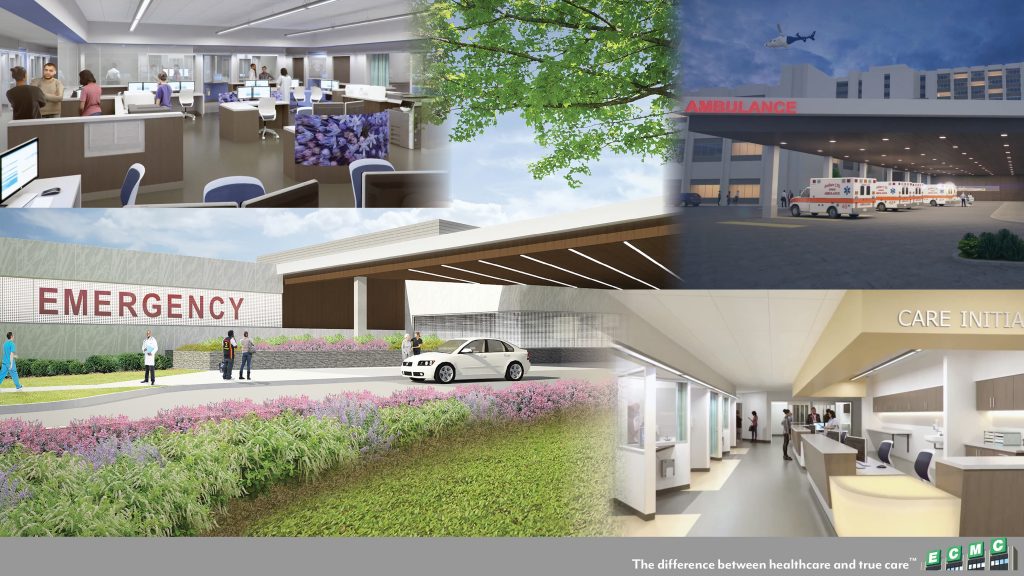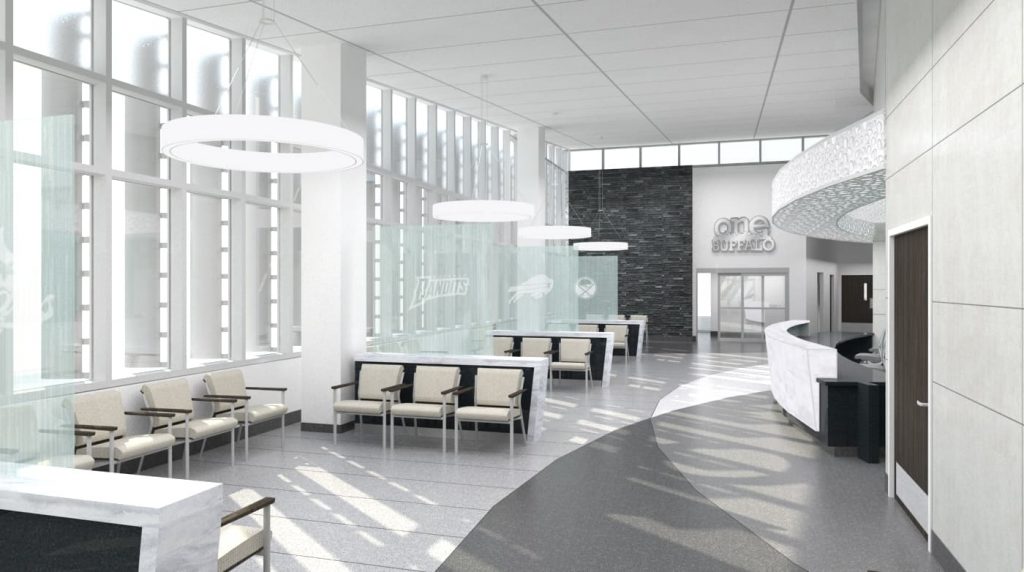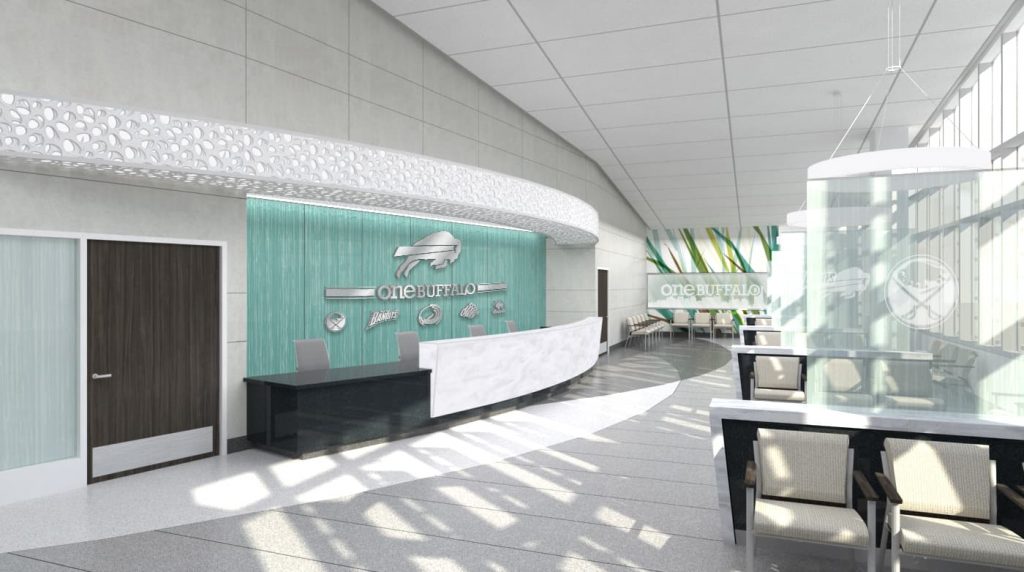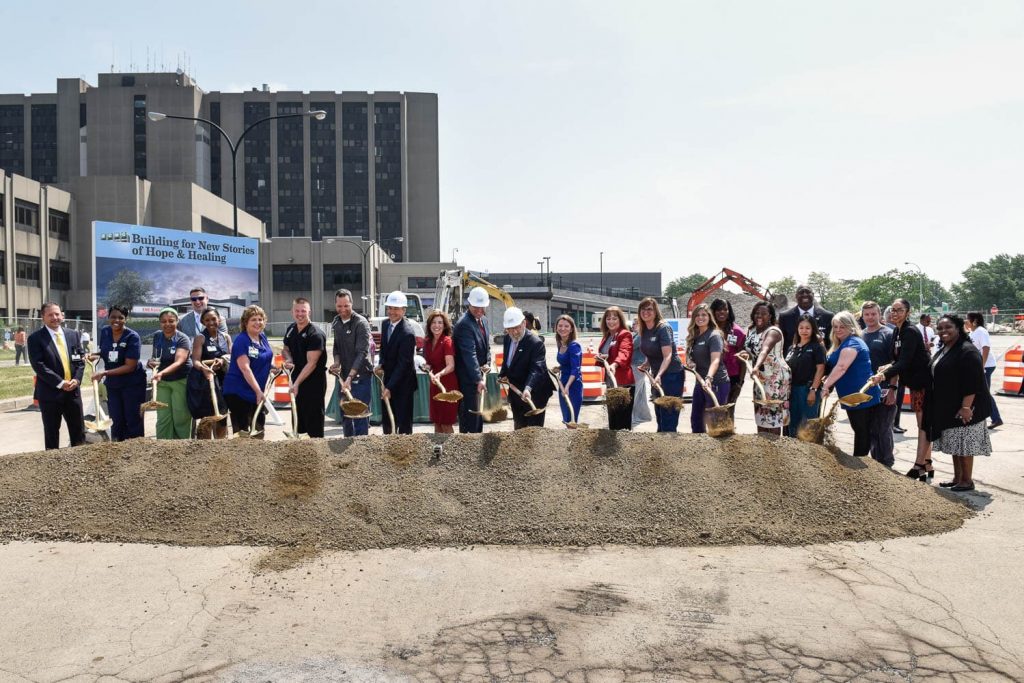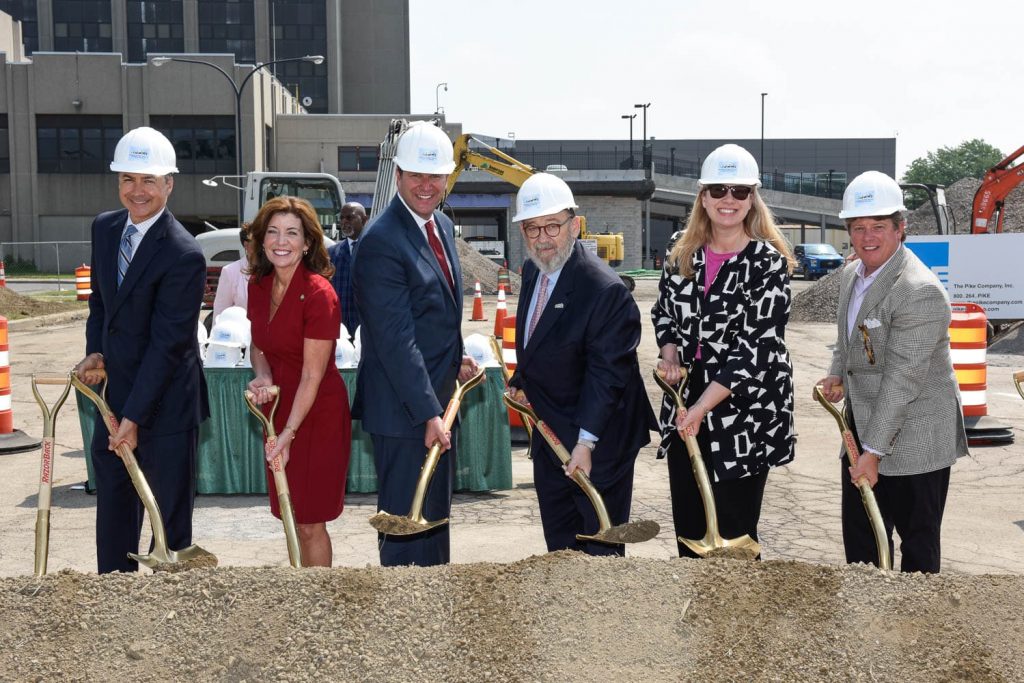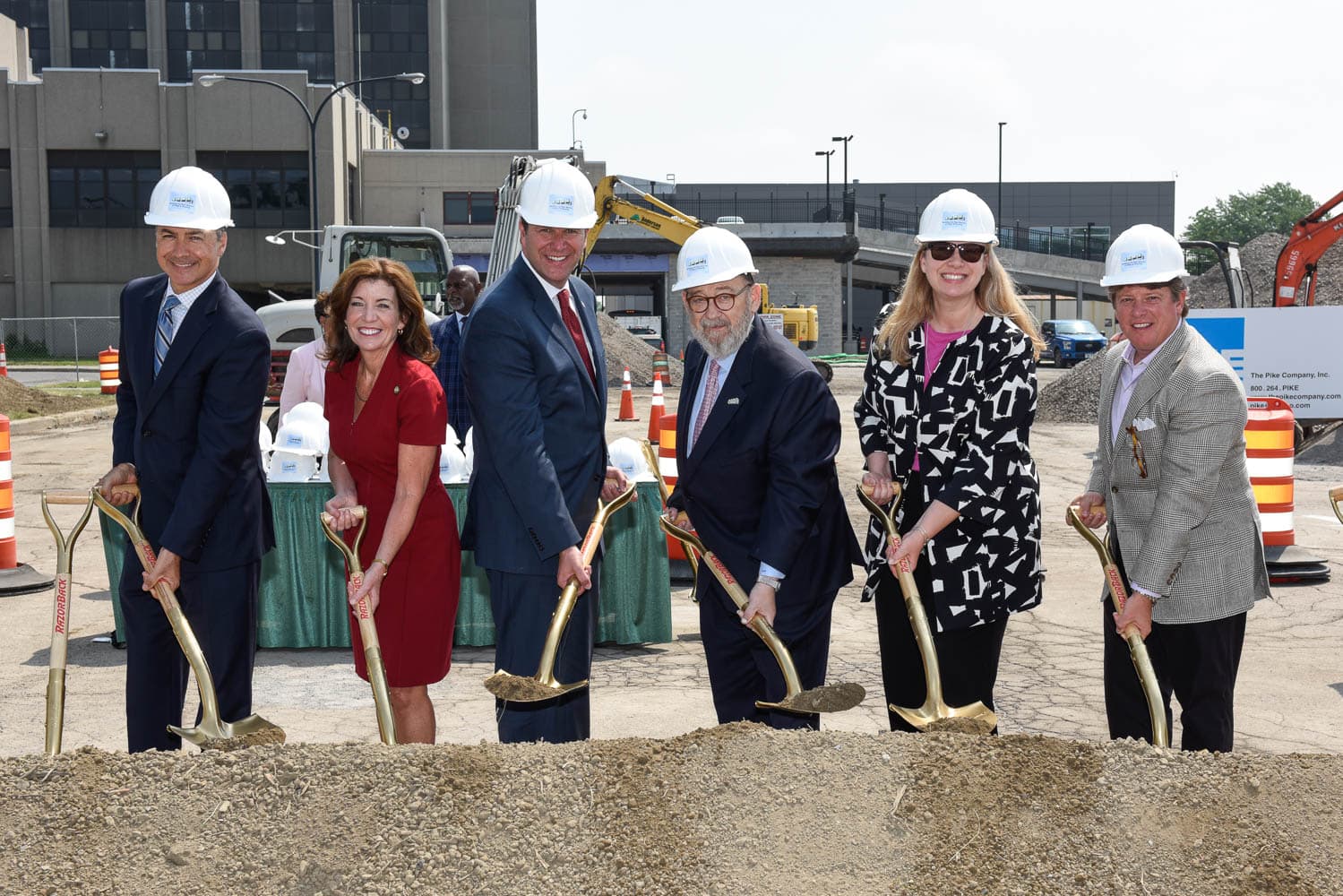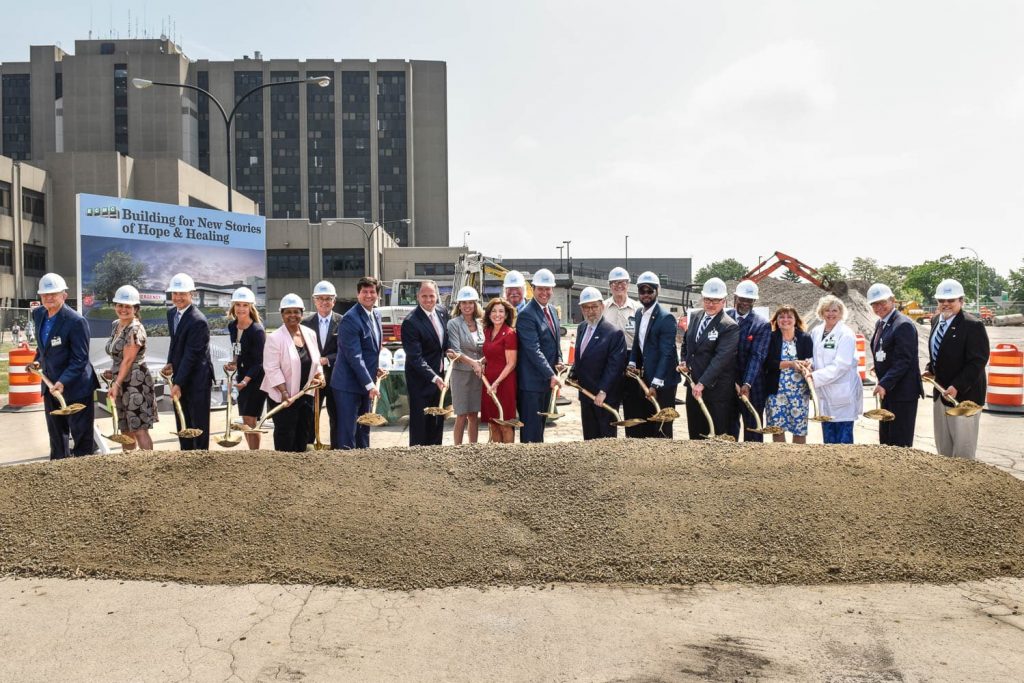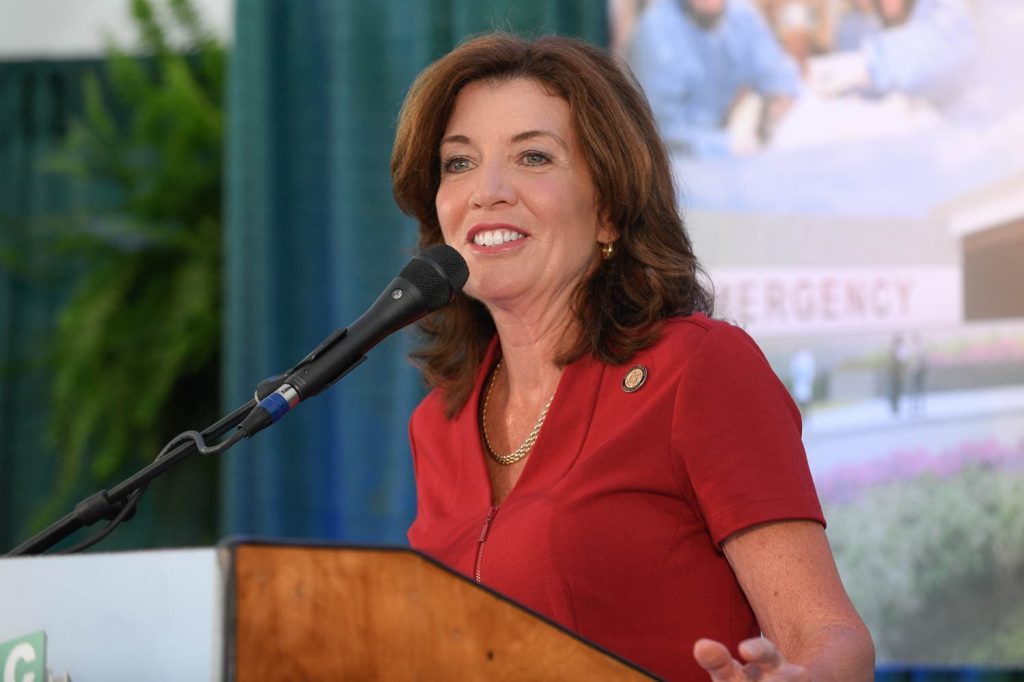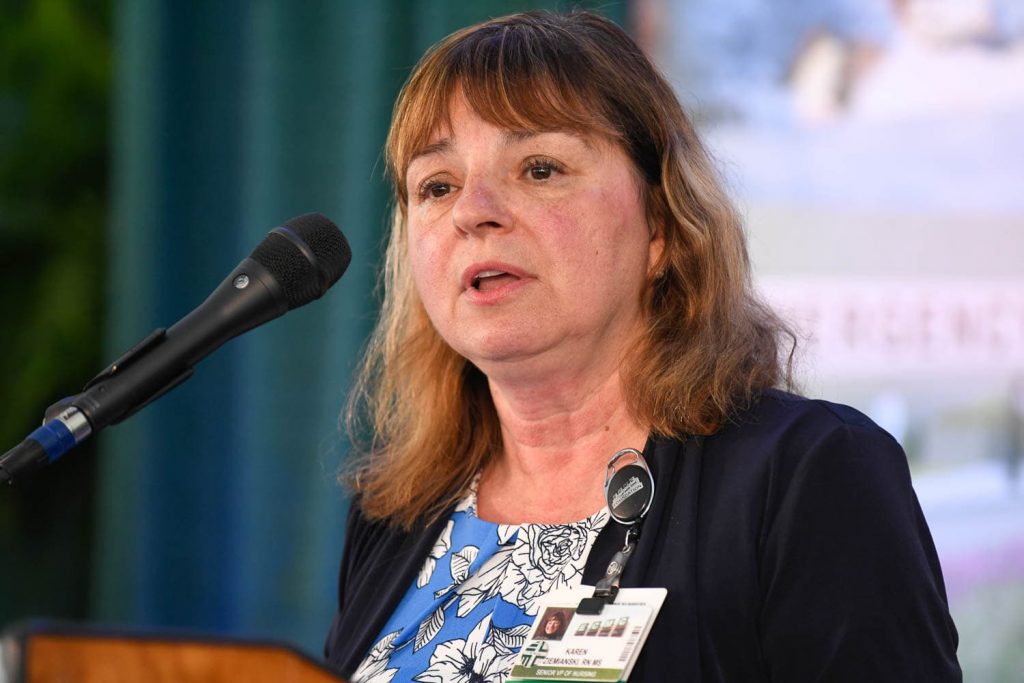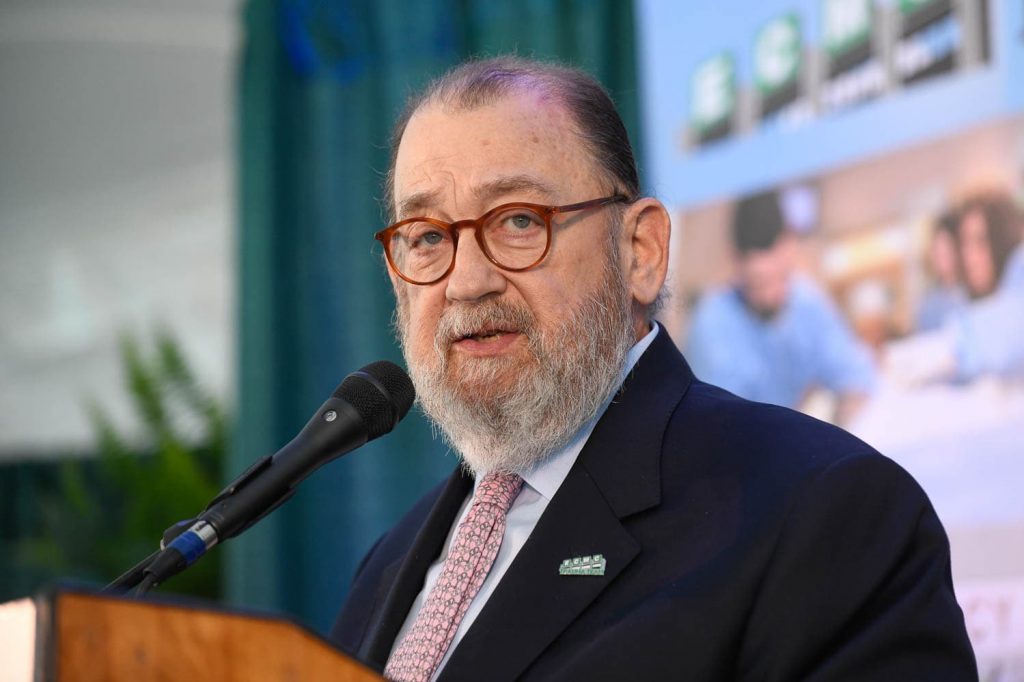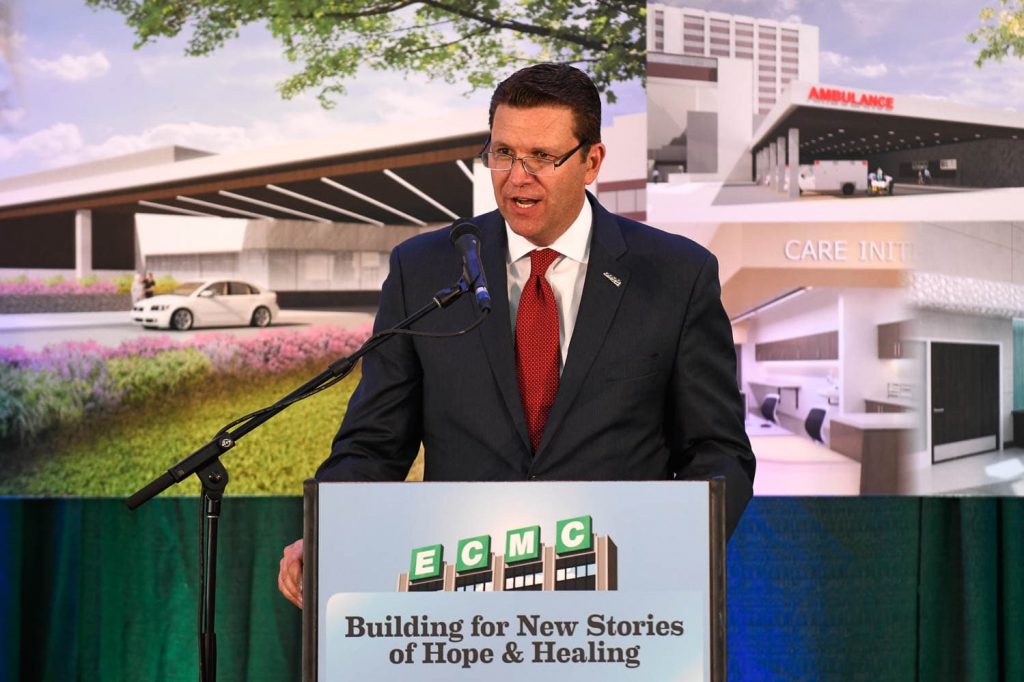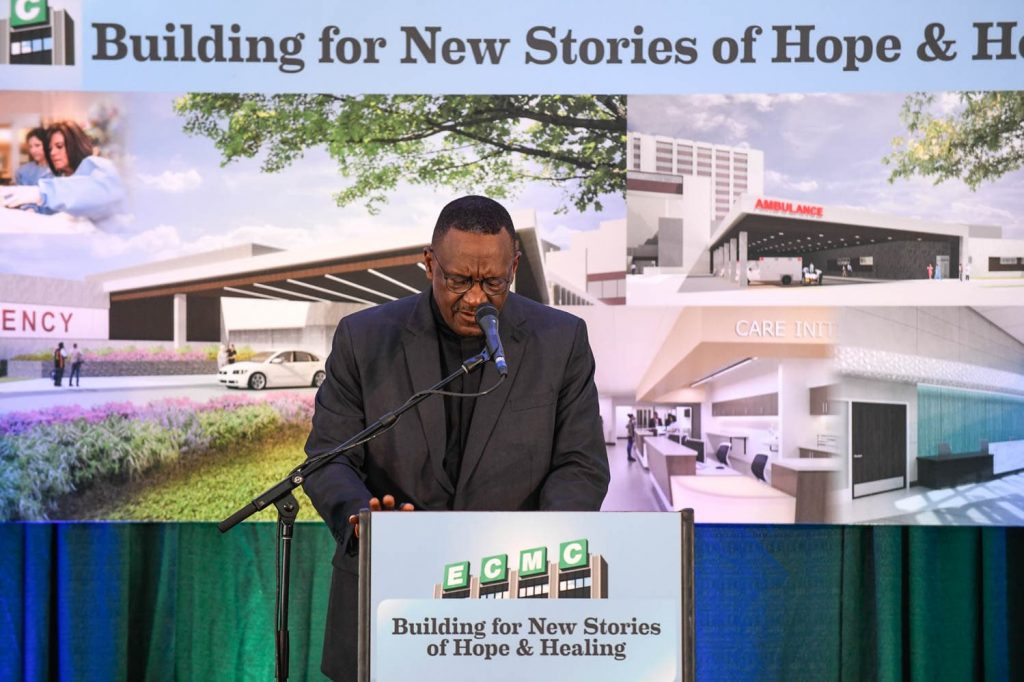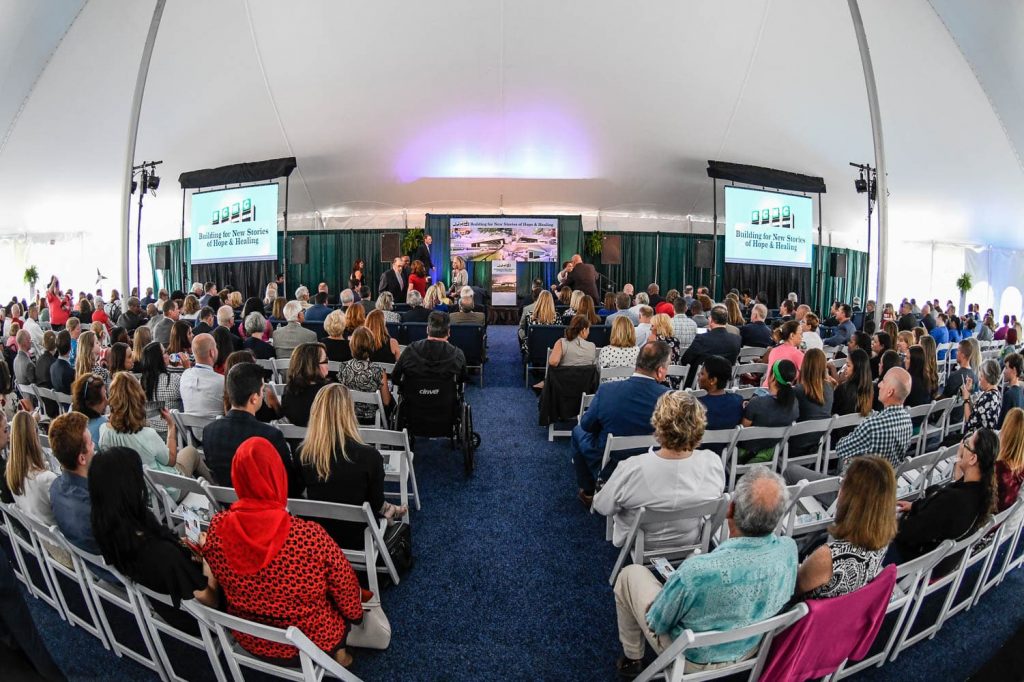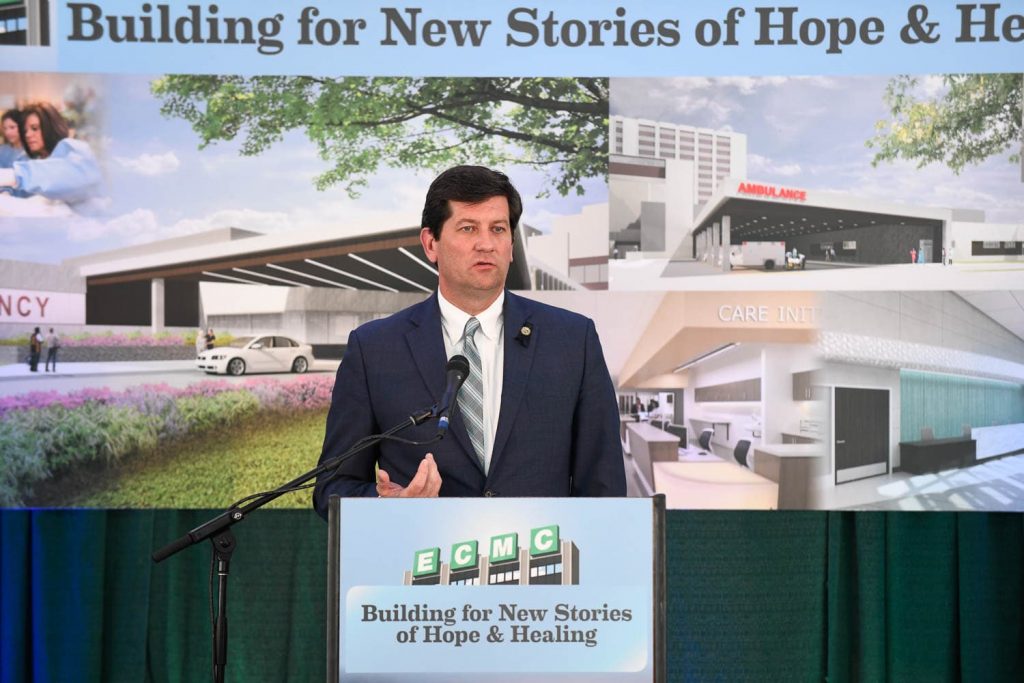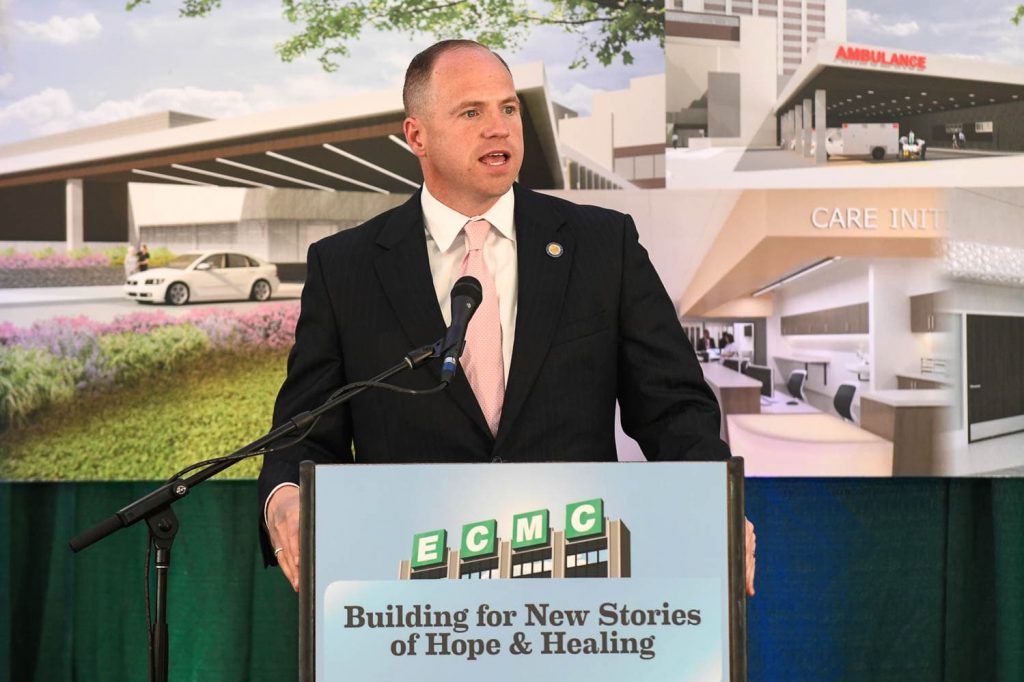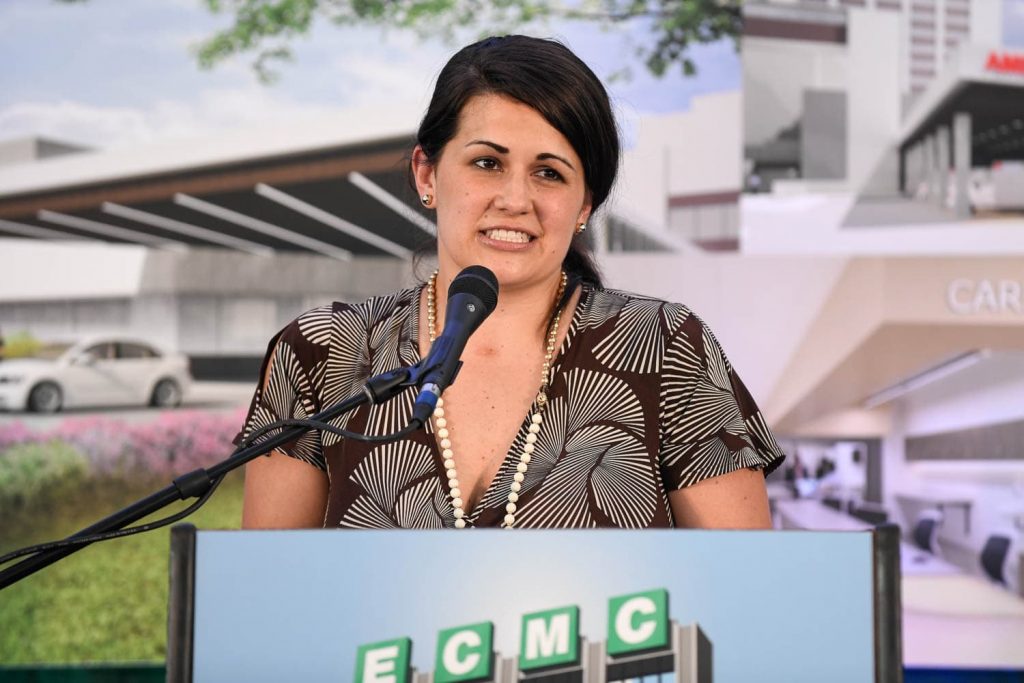 ABOUT ERIE COUNTY MEDICAL CENTER (ECMC) CORPORATION: The ECMC Corporation was established as a New York State Public Benefit Corporation and since 2004 has included an advanced academic medical center with 593 inpatient beds, on- and off-campus health centers, more than 30 outpatient specialty care services and Terrace View, a 390-bed long-term care facility. ECMC is Western New York's only Level 1 Adult Trauma Center, as well as a regional center for burn care, behavioral health services, transplantation, medical oncology and head & neck cancer care, rehabilitation and a major teaching facility for the University at Buffalo. Most ECMC physicians, dentists and pharmacists are dedicated faculty members of the university and/or members of a private practice plan. More Western New York residents are choosing ECMC for exceptional patient care and patient experiences – the difference between healthcare and true care™.